Hi again!
Last week's dev diary
introduced the Specialist Empires with a detailed examination of the
Prospectorium
and showed off a few new holdings.
This week we'll meet the three Enclaves coming in Overlord (examining one of them closely), take a deep dive into the Bulwark, and finish off with a few more Holdings and a summary of
the origin Nivarias revealed earlier this week
.
As with all previews, numbers, text, and so on are not quite final and are still subject to change.
The Industrious Salvagers​
The
Salvagers
are a friendly and pacifistic bunch of scrappers and mechanics. Focused on engineering, these tinkerers love nothing more than scrapping old ships, refurbishing them, and sending them on to find new homes.
Though eager to help, they've been burned in the past and are thus cautious at first, offering only a few services - scrapping old fleets you no longer require, or offering you bargains on slightly used ships.
As you gain their trust, they'll provide a wider array of options.
From providing their insights regarding Engineering Research to offering salvage services for debris fields following battles, the Salvagers do their best to please their valued clients.
The Mysterious Shroudwalkers

​ The Shroudwalkers are a monastic enclave that delve into the deepest mysteries of the Shroud, seeking to understand the unknowable. Their true natures and desires are difficult to divine.
​
I won't spoil too much about this very story focused enclave, but their prophecies and visions make use of the Situations system described in Dev Diary #245.

They're willing to instruct others in the ways of the Shroud…
​
…and just as they are willing to look into possibilities of your future, they're quite willing to gaze into the Shroud, to provide insights about other empires.
​
The bravest can also seek knowledge about travel through the Shroud itself, asking them to create a wormhole-like bypass from one of your systems to their own.
Everything will be fine.
​
One of the Origins, the Teachers of the Shroud, has a close link to this Enclave, but that too, is someone else's tale to tell.
​
The Mercenary Mercenaries​
Unlike other enclaves,
Mercenary Enclaves
are not found randomly in the depths of space. Instead, they can be founded by regular empires that are not Fanatic Purifiers.
There's a long list of requirements to release a fleet in this way - it must be at least size 50, have an admiral, be in a system under your control with no other enclave in the system, and have an appropriate place for them to build their station.
By default, Mercenary Enclave Capacity starts at zero. In addition to their normal effects, the Warrior Culture, Barbaric Despoilers, and Private Military Companies civics each add one potential Mercenary Enclave, while the Naval Contractors civic adds two.
The
Lord of War
Ascension Perk also allows one additional Mercenary Enclave, increases Diplomatic Weight from Fleet Power, and increases the rate at which you receive dividends from your Mercenary Enclaves.
The newly formed Mercenary Enclave has a few options for those interested in procuring security services. The empire that controls the primary starbase of the Mercenary Enclave's system is considered their
Patron
, and has additional interactions with them. If business is going especially well, the Patron will even receive dividends from the Enclave.
Anyone that has communications with the Mercenary Enclave can rent their fleet for ten years if they can afford the cost. Prices may vary depending on what the Mercenaries think of you, and whether you are their Patron or not.
As time goes on, the Mercenaries will research technologies, reinforce, and build up their fleet, but their Patron can reach out and provide a helping appendage.
If they have an excellent relationship with the Mercenaries, a Patron can even ask them to break an active contract - but they'll have to provide some recompense to their current client and won't be very happy about it. Reputations are everything in this business.
Naturally, the Mercenary Enclaves have lobbied the Galactic Community to regulate their trade.
One of the new resolution categories in Overlord is
Defense Privatization
.
This line of resolutions focuses on encouraging the empires of the Galactic Community to leave the fighting to professionals. It allows empires to create more Mercenary Enclaves, increases the rate Mercenary Dividends are paid out, and places significant limits on non-Mercenary navies.
Like most other major resolution categories, Federations adds two extra tiers…
…and as usual, the final tier is perhaps a bit extreme.
That's not all the GalCom is up to, but we'll go into more detail on their other resolutions another time.
The Bulwark​
Standing firm against the overlord's enemies is the
Bulwark
, the second of the Specialists coming in Overlord.
The Tebbran Citizen Regime serves our glorious republic as a Bulwark.
With strong benefits when it comes to defense, the Bulwark is a natural shield against the overlord's enemies, but relies on overlord subsidies for basic resource acquisition.
We've made some adjustments to Defense Platforms - while everyone will benefit from their faster build speed and increased range, fire rate, tracking, and hull points, Bulwarks receive additional bonuses when using them.
Having a Bulwark advisor improves starbase costs and upgrade times.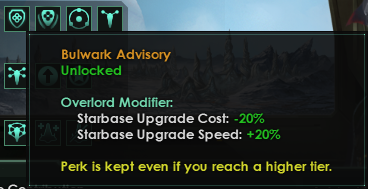 The Bulwark Watch perk is another Hyper Relay Network effect so we'll hold off on revealing all of that just yet.
Fighting in a Bulwark's systems is extremely advantageous...
…and like the Prospectorium, they too gain access to some technologies - this time those most useful for defense.
Like the Prospectorium, at tier 2 the Bulwark also adds special traits to some of their leaders. Admirals, in their case.
And they can trade them with their overlord as well.
At tier 3, the Bulwark can create an improved variant of the Construction Ship, which repairs other friendly ships in the system and are a bit sturdier than regular Construction vessels.
And they also have managed to turn the Shield Magnifiers from Tier 1 against invaders. If they have completed the Unyielding tradition tree, this effect is increased.
Don't worry - if you don't have Apocalypse, the Unyielding traditions will also unlock with Overlord.
Holdings, Part Three​
This week's holdings include the
Emporium
, which forces the subject to buy Consumer Goods from the overlord, providing Amenities in exchange for Energy Credits.
More holdings also exist that tax subject production, such as the aptly named
Ministry of Production
and the
Ministry of Energy
.
The Materials Ministry revealed two weeks ago has been renamed the
Ministry of Extraction
, and now has Volatile Motes upkeep.
Constructive overlords can help build up a world using the
Orbital Assembly Complex
and a small fleet of Construction Ships.
And Reanimators can bring out the dead to defend a subject's world…
…while Megacorps with Permanent Employment can ensure that nobody is just lying around when they could be working.
Lastly for today, Megacorps with the Franchising civic can choose to exert direct control and micromanage subject planets where they also have a Branch Office, much to the dismay of the workers there.
The Ethics Attraction on this holding will change to match any fanatic ethic the overlord may have. (Non-fanatical overlords aren't quite as thorough with the indoctrination during the team-building exercises.)
As a reminder, these previews are still subject to change and balancing.
(Prices and upkeep on several of the holdings have changed since I took the screenshots.)
The Imperial Fiefdom​
In the
Imperial Fiefdom
origin, your first steps into space were brutally short. Immediately subjugated alongside several others, you can begin the game as a Specialist Empire of your choice, with a few additional gifts from your overlord.
Will you ever break free?
If multiple players select this origin, they will all start as minions of the same Advanced AI Empire.
Next Week​
Next week we'll examine some of the new constructions you'll be able to build, research the Scholarium, look at Specialist holdings, revisit the Galactic Community, and reveal another Origin.