Hello everyone!
Today we're back to talk a little bit about the recent news that has no doubt sent ripples throughout the community by now, namely the newly announced Aquatics Species Pack!
The Aquatic Species Pack will include:
15 new Aquatic Portraits
1 aquatic-themed Robotic Portrait
Water themed Ship Set
Here Be Dragons Origin
Ocean Paradise Origin
Anglers Civic
Hydrocentric Ascension Perk
Aquatic Species Trait
Aquatic Advisor, inspired by high seas adventure fiction
4 Aquatic Name Lists
Remember to w(f)ishlist it
on Steam
right now!
For many years now, I have been forced to play Stellaris without dolphinoids... but no more! I can proudly say that we've made the perhaps greatest additions to Stellaris yet!
Dolphinoids have finally been added to the game, and the future is looking brighter than ever before. Dolphinoids have been used in narrative examples during design meetings for many years, even prior to the release of Stellaris back in 2016, so I am particularly happy to see them finally becoming a reality. I hope you will enjoy playing them as much as I will!
Tidal Wave of awesomeness.
​
I'm sure you're all excited to take a look at the gameplay details, so let's dive right in!
Anglers Civics
This new Civic will allow you to harvest the bounty of the ocean, by replacing your Farmer jobs with Anglers and Pearl Divers on your Agricultural Districts. The Anglers Civic is also available to empires with a Corporate Authority.
Under the sea, there's plenty of shinies to see!
​
Hydrocentric Ascension Perk
One of our first ideas related to the aquatic theme was to be able to mine ice and bring it back to your Ocean Worlds, to make them larger. The idea originally bounced between being a Civic or an Origin, but we realized it would make much more sense as an Ascension Perk. This is the first time we're adding an Ascension Perk with a species pack, which in itself is also fun.
If you live underwater, raising the sea level can be quite useful.
​
As you could see in the trailer, the Deluge Colossus Weapon can be unleashed to create a watery grave for your enemies! Ice Mining stations will increase mining station output in a system, as well as enable the Expand Planetary Sea decision, which will increase the planet size by 1.
Aquatic Species Trait
We're adding a new (zero point cost) Aquatic species trait. It doesn't require you to have an Aquatic portrait, but it will require your species to start on an Ocean World. We hope that this covers those of you who want more freedom of choice for your species portraits, while still keeping the aquatic theme intact. The trait also gains additional bonuses whenever the Hydrocentric Ascension Perk has been selected.
From the deep we come!
​
Ocean Paradise Origin
The ultimate watery start, Ocean Paradise allows you to start on a chonky size 30 planet filled with a plentiful bounty of resources. When combined with the Aquatics Species Trait, and the Hydrocentric Ascension Perk, the Ocean Paradise origin gives significant advantages to starting with an Aquatic species. You will want to keep your friends close, and your anemones closer.
You will also start in a nebula and with ice asteroids in your home system.
Where there is water, there may be life. Where there is lots of water, there may be lots of life.
​
Here Be Dragons Origin
Perhaps the most unique Origin yet, Here Be Dragons starts you off in a unique symbiotic relationship with an Ether Drake. Without spoiling too much, the drake will essentially protect you while you keep it happy. The drake is not controlled by you, but can rather be seen as a guardian ally, as long as you keep it happy.
Hostile neighbors? No problem, ol' Hrozgar will scare them off (at least from your home system)! This unique ether drake features a unique aquatic-inspired appearance.​
----
That is it for this week! I hope you enjoyed this deep dive into the gameplay features. Next week we'll submerge ourselves even deeper into the Aquatics Species Pack by taking a look at the art behind the aquatic ships and the unique model for the ether drake.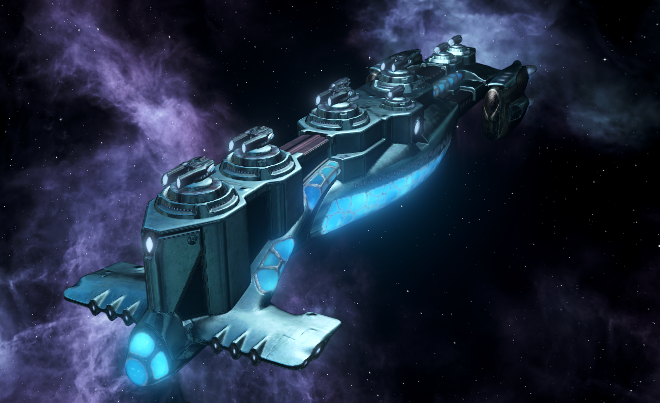 Isn't she a beauty? Come back next week to learn more about the art in the Aquatic Species Pack.
​