They say that to escape any rampaging beast, you don't need to outrun it - just whoever you're with.
- Diuuret, Spymaster operating within the Anathurian Nation.
​
---
Hello again!
Now that we've gone over several of the basic Operations, this week we want to go over
Provocations
.
Operations vary in risk and consequences. The simplest Operations such as Gathering Information and Acquiring Assets will only rarely cause major issues between the two Empires, while Stealing Technology or Sabotaging Starbases is more frowned upon and can cause some diplomatic issues. Provocations are the types of acts that the galaxy as a whole will generally take a dim view to, treating them as war crimes. Expect blowback and repercussions from them, even when they are successful.
Part of these repercussions is modelled by the loss of Infiltration - whether it be that parts of your Spy Network are compromised, security holes have been closed in response, or "friends" within the empire stop being quite as friendly. The flashier and messier the operation is, the more your network will be impacted.
Provocations will usually cause the greatest losses of Infiltration, making it difficult or impossible to run other operations in that network until it is built back up.
One Provocation that we're planning is
Arm Privateers
(Provocation, Economy)
. It's a fairly advanced Operation requiring an Infiltration level of 60, and has the primary objective of disrupting the target empire by providing weapons and funding to violent and unstable individuals.
Surely nothing will go wrong with this plan.
The weapons are untraceable, so it'll be fine.
These are a trustworthy group, right?
Your spymaster makes a good point there though.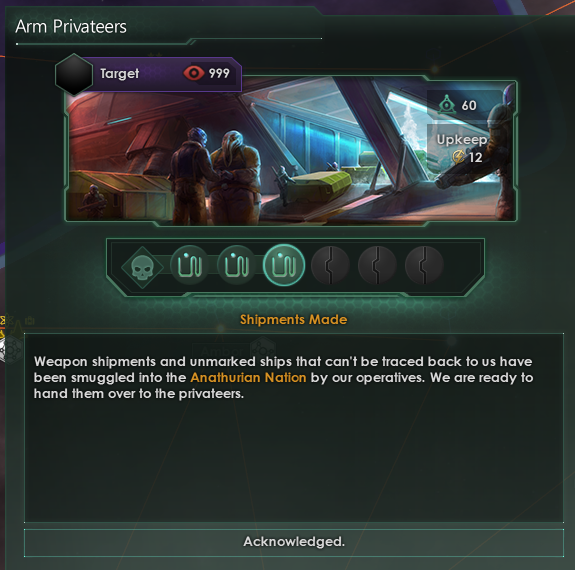 Last chance to back out.



Privateers or pirates?
The Privateer fleet disabled the local starbase and set up their own little pirate base. Their fleet strength is based to a degree on the fleet strength of the empire it was created in, so while it is likely to be only a temporary annoyance, it can prove incredibly useful if deployed at the right time.
As noted during the events, these fleets are hostile to everyone, including their original patrons.
The nastiest Operation to date is the
Crisis Beacon
(Provocation, Technology)
.
Surely nothing will go wrong with this plan either.
Crisis Beacon is an extremely difficult Operation to pull off, but if successful, will add the target's capital system as a target of interest to an ongoing End-Game Crisis. It currently has the highest Infiltration level requirement (80) and cost of any Operation. This will typically require an extremely well developed Spy Network with numerous Assets.
If all goes according to plan, this will usually result in the Crisis sending a fleet to "investigate" it in the friendly way that they do when visiting systems.
Goodbye! We'll miss you!
As with many Operations, things can develop in different ways depending on what's going on.
The last time we'll hear from them.
Shortly thereafter, the bait is set.
It's like Prethoryn catnip.
The sacrifice of our operatives (and the rest of the Spy Network that we had built up in the Anathurian Nation) bought us a bit of time as it diverted a Prethoryn fleet away from our own territory. The Swarm chose to support that fleet with other resources, leading them away from our border nicely.
Now, this sort of Operation is definitely an act of war, and we're currently discussing exactly what the consequences should be if you get caught performing such a heinous deed. At the very least, your target is not going to be happy at all with you. (And if you have a Xenophilic faction they might not be too pleased.)
That's this week's dossier of secret information. Next week we'll continue to talk about the Crisis a bit.