Hello everyone!
This week we are going to talk about something new that we've been working on - namely improving first contact and extending the exploration aspects of the game. All of this is work in progress and may not accurately represent what the game will look like once all of this work is finished. A lot of UI is very much work in progress, so don't pay too much attention to icons or such.
Background
Exploration has always been one of the best parts of Stellaris, and it is perhaps what sets us apart from other games that follow similar themes. Looking back, Stellaris has mostly revolved around the physical exploration of space, discovering an ancient galaxy full of wonders. We believe that exploring and uncovering the galaxy is such an important and fun aspect of the game that we really want to dive deeper into those experiences. We intend to take the next steps by improving the means by which you can establish communication and make the process of learning more about alien civilizations a part of the exploration gameplay.
In this dev diary we will be outlining some of the changes and additions that we are currently working on, so that you can get an idea of what to expect from our next big update.
First Contact
The first steps we are taking is that we are changing how first contact works. First contact is now a much more engaging process with interesting choices that are supported by great narrative.
When you first have an alien encounter you are able to set a policy for what your approach will be. First Contact Protocols is a policy option that lets you dictate your stance when it comes to dealing with newly discovered alien civilizations. Each option has different effects that should suit different types of diplomacy.
Friends..?
First Contact Protocol Policy options.
​
First Contact Investigation
In order to establish communication with the alien contact, an Envoy will need to be assigned to the First Contact Investigation. The investigation will then be able to begin, and it will run through stages and will contain events similar to an archaeological dig site. The reason why we chose a system similar to archaeology is because its a great way of letting a process run over time in a way where it can also deliver some narrative along the way. The difficulty of the first contact investigation will be affected by things like how friendly the target is, or how difficult it is to translate their signals.
Since First Contact now uses an Envoy, that also means that it no longer pauses Society Research, and it is possible to run multiple first contact investigations simultaneously as long as you have the Envoys required.
(Envoys do still currently not have traits or levels, but it is something we are actively discussing.)
The events that you can get depend on the type of empire you are, and on the type of alien you are trying to contact.
There are friendly/peaceful paths as well as ... less so.
As a xenophobic empire with an aggressive first contact protocol it is possible to secure a couple of specimen for a closer look.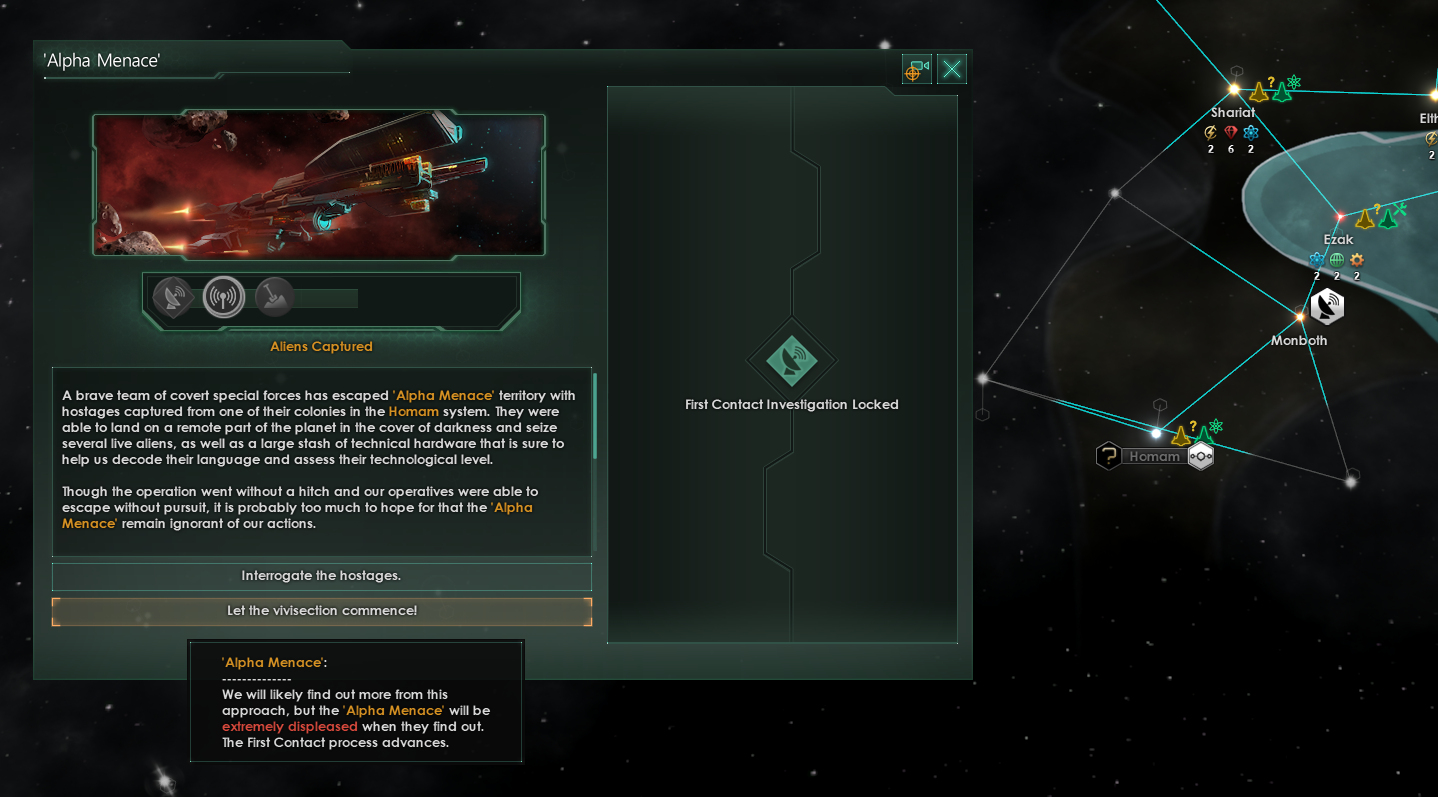 The choices you make during first contact can also have long-term effects on your relationship with the alien empire. Choose wisely and decide which trade-offs you are willing to make. Are you perhaps a materialistic and xenophobic empire that values scientific progress above all?
Stay on your side of the galaxy and all can be well.
Let's agree to disagree.
​
----------------
That is all for this week! Next week we'll be showing you some new features that allow you to explore maps like the one posted here below.