Hello everyone!
In our previous
dev diary #155
we talked about Origins, and today we will be returned to the topic by going through Origins again, but in more detail.
Please note that although this is a pretty exhaustive list, there is no guarantee that these Origins will necessarily match what will be in Federations once it is released.
What are Origins?
Origins allows you to pick a background story for your empire. An empire can only pick one Origin.​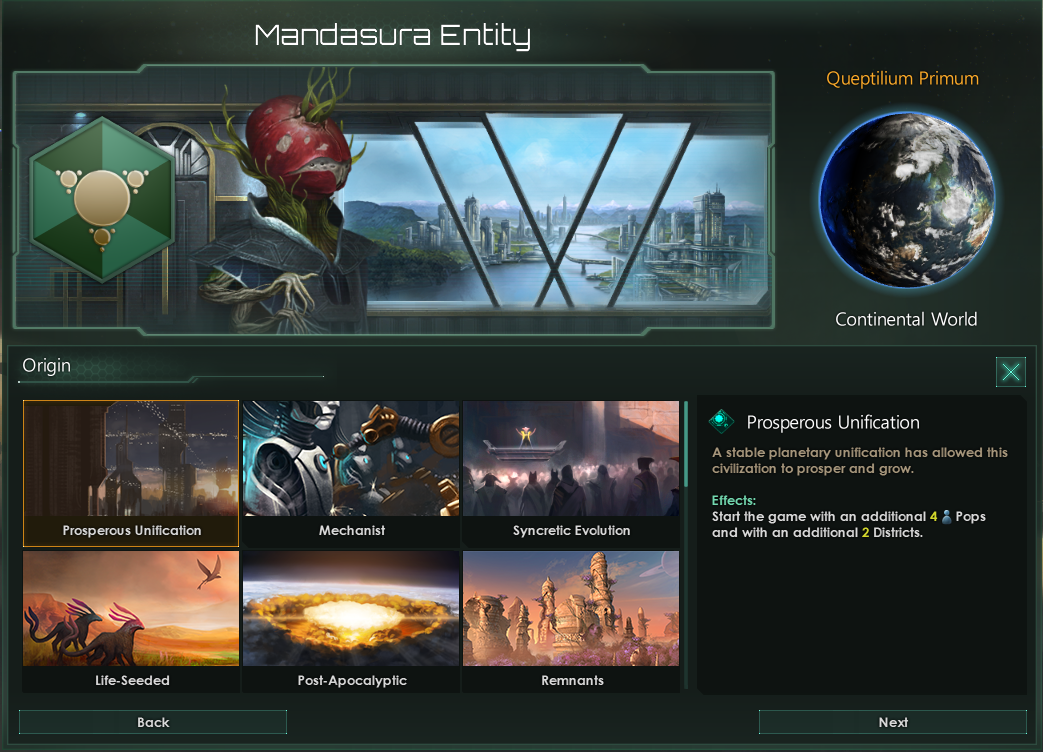 Prosperous Unification is the "default" Origin.
​
There are currently 18 Origins in the game, where some of them were converted from previously being Civics. Origins that were converted will be unlocked by the same DLC that they were unlocked by when they were civics.
Origins are not meant to be balanced against each other, but rather balanced within themselves (as in they don't start in severe resource deficits or "feel broken" by themselves). There are Origins that are "stronger" than other Origins.
The Origins
Prosperous Unification:
Start with 4 additional Pops and 2 additional Districts. (Available to everyone)
Mechanist:
Start with 8 Pops being robots, and the ability to build more. (Utopia)
Syncretic Evolution:
Start the game with 12 Pops being of another species. (Utopia)
Life-Seeded:
Start on a Gaia World. (Apocalypse)
Post-Apocalyptic:
Start on a Tomb World. (Apocalypse)
Remnants:
Start on a Relic World. (Ancient Relics)
Shattered Ring:
Start on a Shattered Ring World. Your empire lives on the only intact section of the ancient megastructure, and it is possible to repair most of the other sections. (Federations)
Also starts with Habitat habitability preference.
​
Void Dwellers:
Start on a Habitat above your destroyed, former homeworld, and with 2 more habitats in your home system. Completely adapted to living in habitats, and start with the technology to build new ones, but also suffers a penalty to living on regular planets. (Federations)
Scion:
Start as the vassal of a Fallen Empire. (Federations)
Galactic Doorstep:
Start with a dormant Gateway in your home system, which can be investigated and reactivated. (Available to everyone)
Tree of Life:
Only for Hive Minds. Start with a powerful Tree of Life on your homeworld. Disastrous if you would somehow lose control of it. Colony ships also plant a sapling on new colonies. (Utopia)
On the Shoulder of Giants:
Investigate a series of Archaeological Sites related to a mysterious benefactor. (Federations)
Meteorite colony ship.
​
Calamitous Birth:
Lithoid Only. Start with a Massive Crater on your Homeworld. You are also able to build Meteorite Colony Ships, which colonize planets in a more dramatic fashion. (Lithoids)
Resource Consolidation:
Machines only. Start with a Machine World as your homeworld. (Synthetic Dawn)
Comfy federalized start.
​
Common Ground:
Start with as the leader of a Galactic Union federation, and with The Federation tradition unlocked. (Federations)
Hegemon:
Start with as the leader of a Hegemony federation, and with The Federation tradition unlocked. (Federations)
Doomsday:
Your homeworld is doomed and it will explode after 64 years, so you need to find a new home for your species. (Federations)
Lost Colony:
Another empire with the same species as you will exist somewhere in the galaxy. (Available to everyone)
---
That is it for this week! Next week we will be back and we will be talking about some of the new things affecting diplomacy, such as Envoys.