Hello everyone!
Today we're back with a dev diary where I will outline some of the stuff I want us to prioritize in the near future. Note that this is not a complete list of the bugs or improvements, but rather a highlight of some of the bigger things that I feel are especially important. These are the current plans, which are prone to change, so I cannot promise that all these things will actually be deployed in the next patch. We're planning to release a definitive 2.2.x version at the end of the post-launch support period, before all of us start working on The Next Cool Thing™.
Pop Growth
We've heard your concerns about how pop growth currently functions, and how it in some cases can create situations that feel wrong. We will be adjusting how pops are chosen for growth, and try to avoid having pops move to, or being chosen for growth, on planets where they have a very low habitability. I feel like moving pops to those planets should be based more on player choice.
Ship Upgrade
I think the experience of upgrading ships could be better, as it feels a bit awkward that cancelling your upgrade at 99% doesn't actually leave any ships upgraded. I want to address that by making each ship upgrade individually, one at a time, and that this process should make use of multiple shipyards in the same starbase. This should mean that if you cancel a fleet upgrade at 50%, roughly half of the ships will still be upgraded. We'll also take a look at tweaking the upgrade costs and time.
Planet View
One of the most important UIs in the game is getting a bit of an overhaul. We've been joined recently by our new UX/UI designer, Doyle, and he's been very busy taking a look at the planet view.
Something we feel is important is making sure that city districts do not look so significantly different from the other districts. We will be making the Max Districts show as boxes as well, so it's more consistent and visually appealing. You can visualize it as picking a box from "Max Districts", and putting it into one of the districts. We're also consolidating some of the UI elements so that they appear in more consistent locations across the tabs. The list of resources should also be more structured, with better tooltips for each item.
The Pops tab is also being cleaned up a little, and you'll now be able to prioritize one job per strata, which should make it easier to make your workers prioritize farming without having to juggle the priorities of other jobs in the same strata. The ability to "star" a job was actually the original design, but it was changed into an on/off prioritization.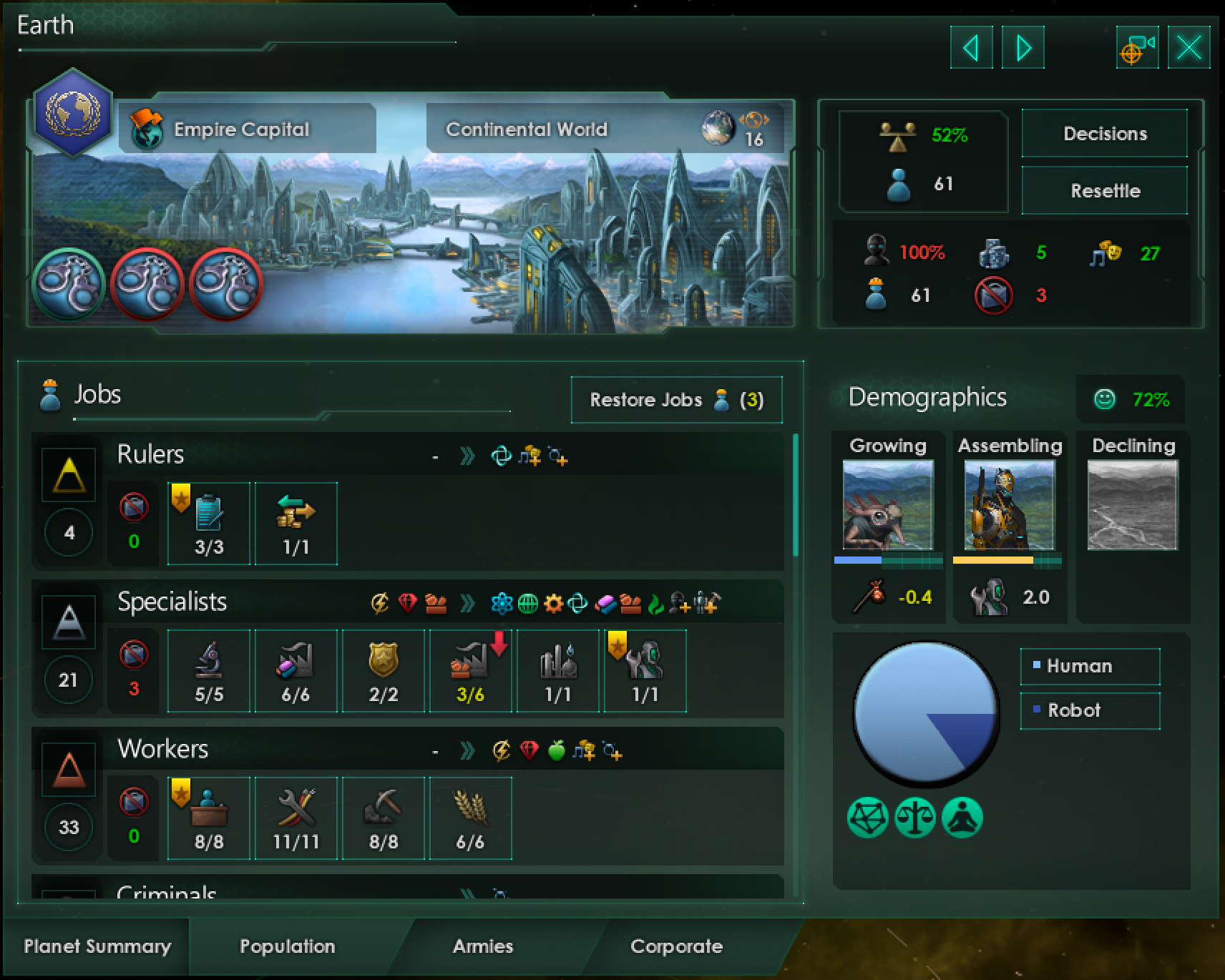 Planet view work in progress, prone to change. In this picture we can see that it's now possible to see down-prioritized jobs and starred jobs.​
---------
Those are just a few of the bigger points that I wanted to address, and that have been prioritized for the definitive 2.2.x version. Of course I need to repeat that it's not a complete list of all the issues we will be addressing. You can expect there to be more fixes to bugs, improvement to AI and performance, and other issues from the rest of the dev team. Your feedback is very important in helping us prioritize the most high-value changes we can make during this period, so we really appreciate it.
We have some really cool things planned for 2019, and I am really looking forward to being able to share those plans with you, but first we will focus on fixes and improvements for a while before moving on to the new content. Scheduled dev diaries will be on hiatus until we have something new to show, but we may post something during the post-launch support period if we feel like we have something worthwhile to share.
Thank you for your time, and I'm very much looking forwards to a great 2019!