Hello again Console Edition Community!
It's less than three weeks until the Aquatics Species Pack and the 3.2 "Herbert" update releases for Stellaris: Console Edition!
This week, I'm here to talk about some of the other assorted balance changes and free content aren't big enough to warrant having their own Development Diary, but will be helpful to you folks when Aquatics and the 3.2 patch come out on August 25th!
Shattered Ring Origin
We have been aware of a power imbalance with several origins for a long time, one of these is the Shattered Ring origin. We've gone through various iterations on decreasing the initial power of the origin, while keeping the player fantasy that it provides in mind and eventually settled on having the progression of the Shattered Ring resemble that of the Remnants origin.
The shattered ring itself supports the following district types:
City, Hive & Nexus - housing depending on your empire type.
Industrial - where valuable consumer goods and alloys can be manufactured.
Trade - where clerks turn a tidy profit and artisans run their workshops.
Generator (not pictured) - where hive-minds and machine intelligence power their infrastructure. Note that Generator and Trade districts swap depending on the owner of the Shattered Ring, much like Commercial and Generator Segments on a ringworld.
Agricultural - where food is grown for those that eat it.
In addition to these districts, Shattered Ring Mining Districts get their Miner jobs replaced by Scrap Miners. These miners produce Minerals and Alloys, harvested directly from the Shattered Ring's remains.
As was alluded to above, we wanted the progression for the Shattered Ring to resemble that of the Relic world from the Remnants origin. So once you've cleared all the debris from the Shattered Ring and researched the Mega-Engineering Technology, you can repair it into a fully functioning ringworld segment.
Void Dwellers
There is now only a single Void Dweller trait, so it can't be exploited via genetic modification of your species.
The modifiers on the trait itself have changed, previously it gave:
+15% Resources from Worker and Specialist jobs & -10% growth speed (for the positive version)
-60% growth speed (for the negative version)
The new version of the trait is now:
+15% Pop Resource Output on Habitats.
-15% Pop Resource Output on Non-Artificial Worlds.
-10% Growth Speed
-30% Happiness on Non-Artificial Worlds.
New Free Content
In the 3.1 "Lem" and 3.2 "Herbert" update the dev team has also added a lot of free, story-driven content. We don't want to spoil any of these for you, but just so you know, they are out there!
Added over 200 new star names for random galaxy generation.
Added two new archaeology sites to the base game.
Added 13 random events to terraforming to make the feature more engaging.
Added 4 new asteroid-related anomalies to spice up old anomaly categories.
Added 4 new Gas Giant anomalies.
Added 4 new anomalies to existing, uninhabitable worlds anomaly categories.
Added new options to several old anomaly events which share categories with the newly added ones above.
As well as other new Quality of Life improvements:
You can now queue construction of starbase buildings that require certain modules before those modules have completed construction (such as the Offworld Trading Company and Naval Logistics Office).
Added the ability to pick your main species' gender during game setup.
Ecumenopolis are now able to be constructed by Rogue Servitors
Subversive Cults no longer have access to the Temple of Prosperity, instead gaining the Subversive Shrine.
Updated Ship Browser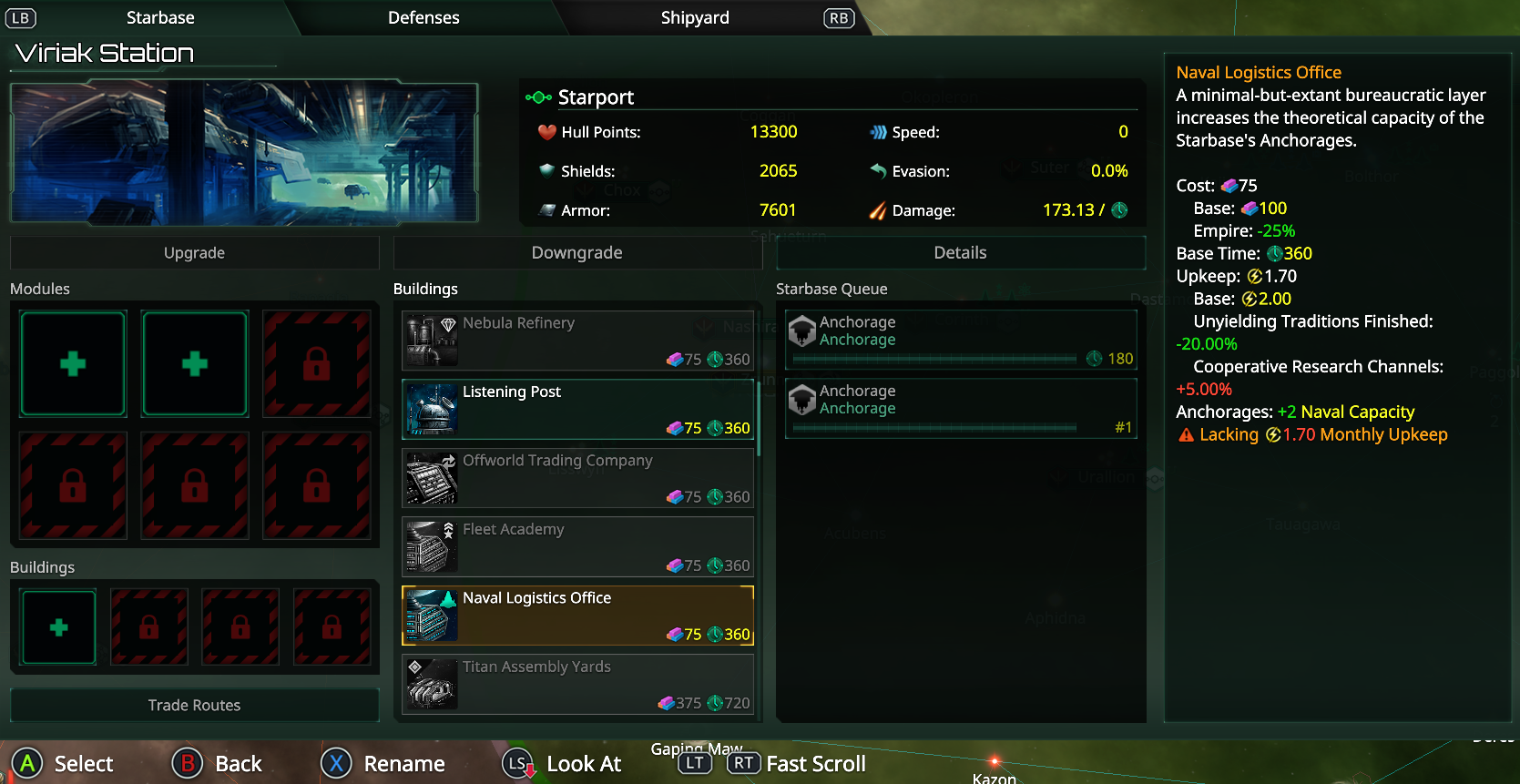 A queued Naval Logistics Office before the Anchorages have finished
New Ship Appearance Selector
​
Civic Rebalance
While we have been busy with more radical changes here and there, and adding new civics and origins, we also wanted to have some tamer but no less important balance changes for our already existing civics, specifically for our outliers and those we felt under- or especially over-utilized.
The following lists all the civics we felt needed a substantial lift up:
Regular Empires
Previously gave (left to right):
+15% produced Unity | +1 Edict cap | +5% Happiness
Previously gave (left to right): -10% Consumer Goods Upkeep | +25% Faction Influence | +10% Admin Cap
Previously gave:
-10% War Exhaustion Gain and -10% Claim Cost
Hive-Minds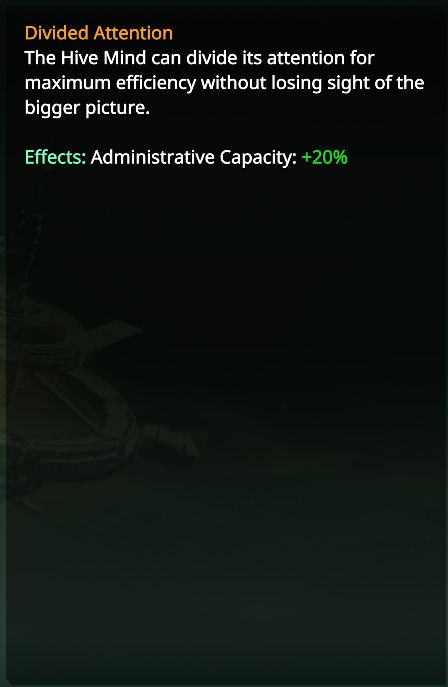 Previously Gave (left to right): +15% Naval Capacity | +10% Admin Cap
Now sadly, only strengthening the civics we felt undervalued or under-used doesn't solve all issues, so we also introduced some slight balance changes to the 3 biggest offenders in terms of being "must have" civics.
Slaver Guilds : Reduced enslaved population from 40% to 35%
Indentured Assets: Reduced enslaved population from 40% to 35% (Megacorp civic)
Technocracy: Added 1 Consumer Goods upkeep to Scientist Jobs that create unity because of Technocracy
The goal here is to make those 3 civics slightly less good, and to move them from "the best pick, every time" to "could be the best pick, depending on circumstances".
That's it for this week! Do keep in mind that this may not be a comprehensive list of all of the balance changes and new content coming in this patch, but it's time we moved on to what you've all been waiting for! Be sure to join us next week where we will be talking about the Aquatics Species Pack ships and portraits!