Hello Console Edition Community,
We've got some great stuff to show you this week!
Traditions have always been in sort of an awkward place in Stellaris - while they were an important part of customizing your empire - by the end game, every empire would unlock every tradition, and empires would be more or less the same, differing only in the order in which traditions were unlocked. For this version of Stellaris we have revisited this, and added new UI that allows you to choose from a list of Traditions. The ability to choose Traditions is worthless, without Traditions to choose from, so we have added several new Tradition Trees, as well as relaxed restrictions on some existing Tradition Trees.
Selectable Traditions
We have improved the traditions system so that you are no longer locked to the same set of 7 traditions (with some swaps), but you can rather pick which Tradition Tree you want to go into one of these 7 slots.
Some of the Tradition Trees, which were previously swaps of other trees (like Adaptability being a swap of Diplomacy), are now their own trees. This means that Adaptability, for example, is now available to all non-machine empires. Synchronicity is still mutually exclusive with Harmony (one will appear if you are a gestalt empire, the other if you are a regular one). Versatility is available to all machine empires.
This means, that while some empire types might have more traditions available than others, all empire types should have more than the previous 7 Tradition Trees available to them, adding another layer of strategic choice to the game.
New Tradition Trees
We're also adding three brand new Tradition Trees to the game: Mercantile, Unyielding and Subterfuge. The Unyielding Tree focuses on defenses and starbases, and requires
Apocalypse
. The Subterfuge Tree focuses on adding to your Espionage capabilities, and therefore requires
Nemesis
. The Mercantile Tree is free, and focuses on buffing trade. Mercantile will also unlock choosing your Trade Policy. Therefore, it will no longer be possible to convert Trade Value into Energy and Consumer Goods without unlocking the Adaptive Economic Policies tradition, in the Mercantile tradition tree.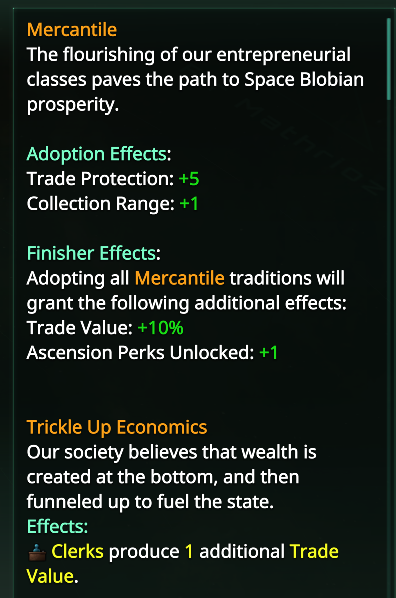 ​
Changes to Existing Traditions
We have also made some changes to the existing Tradition Trees to fit the new design and make the Tradition Trees make more sense when chosen by empires that couldn't previously have chosen them.
Domination
Judgment Corps: no longer increases crime prevention, but rather makes your Enforcers produce 1 Unity.
Privy Council: now also increases Edict Cap by +1
Finisher: no longer provides +1 monthly influence, but rather increases admin cap by 20%. This applies to all types of empires.
Diplomacy
Open Markets replaced with Diplomatic Networking: Embassy pacts now produce 3 Unity
Secure Shipping replaced with Eminent Diplomats: Diplomatic Acceptance increased by +5, and your Envoys that are Improving Relations have a 1% chance per month to gain a Favor from the target empire.
Insider Trading replaced with Trust or Bust: Trust Cap +50, Trust Growth +33%
Finisher: no longer increases Trust Cap or Trust Growth, but rather increases Diplomatic Weight by +10% and +1 Envoy.
Harmony
Mind and Body: now also increases Leader Skill Cap by +1
Kinship: effect on demotion time buffed from -50% to -75%
Bulwark of Harmony moved to Unyielding, replaced with Harmonious Directives: +1 Edict Cap
Supremacy
Adoption: no longer increases Starbase Cap by +2, but instead increases Naval Cap by +20
The Great Game: old effects removed, now increases damage done to Starbases by +20%
Prosperity
Finisher: no longer provides Merchant Jobs per Pops on a planet, but rather increases Stability by +5 and Pop Resource Output by +5%. This applies to all types of empires.
That's it for this week! There will be no Dev Diary next week, however, be sure to join us the following Friday where we will be talking about further balance changes coming in the next update to Stellaris: Console Edition!