Hello Console Edition Fans!
We're here again this week to talk about some of the diplomacy improvements included in the upcoming free update to Stellaris: Console Edition. While we don't have a release date to share for this update, keep your eyes open. Follow us on
Twitter
,
Facebook
or join the
Discord
to be sure you don't miss the news!
It's important to note that these screenshots were all taken on an early version of the Stellaris: Console Edition update, and may change between when the screenshots were taken and when the update releases.
Envoys
Envoys are one of the more important free changes included in the free update. Envoys represent diplomats that your empire can send on various assignments to improve (or harm) diplomatic opinion. Envoys are assigned to a task (improve relations, harm relations, or other things we will discuss in a later dev diary) for a minimum of 360 days.
Envoys are automatically recruited for your Empire, and should one of them die, they will be replaced with another Envoy.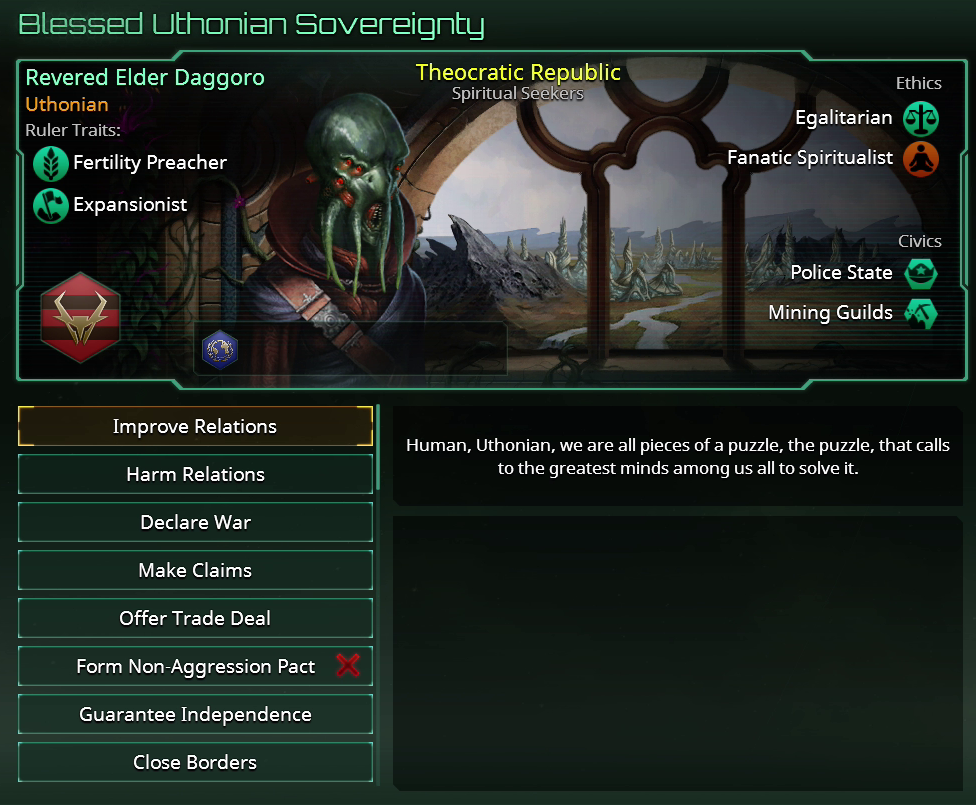 Every empire is guaranteed to get at least one envoy, and it is possible to increase the number of Envoys through Ethics, Civics, and Traditions.
Sending an Envoy to improve or harm relations is also now required for most diplomatic actions, except in the case where the Empires have excellent opinions of one another.
Envoys are, by design, meant to be a limited resource and add strategic choice to diplomacy. Do you choose to improve relations with hostile neighbors, or invest in improving your allies' opinion of your empire? Envoys can also be assigned to the Galactic Community and Federations -- but more on that in a later dev diary.
Diplomatic Stances
Diplomatic Stances are a new policy setting that allows you to set how your empire views other empires. Each stance has bonuses and maluses and can affect how other empires view your empire.

Expansionist
Outpost Build Cost -10%
Colony Development Speed +15%
Border Friction +100%
Belligerent
War Exhaustion Gain -10%
Naval Capacity +10%
Claim Influence Cost -10%
Envoys Improving Relations cost .25 influence a month

Cooperative
Diplomatic Weight +25%
Envoy Improve Relations +50%
Border Friction -50%
Envoys Harming Relations cost .25 influence a month

Isolationist
Administrative Capacity +15%
Monthly Unity +10%
Diplomatic Weight -50%
Diplomatic Influence Cost +100%
Governing Ethics Attraction +25%
Border Friction +200%
Envoys Improving & Harming Relations Cost .25 influence a month
Supremacist
Unlocked by completing the Supremacy tradition tree
Harms relations with all other empires
Relaxed restrictions to Declaring rival/Being declared a rival
Diplomatic Weight from Fleet Power +100%
War Exhaustion Gain -20%
Naval Capacity +20%
Claim Influence Cost -10%
The Diplomatic Stances are each designed to play quite differently, as well as facilitate different playstyles and allow further customization of your Empire.
That's it for this week! We won't have a dev diary next Friday, however, we will have one the following Monday (March 15th). Also, don't forget to watch the new Paradox Insider on March 13th at 8.00 PM CET.