Mass Pricing
(French version below)
Mass Pricing is a tool that allows you to configure all your routes. With it, you can compare your prices (via audit, simulation, and super-simulation) and modify them with a single click, allowing you to manage the balancing of an entire hub in one simple operation.

Like the other Mass Tools, Mass Pricing is only available through the AM Gold subscription.
Open Mass Pricing
To get to the browser-based Mass Pricing :
Drag your mouse over the Mass Management menu at the top right of your screen and choose Pricing. From the new screen, choose a Hub.




To get to Mass Pricing in the mobile app:
Press the network button, then Network Management, then choose a Hub. From the "Hub details" screen, select the "Mass Pricing" button (available from the version 3.6.5, Summer 2022)
Understanding Mass Pricing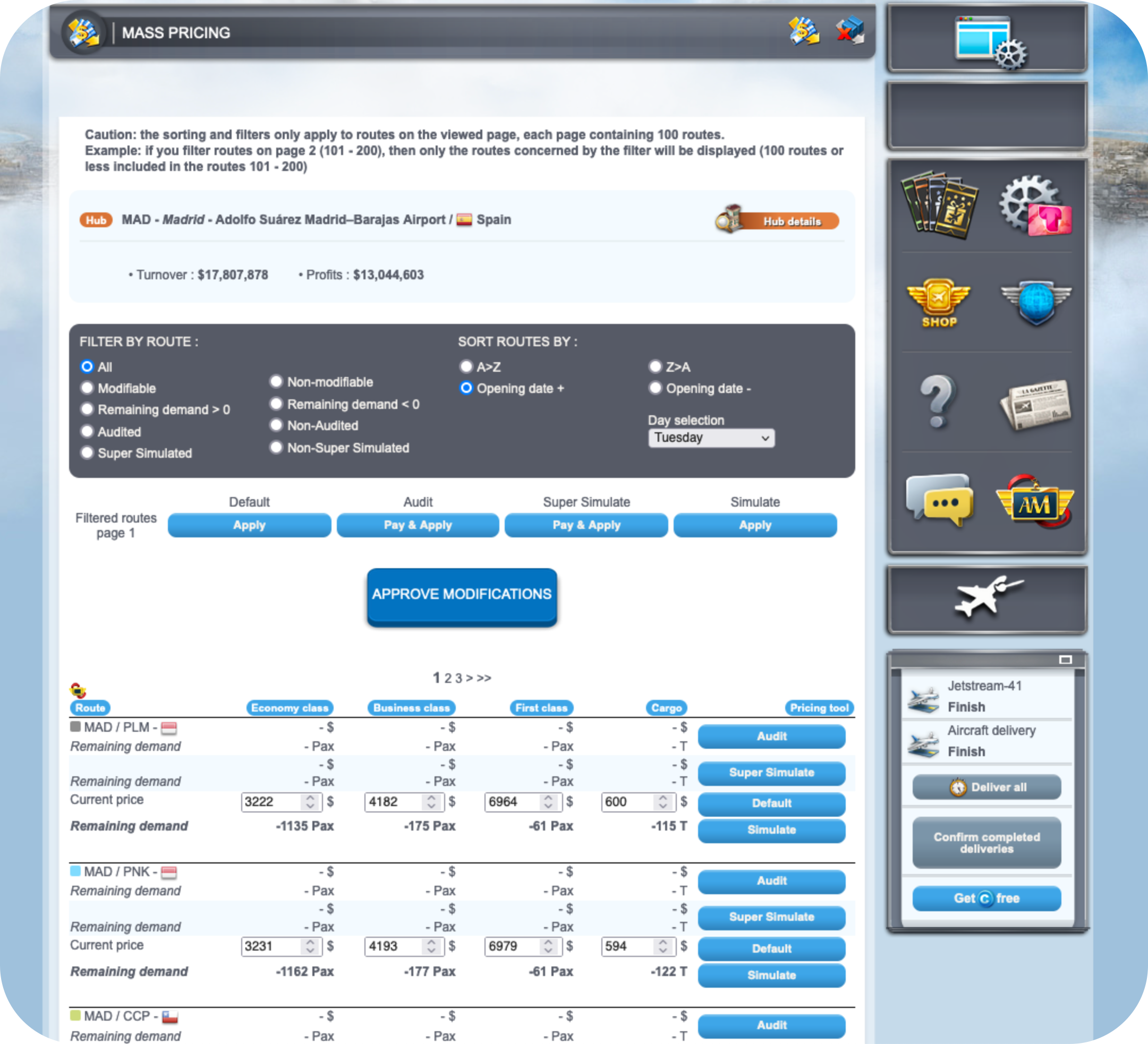 In the mass tool, you can choose a range of 100 routes from all the routes in the selected hub, then sort and/or filter them according to several criteria. You can then subject the routes displayed on the screen* to an audit, a simulation, or a super simulation. For a more precise use, it is also possible to make your actions on a single route via this screen.

Get more information on audit, simulation, or super simulation
here.



The prices of the audit, the simulation, or the super simulation are indicated route by route directly on the corresponding button and will be invoiced to you directly at the time of the action.

However, for a mass audit, mass simulation, or super mass simulation, a popup window summarizing your action with its cost must be validated.

Once activated, the mass audit and the super simulation automatically pre-fill the current price boxes with the values given by the operation (the perfect price for the audit, and the price to reduce demand as much as possible for the super simulation). This means that you no longer have to manually enter all the new prices: you only have to validate them!

*Please note: Mass actions only apply to the routes in the selection, i.e. the routes in the selected range of 100 rows that match your filter criteria.
Confirming Mass Pricing
Once the Mass Pricing has been validated - by clicking on the Validate button at the bottom of the screen - a summary page of all your actions must be validated.
Please note that if you exit the Mass Pricing without validating the summary menu, all your current changes will not be saved!
Tarification de Masse
La tarification de masse est un outil vous permettant de configurer l'ensemble de vos lignes. Grâce à celui-ci, vous pouvez comparer vos prix (via l'audit, la simulation et la super simulation) et les modifier d'un seul clic, ce qui vous permet de gérer l'équilibrage d'un hub entier en une seule simple manipulation.

Comme les autres Outils de Masse, la tarification de masse est disponible à travers l'abonnement AM Gold!
Ouvrir la Tarification de Masse
Pour atteindre la tarification de masse sur navigateur :
Faîtes glisser votre souris au-dessus du menu de Gestion de Masse en haut à droite de votre écran puis choisissez Tarification. A partir du nouvel écran, choisissez un Hub.




Pour atteindre la tarification de masse dans l'application :
Appuyez sur le bouton réseau, puis Gestion du réseau, puis choisissez un Hub. A partir de l'écran "détail du Hub", sélectionnez le bouton "Tarification de Masse". (à partir de la version 3.6.5, disponible à l'été 2022)


Comprendre la Tarification de Masse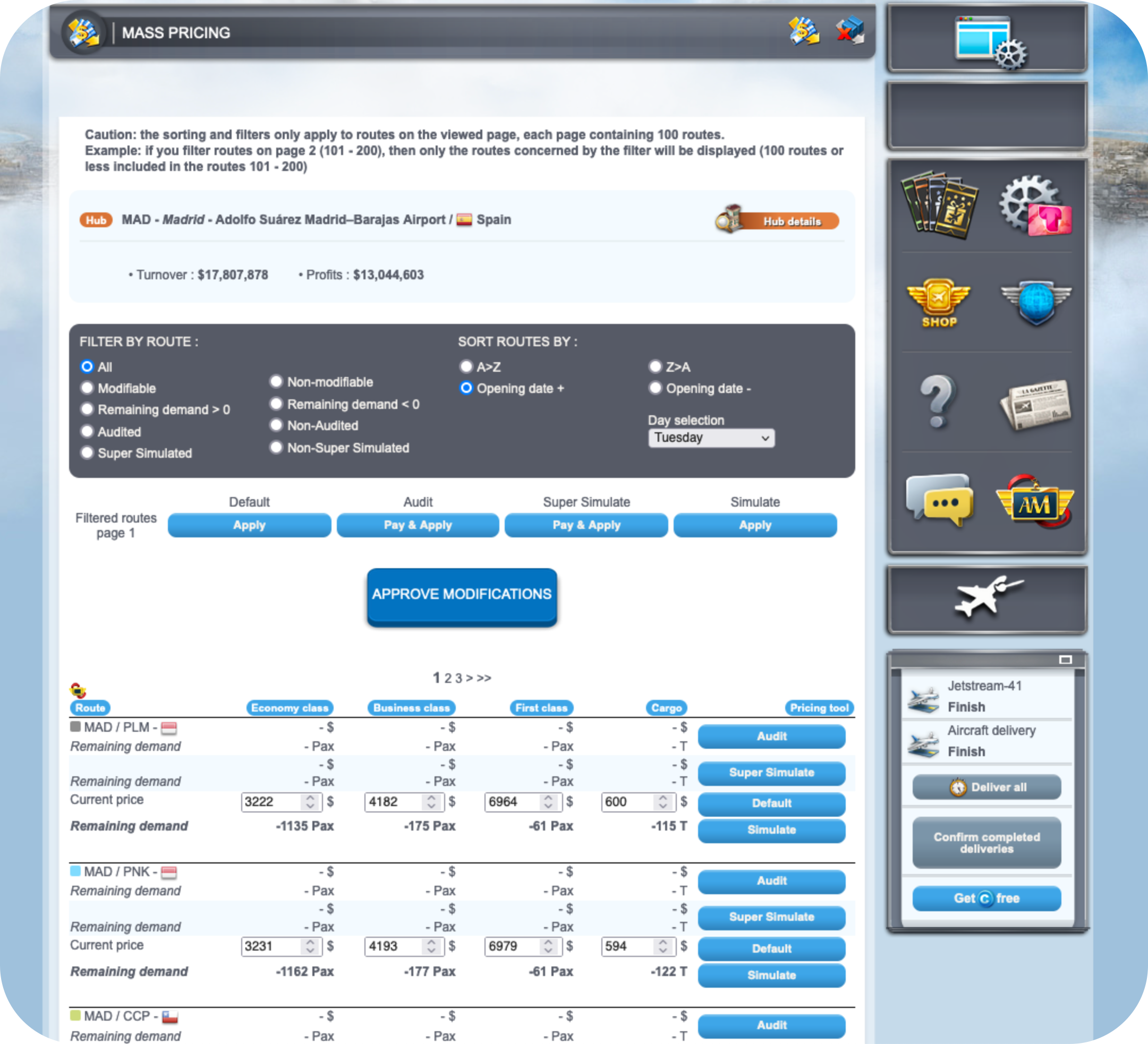 Dans l'outil de masse, vous pouvez choisir un intervalle composé de 100 lignes parmi l'ensemble des lignes du hub sélectionné, puis les trier et/ou les filtrer selon plusieurs critères. Vous pouvez ensuite soumettre les lignes affichées à l'écran* à un audit, à une simulation ou à une super simulation. Pour une utilisation plus précise, il est également possible de faire vos actions sur une seule ligne via cet écran.

Obtenez plus d'informations sur l'audit, la simulation ou la super simulation
ici
.


Les prix de l'audit, de la simulation ou de la super simulation sont indiqués ligne par ligne directement sur le bouton correspondant et vous seront facturés directement lors de l'action.

En revanche, pour un audit de masse, une simulation de masse ou une super simulation de masse, une fenêtre popup récapitulative de votre action avec son coût doit être validée.

Une fois activé, l'audit de masse et la super simulation vous pré remplissent automatiquement les cases du prix actuelles avec les valeurs qu'ont donné l'opération (le prix parfait pour l'audit, et le prix permettant de réduire au maximum la demande pour la super simulation). Ainsi, plus besoin de reporter à la main tous les nouveaux prix : vous n'avez plus qu'a les valider !

*Attention: Les actions de masse ne s'appliquent qu'aux lignes de la sélection, c'est à dire les lignes dans l'intervalle de 100 lignes sélectionné et qui correspondent à vos critères de filtre.
Confirmer la Tarification de Masse
Une fois la Tarification de Masse validée en cliquant sur le bouton Valider en bas de l'écran- une page récapitulative de l'ensemble de vos actions doit être validée.
Attention, si vous quittez la tarification de masse sans valider le menu récapitulatif, tous vos changements en cours ne seront pas sauvegardés !