Nota Bene:
Some of the new event images shown below are tied to the Magna Graecia content pack.
Salvete Omnes!
For the first part of today's diary, I'll hand over to
@Chopmist
for a look at some new missions,after which I'll be introducing the Deification system:
It's that time again Archons, and this week we're going to look at the last 4 mission trees of the new update, which unlike the Athenian, Spartan, and Syracusan missions will be available for free in the 1.4 Archimedes patch.
The minor tags of the Greek 'regions' of the western Mediterranean, Magna Graecia, Greece, and the Black Sea will get a single tree each to give them some historical opportunities and flavor.
These trees are partly dynamic, changing some objectives and bonuses depending on the location and nature of the tag you play as. E.g. Massalia and Emporion will not have completely identical objectives in the Far From Home tree, but they will be broadly the same.
Let's take a closer look at each of the four mission trees and some of their related events.
Pan-Hellenic Government
First things first, the minor tags of the Greek motherland will have access to this tree, guiding them towards uniting the Greek city states under a singular government for the first time.
This tree will be slightly different depending on whether you are playing as an oligarchic republic/monarchy or one of the other republic types (though the latter are a bit rarer in Greece), reflecting the different attitudes to government. Below we can see the tree as it appears for oligarchic Argos.
As an oligarchy/monarchy you will be following the 'Spartan' strategy of dominating Greece through garrisons and feudatories, while a democratic republic will attempt to foster a common cause through tributaries and allies.
The main aim of the tree is to acquire enough land and subjects in Greece, diplomatically or violently, to be able to declare yourself the natural leader of the Greece upon which your feudatories will be annexed (if you are an offish oligarchy) or your tributaries turned into feudatories (if you are a dastardly democracy).
Alternatively, you can decide to allow each of the historic regions of Greece to govern themselves as loyal feudatories of the central government in your capital area. This provides players who enjoy different play-styles and vassal swarms with an option besides 'eat everything'.
Regardless of your government, you will have opportunities to take revenge on Macedon, from liberating (and perhaps releasing) a single territory, to removing the Diadochi from Greece altogether. Finally, you can send a message to the barbarian kings by sacking the Argead palace at Aigeai, ruffling some feathers in the process.
Hospitable Sea
Next up let's look at the tree for the colonies of the Ponots Euxinos, or Black Sea, from the point of view of Olbia.
Depending on your location and territories when the mission is selected, you will be tasked with conquering 4 territories in a part of the Black Sea, in this case the Chersonesus, or 'peninsula', today known as Crimea.
The driving force of your expansion will be a randomly selected family, whose interests may align perfectly or contradict your own at certain times. For example, you may grant them holdings in a reclaimed Hellenic trading post, upsetting the original colonizers, or release the city as a feudatory and upset the greedy dominus.
Ultimately, once you have established a dominant position in the Black Sea the pirates will need to be dealt with, and can either be recruited into your ranks granting naval and mercenary boons, purged completely providing a permanent tax boon, or encouraged to go and bother people somewhere else…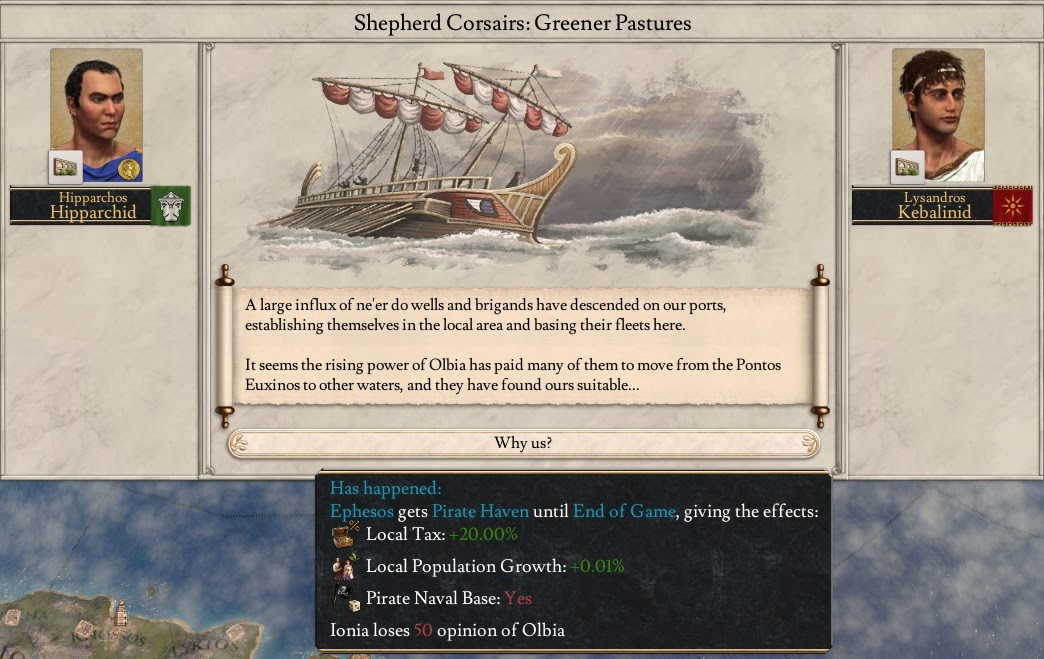 Greater Greece
This tree will be available to the Italiote minor tags in Italy, and will task them with uniting the squabbling cities of Magna Graecia before they fall to Italic barbarians. Once again, there will be different objectives and rewards available depending on your tag. Here is what the tree looks like for Taras, perhaps better known by its Latin name Tarentum.
As victims of years of infighting and the rise of unified Italic powers inland, you must try to unite the Italiote cities under your banner while encouraging the redevelopment of your ailing cities and small Hellenic populations.
Depending on the history of your city, and who originally founded it, you will have some unique choices when it comes to deciding on a permanent focus for your nation.
Steps can also be made to rekindle good relations with your mother city, and perhaps even gain an alliance in the process.
Your first goal will be to form the Italiote League, rebuilding the federation of old but with a more unified leadership, before claiming the command of all Magna Graecia. There is also a chance that other Italiote cities will freely acquiesce to your leadership, depending on your relative strength and the threat of neighboring non-Greek states.
If times are hard, you may enlist the support of a Greek power who will decide whether to assist you, representing the common calls to arms that Italiote cities sent to Greece.
Far From Home
Last but not least we have the Massalian colonies in Gaul and Hispania, who can attempt to unify the old Phocaean colonies and counter the growth of their old rival Carthage. Here is the tree from the point of view of Massalia.
The tags of this tree, being in a situation similar to that of the Euxine colonies (isolated trading posts along a long disputed coastline) share some of their opportunities, but have plenty of their own to be getting along with. As in the Hospitable Sea tree, a single family will emerge as the proponents of expansion and aggression.
Retaking the lost Phocaean city of Alalia in Corsica will please your Massalian brothers and grant boons to assimilation and happiness across the country. As an aside, this tree is also available to Elea (as well as Greater Greece) as the remnants of the Alalian settlers who fled after the battle of Alalia.
Once leadership of Massalian colonies has been established and your status as a major trading power is secure, you may look to forming a Phocaean League, uniting the Massalian colonies under your leadership.
Finally, as an optional objective for the ambitious reconquerer, you may retake the ruins of Phocaea in Ionia and refound it.
As an addendum, here is the new map of Greece, where the following tags have been added: Elateia, Delphi, Amphissa, Oreos, Opus, Dyme, Pellene, Tegea, and Hermione.
Ruler Deification
And now I'm back to give you a run down of one of the additional features in Archimedes, and something that will be unlocked for owners of the Magna Graecia content pack.
Several diaries ago, I hinted that there might be a reason we were adding dead characters such as Alexander to the game. In order to represent such phenomena as the cult of Alexander that sprang up in Egypt at around the start date of Imperator, deified characters can take a place in your pantheon:
Various countries will be able to embrace pre-scripted deified characters, provided certain requirements are met. Deified characters are branched off a parent deity, and inherit their bonuses, but benefit from being able to have their own Holy Site, as well as some interesting effects shown below.
Characters with the deification tag will also be used to represent prophets or figures of interest in Monotheist faiths, instead of deities:
Here, you can see that in addition to the regular Omen effects, all prophets or deified rulers will benefit from an additional effect, depending on which deity they were based. Judaism begins with a set of prophets, each with their own effects - to counterbalance this, we're increased the default omen duration for the Jewish religion. Religions with the monotheist tag will be unable to embrace deities belonging to a different parent religion.
For owners of the
Magna Graecia
content pack, nations with the correct government forms (non-theocratic republics are excluded), will be able to deify past or present rulers, provided certain strict conditions are met, and enough political influence is gathered:
A deification will transfer the effects of the deity you chose to base your deified ruler on to the recipient, giving you a chance to create your own holy site for your newly ascended kinsman. Every base deity will have additional (secret!) effects that will only be applied if the deity is a deified character.
Additionally, for owners of
Magna Graecia
, the Imperial Cult government type now requires a full set of Deified rulers in your pantheon - this will set you back quite a bit, as the PI cost for deifying a ruler increases in relation to how many similarly deified characters exist in your pantheon.
Until next week, I'll leave you with this small, yet tantalizing teaser: