Здравствуйте товарищи! - Greetings comrades! And welcome to a new Hearts of Iron 4 Dev Diary! I hope that you are all having a great summer, and that you are prepared for a little reading, because today we'll be talking about the last country left to show for the upcoming expansion, a country that, in the direst of times, did take No Step Back.
As you all know, the Soviet Union is huge, and we've had to form our own Content Design Soviet to properly implement all the cool stuff we wanted to represent. So today I'll be talking about my main responsibility, which has been the historical and the common branches for what is one of the most interesting countries in HOI.
I'd just like to mention a couple of things before we start:
First of all, yes, everything we'll be talking about today will be coming for free with the Barbarossa update, although some content might vary if you don't own some of the previous DLCs.
Secondly, our beloved Motherland is still WIP so you might see content, values or even art that's not final and is subject to change before release. You will also see a fair amount of debug decisions that we use in order to test the new systems.
And with that said, I suggest you make yourselves comfortable and ready for a long read, and let's get started!
This country entered World War I as the Russian Empire, but got out of it as Soviet Russia, having lost substantial territory in Eastern Europe as a result of the Treaty of Brest-Litovsk in 1918, where the Bolsheviks in Petrograd ceded control of Poland, Lithuania, Estonia, Latvia, Finland and other areas to the Central Powers.
Since the Allies did not recognize the Bolshevik government, no Soviet Russian representation attended the Peace Conference of 1919 at Versailles, where the former Russian territories previously ceded to Germany became independent states.
In December 1922, the Union of Soviet Socialist Republics was formed. The term soviet means "council", and they emerged in the 1905 Revolution as groups or assemblies of Russian workers, soldiers and peasants, in opposition to the Tsar. These soviets disappeared after the (failed) revolution of 1905, but re-emerged under socialist leadership during the revolutions of 1917, which overthrew the Tsar.
Through the Soviets, the Bolsheviks, led by Vladimir Lenin, constituted the political structure of the new regime.
Following Lenin's death in 1924, Iosif Stalin came to power and soon began to suppress all political opposition inside the Party, starting with Trotsky and his followers, but turning against many of those who supported him in his political struggle shortly after (such as Zinovyev or Bukharin), developing a climate of political paranoia and carrying out the Great Purge, with its massive arrests and extremely harsh repression to citizens, military and even party members.
But that's enough history for now, let's take a look at how the Soviet Union looks when you start the game in 1936.
As you can see, a few things have changed:
Initial War Support has been significantly reduced, aiming at making it a bit harder to get to War Economy super early on, something that the Soviet Union was not really ready to do in 1936.
Stalin has finally got a trait (and as you'll see, this is not the only trait he'll be getting).
There are far more starting National Spirits than before, we will take a look at them later, but the first two of them you might recognize: Home of the Revolution and Trotskyite Plot?
We also have a starting advisor, Genrikh Yagoda. He is one of three possible Heads of the NKVD, each one with different characteristics, that you will not be able to manually remove/replace until you get rid of the purges (during which, Yagoda might get purged and be replaced by Yezhov, who can in turn get purged and be replaced by Beriya, as happened historically).
The advisor roster has been greatly expanded, these are the advisors available to Stalin in the early stages (unless he goes too wild with the purges).
There is an even longer list of advisors available for the alt-history communists, most of them will be targeted during the purges, but those are for the next dev diary!
There have also been some changes to the Generals roster: You will now start the game with the five first Marshals of the Soviet Union. Kulik has been demoted to General (since he was made marshal only in 1940, after having lost 3 of the previous marshals in the purges), and there is a new cavalry-specialized general, Vitaly Primakov, available at game start, although a potential target in the purges (generic portraits mean WIP portraits!).
Last but not least, we have sent several Soviet generals on leave to a rejuvenation center, as some had portraits from long after the war. But as you can see, they have not yet returned from their trip (traveling up to 30 years back in time might take some... time, after all).
Okay, we are now finally ready to take a proper look at the new Soviet focus tree (well, except for the Alt-history branches, those are for the next week).
Kinda wide and populated, yes? Well, our main goal with this rework was to offer a more flavorful and historically-accurate experience, while presenting the player with an ample variety of options (both historical and not-so-historical-but-still-plausible) to go for in every different area, just as the largest country in the world deserves!
In terms of gameplay, there are lots of short focuses in this tree, however you will never be able to complete all the focuses in all branches (unless you play until very, very late in-game). You will have to choose your strategy and pick the focuses and branches that will be key for your success in the campaign.
Let's start talking about the industrial branch.
During the first years of Soviet rule, the economic and industrial development basically consisted of recovering the formerly rural-agricultural Russian economy from the devastation of the Civil War. From 1921 to 1928, the USSR pursued the New Economic Policy (replacing the policy of War Communism, which had led to the decline of the national economy). During the time of the NEP parts of the means of production (light industry, food industry, etc.) was largely in private hands, while the state controlled the heavy industry, transport, banks and international trade.
However, during the Stalinist era, the primary goal was the establishment of an industrial base in the country, and during the late 1920s measures were taken again against the kulaks, initiating the collapse of the NEP. In 1928 the implementation of the First Five Year Plan began, followed by a forced industrialization and collectivization.
As you might guess, the main feature of the Soviet industrial branch is the Five Year Plans:
You start with a National Spirit representing the Second Five Year Plan (1933-1937), this plan was characterized by a harsh collectivization and a major advance in industrialization and infrastructure. However, the hectic pace of this industrialization and the lack of qualified personnel often resulted in high accident rates (meaning frequent losses in lives and expensive material) and, overall, low efficiency.
As you complete focuses on the Five Year Plan branch, your National Spirit will evolve, representing the Third Five Year Plan (1938-"1942", the plan was of course ruined in 1941 after Barbarossa). This plan initially emphasized the need of increasing quality in production and resource extraction. However, with tensions in Europe growing at an alarming rate, the plan soon started to gradually focus on defense and military production.
This is represented in game by the possibility of specializing your Third Five Year Plan, you can focus on increasing the efficiency of your factories in the long term, or you can shift the focus to start boosting armament production as soon as possible. As you might have noticed, the focuses in the centre are all resource-related.
As I've mentioned, the Third Five Year Plan was ruined after Barbarossa, so how is that represented in HOI?
Well, all the focuses related to the Third Five Year Plan (the ones inside the red boxes below) will get locked forever once the Soviet Union gets dragged into a war against a major country, meaning that once the Great Patriotic War starts, the Third Five Year Plan goes to hell, forever. You will keep your current national spirit with all its bonuses, but you won't be able to progress any further in this part of the branch.
But fear not, that's not the end of the Five Year Plans. If you manage to survive and defeat your enemies, and right after the peace conference against the enemy that ruined your five year plan, Restoration and Development will be automatically completed for you, not only granting temporary bonuses for repairing and rebuilding your (potentially) devastated industry and infrastructure, with a cost in consumer goods, but also unlocking access to the Fourth Five Year Plan and the final focuses in the industrial branch. The Fourth Five Year Plan (1946-1950) was focused around the reconstruction and economic development of the country.
The focuses below the Fourth Five Year Plan are late-game focuses aiming to provide interesting things to do and goals to achieve if you decide to continue playing after the main war (or if you manage to have an independent war against another major while world war 2 is raging elsewhere).
The COMECON was an economic organization, founded in 1949 by countries from the Eastern Bloc, and led by the Soviet Union. Once you complete the focus Found the COMECON (presumably earlier than 1949), a small decision system will be unlocked, aimed at aiding your allies (usually at your expense) in order to boost their military and industry so that they keep the pace in the potential wars to come.
To the right of the Five Year Plan focuses, we have a choice to make: train National Specialists or rely on Foreign Experts. The first will significantly improve the national designers, which are now slightly weaker at game start. The latter will unlock the Gosproyektstroy.
The Gosproyektstroy was a State Design and Construction Bureau set up in 1930 following an agreement with the "Architect of Detroit" (Albert Kahn), by which American architects became consultors for all industrial construction in the Soviet Union in the early 30s. This is one of many cases in which the USSR concluded agreements with foreign companies, mainly American (Ford, General Electric...) and German (Krupp, Borsig...) to carry out industrialization during the years of the first five-year plan.
In HOI, you can bring back the project, represented by a construction designer that will provide no research bonus (you're relying on foreigners, after all) but that can, however, be improved by bringing foreign experts, boosting your production in the long term. Each country will grant different bonuses, Germany will give a bonus to efficiency growth, the USA will grant an efficiency cap bonus and Japan will boost your starting efficiency, for example. All of them will also grant a License Production Cost bonus (atm it's shown as that amazing "None: +0.75" in the pic below
).
The Russian Academy of Sciences, founded in the 1700s, became the highest scientific institution in the Soviet Union after the revolution. National academies appeared throughout the 20th century in the Union republics, and regional branches were created as part of the USSR Academy of Sciences.
The first focus (The USSR Academy of Sciences) will grant you a research slot and a small bonus (1%) to research speed.The second focus will allow you to build more academies of sciences in the Soviet republics, both in integrated (not-released) republics and in puppeted republics, for an extra 1% research speed each and, if built on a puppeted republic, then it will also boost your puppet's research, now that's a win-win if I've ever seen one.
Moving on to the Airforce branch.
During the 1930s, the Soviet government funded missions to break numerous world aviation records. Aviation achievements and records became demonstrations of the USSR's technological progress and Soviet media continuously exalted record-breaking pilots.
However, Soviet aviation was far from being in as good a shape as the Soviet media seemed to indicate. It was, in fact, plagued by mismanagement, inefficiency and technologically-deficient equipment, leading to a staggeringly high accident rate (in early 1941, prior to the war, apparently 2-3 planes on average were lost daily due to accidents, which led to the famous "flying coffin" incident, which sealed Pavel Rychagov's fate during the Great Purge).
The Great Purge definitely took its toll on the Soviet Air Force too, newly promoted officers lacked flying and command experience, while older commanders, having witnessed the fate of so many officers during the purges, lacked initiative and efficiency out of fear of being labeled as enemies of the people.
In HOI, this terrible situation is represented via the National Spirit Soviet Airforce, which has fairly harsh and frightening penalties to anything related to getting your feet off the ground.
Throughout the Airforce branch, you will be able to fix most of these penalties and get some bonuses too. You will not be able to remove all of those penalties though, since you will eventually have to choose between production or pilot training: the left part of the branch aims at improving aircraft production (more planes, better planes), while the right is focused on getting skilled aviators from among flying clubs, and training men and women alike to become competent army pilots, culminating with the three all-female aviation regiments formed by Marina Raskova (they come with aces and everything!).

And it's time to talk about the Soviet Navy!
The Soviet Navy was divided between four operational zones: The Baltic Fleet, the Black Sea Fleet, the Arctic Fleet and the Far East Fleet, with vast distances separating them.
By 1941 the Red Fleet possessed few large modern warships, its expansion had focused instead on submarines and light ships, aiming at protecting the country's coasts and borders from enemy attacks, the naval defense strategy. After the purges (in which many of the advocates of the defense strategy perished), Stalin pushed to turn the maritime strategy into a resolutely offensive one, but the construction of large military vessels was hindered by the war.
Anyways, when Operation Barbarossa commenced, German bombers focused on airfields instead of targeting naval bases. The Third Reich didn't need to destroy the Soviet navy, as long as their navy managed to blockade Soviet ships in their ports with mines.
In the left part of the tree, you will be able to reinforce the naval bases of any of the four fleets.
You can then Expand Shipbuilding Plants to get a significant amount of dockyards, based on the naval bases you previously reinforced.
To the right, the PC of the USSR Navy will grant you The Red Fleet national spirit.
This national spirit will be further improved in the focuses below, based on your choice between surface or submarine warfare. Most of them will provide some navy experience, tech research bonus and production cost reduction for the appropriate type of ship.
Long Range Raiders will also unlock Cruiser Submarines tech and add a couple of K-Class submarines to your production line.
Similarly, Expand the Morskaya Aviatsiya will grant you bonuses for carriers and navy aircraft, while also adding a carrier to your production line.
And we've made it to the last actual common branch, the Military branch!
There are three branches here really, one for Military Industry, one for Defense, and one for the Army. Let's start with the Military Industry, to the left.
Here you will find multiple research and production bonuses, some military factories and some tank templates.
Development of Tankograd will make it cheaper for you to edit tank templates, while also building military factories in heavily industrialized states in the Urals and to the East.
Last but not least, let's talk about Merge Tank and Materiel Plants. Did you notice that there were similar focuses in the Air and Navy branches?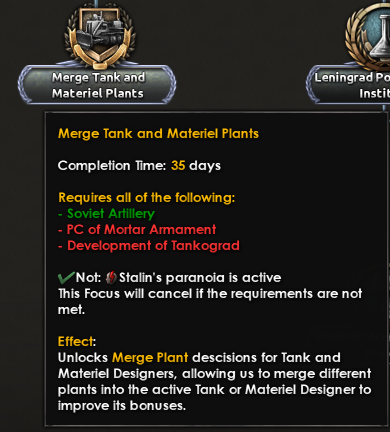 Well, during my research for Soviet designers, I was amazed by the sheer complexity of just keeping track of a single designer candidate during HOI's timeline, since many plants were repeatedly renamed (or re-designated), merged or split into different bureaus (which were also frequently renamed, merged and split themselves). Sometimes plants or entire bureaus were merged into even bigger agencies, and other times a plant would just be merged into a nearby, bigger plant to focus on the R&D aspects of it, for example.
Last but not least, we have the evacuation of entire plants from West to East carried out by the Soviets shortly before Barbarossa and of course during the war, which often resulted in more merging, renaming, and repurposing of plants.
So, in the face of all this industry reassignment frenzy and plant renaming festival I thought: why not just embrace this chaos and make something out of it for HOI?
These focuses will unlock decisions to merge different plants into your active designers, providing them with many different small bonuses. All these plants are real, although not all of them were actually merged into a bureau or into another plant.
Worth noting that there are also a few new Naval and Tank designers available for the Soviet Union.
In the Defense Branch you can choose between building a defensive line in the border with Poland (Stalin Line) or in the border with Germany, assuming you have somehow gained control over Eastern Poland (Molotov Line). You can also fortify Moscow and the White Sea-Baltic Canal and the border with Japan and their minions. Impregnable Forts is meant to represent the fearsome coastal batteries around Leningrad and in the Crimea, that caused so much trouble to the Germans during the invasion.
Further down the tree, we have Leningrad Polytechnical Institute, which will grant you your 5th research slot, The Road of life and the Soviet Atomic Bomb Project.
The Road of Life were the transport routes across Lake Ladoga (water routes during the period in which the lake is navigable and ice routes in winter) to Leningrad during the Second World War. They were the only Soviet surface routes into the city while it was besieged by the Germans (if you want to know more about the Road of Life, I can recommend watching a fantastic episode centered about the siege of Leningrad, as part of the documentary "Soviet Storm - WW2 in the East". I find the whole documentary very interesting and enjoyable, by the way).
In-game, this focus represents the desperate yet brave and daring supply methods used by the Soviets in the direst of times. It will become available as soon as one of the key Soviet cities is threatened by enemy troops, and it will provide some bonuses to winter attrition and supply.
The Soviet Atomic Bomb Project was the military project, part of the Soviet atomic program for nuclear research and development, aimed at developing nuclear weapons during the war. It was greatly stimulated by the activities and achievements of scientific institutions and military industry of foreign powers such as the German Reich and the United States of America.
Initial efforts were hampered by the German invasion and remained largely reliant on the intelligence knowledge gained from the Soviet spy rings working in the USA's Manhattan Project.
The focus requires having built at least 7 Academies of Sciences, and it will provide an array of bonuses and tools to infiltrate enemy atomic programs and develop your very own nuclear bombs, including an extra operative slot and a new historical operative.
Now let's talk about the army branch.
The Army Branch is one of the most important ones in the tree, and it has a lot of content related to it, so let's focus on the key aspects of it, starting with the initial National Spirits.
The Military was highly politicized, making it dangerously inefficient, even though political discussions (and indoctrination) among the troops also had its benefits for the Party. Politicized Military can be improved further down the branch.
As you can see below, The Red Army has a lot of red modifiers, how fitting, right?
Well, no worries, most of the focuses in this branch will deal with those red modifiers, gradually putting your unreliable army in very good shape.
Once you Strengthen the Mobilization Plan for some manpower and mobilization speed, you will be faced with a decision to make: Restore Cossack Units or opt for Cohesion First.
After the Russian Civil War, Cossack troops were disbanded, since many of them sided with the white movement. However, in 1936, the restrictions on conscription of Cossacks for the Red Army were lifted and some cavalry divisions received the status of Cossack Divisions. The wearing of the previously prohibited Cossack uniform was also restored (although it would only last for a few years), and in this uniform walked the Cossack units in their first military parade as part of the Red Army in 1937, and later on at the Victory Parade on June 24, 1945.
In-game, Restore Cossack Units will grant you small bonuses to cavalry, a new general and a few divisions, including a new Cossack cavalry template. To be fair, this template is inspired by the composition of cavalry divisions (not necessarily Cossacks) later on, around 1941, but I really wanted to offer the player an interesting cavalry template from which to work on.
Cohesion First will instead boost your division organization, in exchange for some extra training time.
The old Rehabilitated Military and Military Reorganization have suffered some changes. Rehabilitated military will be available once you get rid of Stalin's Paranoia and the purges (more of this later), and will help you recover some valuable organization.
Military Reorganization has now become an actual reorganization, during which you will have to deal with some nasty penalties that will be applied when you start the focus. However, once the focus is completed, not only will you get rid of said penalties, but your national spirit The Red Army will also get useful bonuses to modifying division templates.
Similarly, Desperate Measures and Lessons of War have also suffered significant changes.
Desperate Measures can only be taken while at war against a major power, and will grant a temporary boost to fielding divisions, as well as a set of decisions to help you contain the enemy invasion.
Lessons of War can only be taken once the national spirit granted by Desperate Measures is gone, representing how, even though the Soviet Union suffered numerous and devastating defeats and military failures during the first years of the war, those fatalities were acknowledged and the military slowly learned their lessons from them.
This focus is probably the turning point in which the Red Army leaves behind the terrible state in which it was at the start of the game, to begin the path towards becoming a formidable military force. The focus will not only add key bonuses to The Red Army national spirit, but it will also unlock the famous Order 227 ("No Step Back"), which will, in turn, unlock decisions to prepare and carry out important Military Offensives.
In your struggle against the enemies of the people, you will also be able to raise Penal Battalions in the form of divisions entirely composed of convicts. Penal battalions might not be as well-equipped as regular infantry, but they are definitely easier to replenish and overall can perform very good as cheap meatshields, as long as you don't care too much about your manpower (something that is probably not the biggest issue in the Soviet Union).
Partisan activity in occupied Soviet territory (especially Ukraine and Belarus) was impressively high and played a role perhaps not very decisive but definitely important to the overall war effort. Organization of the Partisans will give you a set of tools to increase partisan activity, disrupt enemy supply and hinder enemy offensives, including a related historical operative and an extra operative slot for him. It will also come with a couple of partisan Generals that can prove to be very useful.
Once you have carried out the military reorganization and learned your lessons of war, you may choose what to do with your Political Commissars:
Keep Commissars Organization means that political commissars will continue playing the role of "second commander" within the military units.
You can instead Swap to Political Advisors, and try to increase efficiency by subordinating political officers to commanding officers, allowing for more freedom in the military command chain while the new role of political advisor focuses more on morale-related functions.
The Glory of the Red Army will make it easier for you to unlock those last doctrines remaining and field more special forces divisions. It will also unlock a Soviet-specific improved version of the Blitz Tactic, as well as a new General: I read a lot about General Rybalko in various different sources during my research, and I feel that he deserves a place in the Soviet Generals roster.
Now, let's skip the political branch for a moment and jump to the Internal Affairs branch, a common branch for the communist paths.
In this branch you will be introduced to the new Propaganda Campaigns system, unlocked by the focus Expand the Agitprop. As you probably know, propaganda was a very important tool that the Soviet Union used extensively through media, books, films, theatre, etc. The use of propaganda was far from being Soviet-specific but, truth be told, Soviet propaganda was very characteristic.
Propaganda Campaigns are a decision-driven system, full of new and, imho, very cool art coming from real Soviet propaganda posters. The system has three slots that will allow you to activate up to three different propaganda campaigns at a time, from among a total of 24 campaigns.
Each campaign will grant certain bonuses for a duration of 6 months upon activation, after which the campaign will finish and the slot will become available again. Every time you activate a specific campaign, its cost will increase. There is also a cooldown for the propaganda campaign to be available again, so that you cannot activate the same campaign twice in a row.
However you will not start with all these slots and campaigns available at once, Expand the Agitprop will unlock the system with a limited number of campaigns (both military and non-military) and only one poster slot. You will get extra slots in the focuses right below Expand the Agitprop, and different campaigns will be gradually unlocked by certain focuses scattered throughout different branches (Industrial, Military, Political…). In the image below you can see, from left to right, an active propaganda campaign, an available poster slot that is still empty, and a locked poster slot still to be unlocked.
There are many different campaigns, there are military campaigns that will grant bonuses to MP, breakthrough or core defense, there are industry-related campaigns that will boost production or repair speed, there are campaigns related to prosperity (stability, research speed), campaigns to glorify and support the partisans, etc. Also, a small (yet very cool) detail is that all these posters will actually age when they near the end of the campaign duration.
Back to the Internal Affairs branch, both Positive Heroism and Collectivist Propaganda will still lead towards mutually exclusive sub-branches, however there have been some changes in them. First of all, both focuses will grant an extra poster slot for your campaigns, and each will unlock a different propaganda campaign.
Further down the Positive Heroism branch, you will get some production and military bonuses, and some of your generals will get promoted to Marshalls (prioritizing Konev, Rokossovsky and Zhukov, if possible).
In the Collectivist Propaganda branch, you will find bonuses to research speed, consumer goods and production efficiency growth.
In 1941, after having learned about the beginning of the Great Patriotic War, Metropolitan Sergy wrote an epistle to the pastors and believers of the Russian Orthodox Church, blessing those who decided to go to the front. Relations between the Church and the Soviet government gradually improved and, in 1943, Metropolitan Sergy was elected Patriarch of Moscow and All Russia.
The focus will unlock Patriarch Sergy as an advisor. He will boost your stability and division recovery rate, while also reducing the Compliance growth in your lost states.
The Foreign Politics branch is also common for all Communist paths. The goal with this branch was to provide the Soviet player with ways to interact with different parts of the world, from the western theatres in Poland, the Baltic and the Balkans, to the Middle East and, of course, the Far East. One very important note here is that we really wanted to move away from the mechanic of sending Ultimatums to countries by justifying a wargoal on them, since those came from a time when decisions didn't exist and were really unintuitive. So, Ultimatums have now been moved to decisions, along with a set of other decisions to pressure or seek cooperation from certain countries.
The Eastern Development sub-branch is focused mainly on preparing your minor allies in Asia for war. You will be able to build some factories and help them field some more troops, as well as increasing their efficiency defending their own borders. You will also be able, of course, to annex everyone's favorite, Tannu Tuva.
Next, we have a choice to make, we can follow the Policy of Collective Security, as advocated by the PC for Foreign Affairs, Litvinov, which will lead towards an anti-fascist stance, or we can follow Molotov's (also PC for Foreign Affairs after Litvinov was removed from his post) Policy of Individual Security, which will lead towards seeking closer ties with Germany and emphasizes the need for anti-capitalist policies. Each focus will unlock the appropriate Commissar for Foreign Affairs as well as an exclusive propaganda campaign. The final focuses in each sub-branch will provide wargoals against major fascist or democratic nations in Europe, as well as some bonuses to fight them.
Additionally, in the Policy of Collective Security branch, we can try to form a defensive alliance with France.
The branches in the middle are basically a slightly expanded version of the choices the Soviet Union had before the rework.
Baltic Security and Middle East Diplomacy will influence countries in their region, and then we have focuses to seek (I guess you could sometimes call it "force") cooperation with certain countries, and to just send an ultimatum right away, either way, the goal is the same: ensure Soviet control over the neighboring regions.
In the Eastern theatre, your first choice will be whether you want to befriend or antagonize Japan.
If you decide to work against Japan, you can then pick your favorite Chinese tag and make it your protégé. Note that the Soviet Union will no longer be able to send volunteers to every single Chinese tag, but only to their chosen Chinese best friend. If you choose to aid the People's Republic of China or the Kuomintang, you will grant them some bonuses to licenses and you will also unlock a (currently) beautifully unlocalized decision to send them equipment.
If, on the other hand, you opt for aiding your fellow comrades in Sinkiang (my personal favorite option), you will attempt to develop a "symbiotic" relationship. During my research on Sino-Soviet relations, I found the interaction and treaties with Sinkiang to be extremely interesting to me (for some unknown reason). Sinkiang was rich in many key resources, such as oil, gold and other valuable minerals, and the Soviet Union repeatedly sought to incorporate the region to their sphere of influence. They pushed for being allowed to carry out mineral prospecting in various regions, where they found oil deposits as well as tin, tungsten and other minerals, not to mention the interest on purchasing other goods such as cotton and manufactured products.
In-game, supporting Sinkiang will be the starting point to develop the infrastructure, the resource-exploiting industry and more in the country, sometimes in exchange for local manufactured goods (consumer goods reductions), other times aiming at getting resource extraction rights in the appropriate state, allways benefitting (in principle) both nations.
This part is still a bit WIP, but the idea is that, little by little, Sinkiang can become permanently part of the Comintern or, in case the Soviet Union is invaded and its future seems uncertain, Sinkiang can decide to revoke its concessions to the Soviets (taking full advantage of the Soviet investments in the country, the Soviets will probably be busy and won't be able to retaliate against them) and strengthen ties with their Chinese comrades.
Further down the branch, you will be able to intervene in China against the other Chinese tags, and prepare for the war against Japan. Since the Soviet Union had very specific territorial desires in Japan (Kuril Islands, Sakhalin and even Hokkaido), you will be able to demand Japanese submission if you control the appropriate states, offering to immediately cease hostilities in exchange for your desired territories.
If you, on the other hand, want to try and reconcile with the Japanese, you can offer them territorial concessions (North Sakhalin) in order to develop closer ties with them. You can then send an Ultimatum to Sinkiang, and form an offensive pact with Japan against the USA.
And we've finally made it to the Political branch, hurrah!
As you may know, the 30s and 40s were quite turbulent times in terms of social stability in the Soviet Union. After having secured power, Stalin was (at least, officially) quite worried about potential saboteurs, wreckers, counter-revolutionaries, spies, and so on. After several incidents (probably the most important one being the assassination of Kirov in late 1934), and with the desire of protecting and perpetuating his authoritarian regime, in order to lead the country in the direction he envisioned, Stalin gave green light to a period of extremely harsh political repression among civilians, the military and even among the Communist party: The Great Purge had commenced.
Hundreds of thousands of individuals and entire groups were oppressed during this period (mainly 1936-1938), in which everyone could be suspected of being an enemy of the people, and be treated as such, with potentially lethal consequences.
So, before going through the focuses, let's talk about how this instability, political oppression and the process of the Great Purge is represented in-game through the new Stalin's Paranoia system.
This system will be introduced to you at some point in early 1936 and, as you can see, you will be able to keep track of it in the decisions window.
Once the system is "activated", certain focuses, decisions and traits will increase/decrease Paranoia. There are flat increases that you will get mostly via focuses, events and decisions, and there are weekly modifiers that will slowly impact your Paranoia over time, these ones come from leader and advisor traits that will be applied to Stalin and the NKVD advisors the moment this system is activated.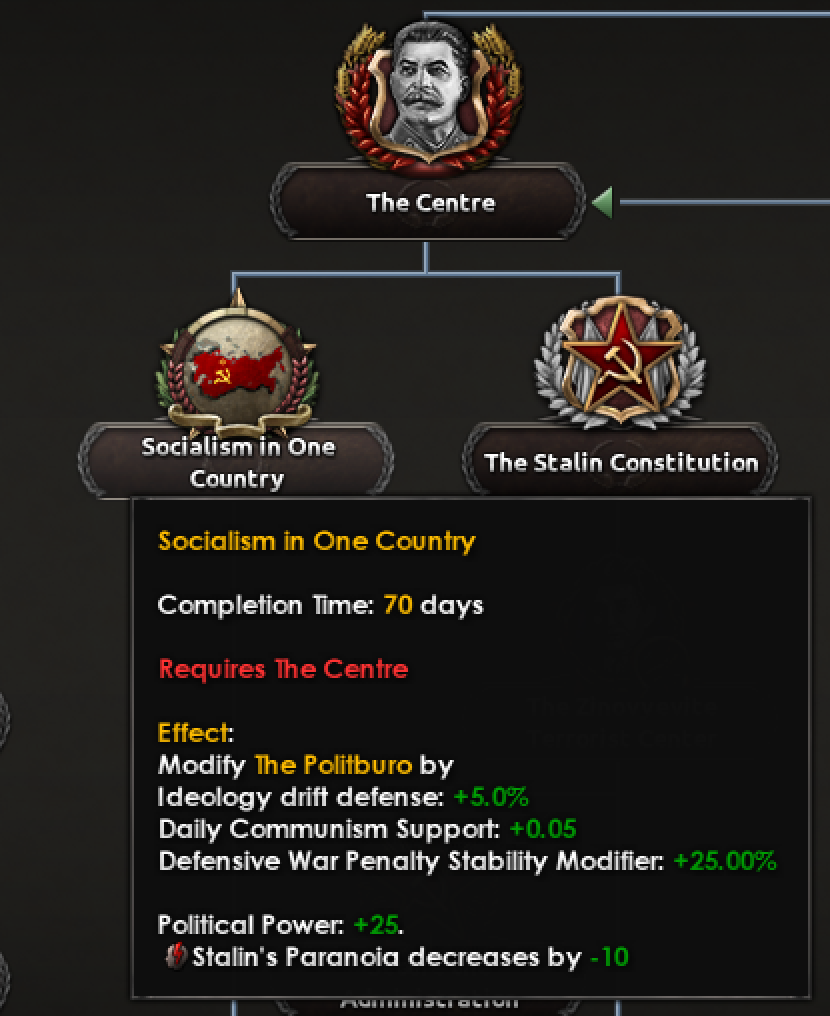 And how does this Paranoia affect you? Well, once the system is activated, random purge events might happen if your Paranoia gets over 25. The higher the Paranoia and the more days it's been that high, the more likely it is for a purge to happen. If Paranoia goes over 75 (note that it is capped at 100), then really nasty things can happen, and you might get what I call "great purge" events, instead of "regular purge" ones.
There are a lot of different purge events, and they can be sorted based on the "area" they're targeting: the administration (civilian), the army, the navy and the airforce. Additionally, as I mentioned above, each "area" has its own "regular" and "great" purge events.
Regular purge events will usually purge a single character (be it a political advisor, a navy chief, a field marshal, etc.), or give some penalties in the form of national spirits.
Great Purges are significantly worse, their effects varying from granting nastier national spirits than their regular counterparts, to purging a number of characters at once while cowing some of the survivors, to even dissolving your aircraft designer!
As you can see, the loc, and also the system's UI are still WIP, but I thought I'd tease you with an event and maybe a few of the National Spirits you can get. Some of these National Spirits will be temporary, others will need to be removed via decisions.
Purging will always reduce Paranoia, and you can also avoid purging someone/something when a purge event happens, but it will cost you greatly both in PP and in Paranoia increase, and you won't be able to avoid the next purge if you run out of PP, so be cautious with your choices when dealing with purge events.
With the new Paranoia system and the purges, I wanted to make the player feel the impact of the purges not only in terms of pure gameplay, but also in terms of "people" (after all, everytime a purge happens, it means someone has been subjected to oppression, to say the least). So you will start with a huge roster of characters in the form of political and military advisors (not necessarily available) and military leaders. This list will slowly be reduced more, and more and more as people get purged. At the same time, your Paranoia interface will start growing more and more populated with generic portraits as purges rage on, with some key people joining in once they get purged, can you find the 5 of them? (Again, WIP UI)
Now, how do we get rid of Stalin's Paranoia and the purges (when going Stalinist)? That's when the focus tree comes into play. The Stalinist tree can be split into two parts: The upper half before the Purges end, and the bottom half, after you have removed the Paranoia system. Let's start talking about the first half.
The focus The Centre will grant you some stability, PP and will add a fairly weak national spirit, The Politburo, which will be improved by the focuses in this branch (just like in almost every other branch in this tree).
The focuses featuring a bloodied sickle will trigger the historical purges in the form of unavoidable Great Purge events such as the Moscow Trials and the Trial of the Generals. These purges will always attempt to target people that were historically purged and, if some of them have already been removed from the game, then some random candidates will be picked to fill in the slots.
As a side note, keep in mind that, even though we are trying to keep it as historical as possible with these focus-triggered events, we need to take some licenses and group people to be purged let's say in the First Moscow trial even if some of them were actually purged a few months later, for example.
These purge-related focuses have a cooldown requirement which will prevent the player from rushing that part of the tree. But once you complete The Bloc of Rights and Trotskyites the Third Moscow Trial event will be triggered and the Paranoia system will be removed forever: the Purges have finally ended.
Worth noting that some focuses in different branches (such as part of the foreign politics branch and some military and industrial focuses) will be locked until you get rid of the Paranoia system.
In case you were wondering, Behead the Snake will unlock two different operations to attempt to kill Trotsky while he is in Mexico. One is a raid on its villa, as happened in May 1940, the other one is a more subtle operation representing the one that actually killed Trotsky three months after the raid. Succeeding at killing Trotsky will not remove entirely your Trotskyite Plot national spirit (you never know how many Trotskyites may have escaped the purges and be still plotting against you), but it will drastically reduce its penalties.
And we can finally talk about the last remaining part of the focus tree: Stalin's Cult of Personality.
This part of the Stalinist branch is mainly focused on developing a strong cult of personality around Stalin, starting with a new unlocked propaganda campaign, but you will also find focuses granting some bonuses to the Politburo, building some railways and unlocking a tank design template, can you guess which one?
Back to the cult of personality, all these focuses are titles that were at some point applied to Stalin in real life, and as such, they will grant Stalin new traits or improve existing ones. In order to emphasize the character of propaganda and manipulation of the masses of these focuses, they all require a certain number of propaganda campaigns to have been activated, the further down the branch, the more they require.
Finally, the focus Father of Nations will replace Stalin's starting trait, culminating the branch with a "fully-traited" Stalin (WIP values), ready to carry out a world conquest!
Aaaaand that was all from me! It was a long diary but I hope that you guys enjoyed all the new stuff we've been working on! (I definitely enjoyed working on it!)
Make sure to stay tuned for the next dev diary, where we will talk about the opposition against Stalin!
Be seeing you, comrades!
P.S. By the time this diary goes live I will be on vacation. I will do my best to try and answer any questions or concerns you guys might have, but I might not be able to answer right away, so please be patient