Hi everyone, next week it's time for the release of Man the Guns. This has been quite a long campaign as we wanted to tell you all about it before we had really started on it at PdxCon last year (I will probably wait a bit longer next time with spilling the beans
).
As I count it now MTG ends up with about 6 more dev diaries than Waking the Tiger had and this diary is probably the beastliest I have done. MTG has been roughly the same size and scope as Waking the Tiger, but with very different challenges. Some of them a lot tougher on the design side with a lot of large balance impacting changes with things like fuel (affects everything) and naval warfare (its like 30% of the game).
There is also simply the fact of the long period of time that can be really tough as a developer, especially when we work like Paradox do, close to the community and geared for feedback adaption. Sometimes you just want to hand over your work to the fans and touch base, but not long left now!
Anyways, time to recap everything (or well, everything larger. For small changes, bugfixes and all that we will go over that in the patchlog next week). I'll try to go fast, and leave links to full diaries for more details. Buckle up!
Focus Tree - USA
The
US focus tree
has been substantially reworked, giving more interesting gameplay in both historical and ahistorical play.
A new Congress mechanic forces you to cut deals to gain the necessary support to push through critical legislation. War plans now allow you to prepare for conflict with other nations instead of giving you wargoals The US can opt to become more involved in world affairs early and might intervene in a war sooner - at the cost of higher political costs for mobilization.
Two alt-history storylines allow you to turn the US into a communist country by rewriting the constitution, neutering Congress, and desegregating the country some 20 years earlier, which will provoke a response from the rest of the country, ultimately causing a second Civil War. On the other side, openly allying with the fascist Silver Shirts and pushing for blatant voter suppression will require you to fight for your life as the country tries to stop you from pushing through your agenda....
Focus Tree - United Kingdom
The UK focus tree was
reworked and expanded
. Effects and requirements in the existing industrial, military, and empire trees were updated to make many focuses more appealing and rewarding. The Naval branch was greatly expanded with
new focuses
, and new focuses reflecting the SAS and the Chiefs of Staff Committee were added to the military branch as a whole.
New paths were added for a variety of alternate history storylines. Rather than focus on the empire as your sole option, it is now also possible to obtain short-term rewards and long-term allies, or simply drastically alter the geography of the war by decolonizing. Should you decide not to decolonize, you can now also substitute the concept of Home Rule by pursuing the
Imperial Federation
, integrating the various Dominions into your nation (including giving cores!). A secondary Democratic path was also added as an alternative to appeasement - taking the initiative by pursuing a war with the upstart dictatorships before they grow too strong.

Furthermore, it is possible to establish a royal dictatorship by refusing to abdicate in the Abdication Crisis, to use Blackshirt marches to spread popularity for Mosley's British Union of Fascists, or to petition the Trade Unions for aid in rearmament by acceding to their demands, and thereby slowly succumb to communism.
Focus Tree - Mexico
In the brand-new
Mexico focus tree
, problems of economics, instability and political reform take priority for the revolutionaries of Lazaro Cardenas. Foreign oil companies are draining the wealth of the nation, regional governors and renegade army generals defy the authority of the central government, and idealistic promises made by the ruling party to its base of support amongst workers and peasants must be reconciled with the reality of power.
If Mexico can overcome her internal problems, she is in an excellent position to bargain with the great powers of the world for a place at any conference table, or she can reject the cynical imperialists, instead seeking to rally the long suffering peripheral nations of Latin America to become a great power in her own right.
Mexico is also one of the nations where we use a nitfy new feature in some of the trees. Resource can be owned by other nations. This is usually controlled through focuses.
Focus Tree - Netherlands
A brand-new
Netherlands focus tree
was added in MtG. Designed from the ground up, it heavily features the challenges the Dutch government were faced with at this time: the Great Depression, the weak government, aloof neutrality, and above all paralyzing pacifism.
The British and German tug-of-war over Dutch leads into a variety of historical and ahistorical political paths; fascism with the reconquest of the Dutch colonial empire, communism with the challenges of being a Commune all isolated on Europe's west - so distant from the succour of the Soviet Union, democracy with or without the Allies, and a monarchist path involving
using the figure of the old Kaiser
to begin an insurrection against the Germans, under the powerful direction of Queen Wilhelmina.
If invasion finds you unprepared, fight on as a government-in-exile with the aid of various focuses in the tree, or relocate the entire government to the East Indies, as historically contemplated. Or, build up the mainland into an industrial powerhouse without equal for the country's size, at risk of losing everything if things go sour...
Admiral Traits & Skills
Admirals now have personal
traits similar to Generals
. Unlike Generals, however, Admirals can further specialize in an area of naval warfare, with assignable traits depending on each other. Much like Generals, the first trait needs to be earned through performing certain tasks, before you can assign further traits with one additional trait slot unlocking per level.
The old system of a single skill level has also been changed and split into four separate values: Attack, Defense, Maneuvering and Coordination, with different benefits. Skill points are earned when an Admiral gains a level.
Ship Designer
The way you research and upgrade ships has been
fundamentally changed
. Instead of getting a ship with fixed stats, you now research ship hulls and ship modules, which you combine to make ships for the task you need them to perform - everything from a cheap convoy escort to a fast battleship specialized in providing anti-air support for carriers.
Modules include everything from main gun batteries to plane catapults and radar systems to find the enemy as well as equipment to lay and sweep mines. Hulls are restricted in what modules they can take. Modules and Hulls are unlocked through an extensive new tech tree. As part of this, the system no longer distinguishes between heavy and light cruisers or battleships and battlecruisers for the purpose of design and research.
But as more capable ships cost more, you might find yourself having to make compromises to get a ship in the water sooner.
Since we showed it off before we have also added the ability to tag your designs with icons to more easily separate which destroyers are stacked with torpedoes and which are your cheap minesweeping ones.
Naval Treaties
The major naval powers in 1936 now start with a national spirit representing the
London and Washington Naval Treaties
. This spirit limits the maximum cost allowed for capital ships (battleships, carriers, cruisers) as well as the number of capital ships allowed.
You can get rid of the restrictions by leaving the Naval Treaty, but this will allow the other countries to build more powerful ships as well. Fascist countries can instead cheat on the treaties, giving them a hidden bonus on the maximum amount their ships are allowed to cost.
Should a nation not in the treaty build up a powerful fleet, they might be invited to join the treaty, and exceeding the number of capital ships permitted by treaty will invite a strong response from the other naval powers.
Ship Refitting
Using the new ship designer system, old ships can be
refit to upgrade their capabilities
with more modern equipment, usually for a fraction of the cost of building a new ship.
Ships ordered to refit will leave their fleet and appear in the production line. If they have suffered any damage, they must first repair it before they can properly refit.
This system can also be used to rebuild cruisers and battleships as carriers.
Mines & Sweeping
We have added naval mines
to the game. After researching the relevant technologies, you can add mine rails and minesweeping gear to certain ships types to give them the ability to lay mines or sweep them. More modules of the same type increase the speed with which mines are placed or removed.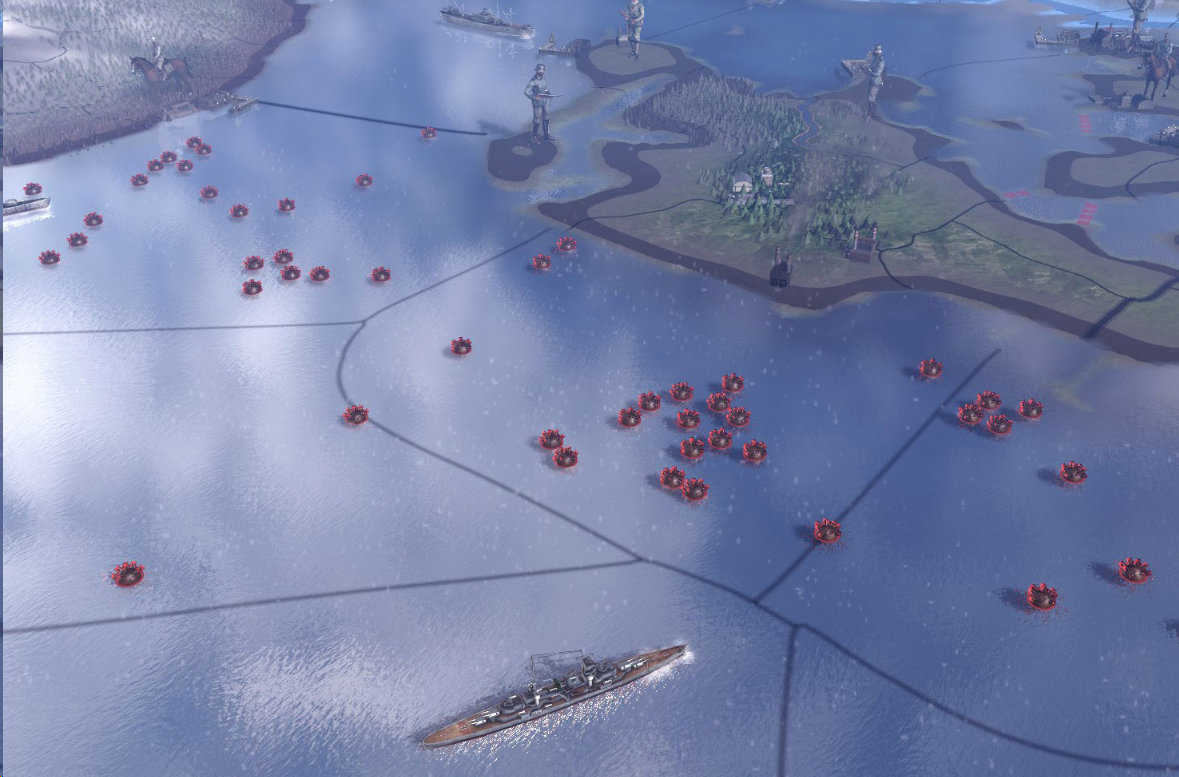 Mines are laid per sea zone, with up to 1000 mines laid per side. Operating ships in a zone with enemy mines slows them down and runs the risk of suffering damage that can be fatal for smaller ships.
Supervised State
This is a new democracies only autonomy level that is an option when puppeting nations in peace deals. A Supervised state doesn't really come with any exploitation, but locks the nation in the masters faction and ideology with no way to break out and also switches to masters ideology and applies heavy ideology drift towards masters to remove all other ideologies. A supervised state however has a natural autonomy drift so will eventually become fully free and then able to leave faction.
Governments in Exile
With Man the Guns a faction leader can now
harbor Governments in Exile
. Historically many nations overrun by the Axis would field at least a few small units of exiled forces, such as (but not limited to) the French, Greeks, Norwegians, Dutch, and even Czechs. These served not only in the Army, but also in the Air Force and the Navy. The most well-known, however, are probably the Polish. At their height they numbered almost 250,000 men, and served with distinction in France, Norway, North Africa, Normandy, and Northern Europe, while Polish pilots proved their mettle in the Battle for Britain, among others.
The main focus of this feature is to give extra power to democracies in that nations who are conquered by, say, Germany will be able to function from a host nation and lend their strength to them. Each government in exile has a certain amount of Legitimacy - essentially how acknowledged they are by governments in the world as the legitimate government. The higher the legitimacy, the more advantages you will get from a government in exile.
Playing in exile is also possible, and we think will be more popular in multiplayer than single player, because you are limiting yourself quite a bit, but for those who like a challenge we wanted to make sure it was possible and give you some of these advantages as well! Because some exiles will have no land at all you will likely need to depend on the master for lend lease of equipment to arm your divisions with. If you are totally landless you will be getting a trickle of manpower based on your Legitimacy as well (Poland is likely in this position while Netherlands or France wouldn't necessarily be). Exiled nations can keep track of their legitimacy from their country screen.
Amphibious Vehicles
It is now possible to research
amphibious versions of tanks and mechanized equipment
. These need to be produced in order to equip new battalions, which count against the special forces limit. These battalions have amphibious attack values similar to regular Marines while otherwise share values with their parent type. They do, however, cost more to produce than the non-amphibious version and consume more fuel, making them less useful as a general unit and more useful for cracking heavily-defended beaches.
Docking Rights
A new diplomatic option allows you to request
docking rights from a country.
This is a lot like a lesser version of military access, which in this case only allows ships to dock in that country. More useful is perhaps the fact that any repairs to damaged ships taking place in another country have to be paid for by the host.
Naval Access
You can now declare certain sea zones as either
restricted or blocked.
When moving across the sea and planning convoy routes, the pathfinding algorithm will try to avoid zones marked as restricted, but will move through them if it is the only option to reach the goal. It will always respect zones marked as blocked and not move through them.
Request Expeditionaries
The Allies are made up of many nations and coordinating them can be difficult. To help with this Man the Guns adds the ability to
request expeditionary forces
from multiple nations directly when organizing your forces.
This also works without forces of your own, so if the AI has some and you don't you can still ask to direct them in an area.
Take Faction Ownership
Faction leadership is
no longer permanently fixed
. A country that is significantly stronger than the current faction leader - both in military and economic strength - can pay 200 pp to take over control of the faction.
Pride of the Fleet
You can now designate a capital ship as Pride of the Fleet. Having a Pride of the Fleet gives you 5% war support and also reduces the chance that the ship suffers a critical hit by 50% while also gaining experience faster. Losing the Pride of the Fleet gives a temporary penalty to war support.
Many countries already have ships designated as Pride of the Fleet. Changing the designation costs political power.
Fuel
Fuel is a new resource used by pretty much everything with an engine. We got 2 dev diaries covering it so
check out the first
and
the second, more recent one
.
Fuel can be stockpiled in your nation and in special silo buildings and is required to efficiently run your air force, fleets, tanks and trucks. It is created from oil or from synthetic refineries.
Now that there is an extra resource as a trade-off we have also added motorized artillery/AA and AT to the game as options if you can afford the fuel:
Fuel will be a learning process for people with MTG and will impact many things in the build order you may have gotten used to, and it has prompted us to do a whole slew of AI improvements so it can deal with the situation. The tooltip in the topbar is going to be a good guide when starting out:
New Naval Combat
A completely redone naval combat system:
The field is now split into ranges and roles which allows us to better capture the impact of these. Things like positioning and screening and abstracted into real values and you get an overview of the types of firepower your fleet has (all with different rules). There is also a spotting phase on the map before combat begins and we have spent a lot of effort to make submarines the most potent they have ever been in a hearts of iron game.
Task Forces / new UI
Fleets are now organized into smaller task forces controlled by an Admiral. We have tried to make the interface match closer to land warfare and you can now organize naval theaters to keep track of your forces.
Task forces can also have saved compositions which help with automatically reinforcing them. The system lets you tag ships designs so you can make sure your regular screening vessels do not get mixed with say mine layers in a task force.
New Naval missions
To go with the rework of naval combat and the addition of fuel, we have made
some changes to naval missions.
Search and Destroy has been replaced by Strike Force. This orders a task force to move to a naval base close to the assigned area of operations and wait until an enemy is spotted in their zone of responsibility. This saves fuel as the big ships with lots of firepower are not at sea at all times.
A long requested feature is the Invasion Support mission, which orders a task force to first escort an invasion convoy against attack, then provide gunfire support as the units operate near the coast.
Mine Warfare is also conducted through new naval missions to lay and sweep mines. At higher tech levels these are also available to aircraft, although are less efficient.
Naval and Air Training
It is now possible to
train your ships and airwings
to the cost of fuel and the occasional accident. Its a great way to get some XP for speeding up doctrine and to do design changes in peacetime.
New ship production & names
We have changed
ship production
for more historical results were its comparatively harder to rebuild a capital force. Capital ships now can have a max of 5 dockyards assigned, while other ships have a limit of 10 and convoys have no special upper limit.
Together with this it is now possible to name ships while already in the production queue. Super useful because this is usually when you have the most time.
New ship repair
Ships
no longer automatically repair
at no cost. Instead, you will now need to assign naval dockyards to repair them. Damaged ships head to the nearest naval base for repairs. The amount of naval dockyards that can be assigned to repair ships in a naval base depends on the level of the naval base. If a naval base is overloaded, you can order ships to move to a different naval base to get them repaired faster.
Repairing ships does not cost resources.
Naval terrain
Not all sea zones are created equal
anymore. Depending on geography, every sea zone was assigned one of four terrain types: Deep Ocean, Shallow Sea, Fjords and Archipelagos, Regular Ocean. Each terrain type benefits different ship types.
Beyond the terrain types we also have temporary modifiers in certain sea zones like ice floes in arctic seas and sharks in the tropics.
Boost tech with xp
It is now possible to
spend XP on certain technologies
to speed up research. All doctrine research now benefits from Experience in that you can choose to spend 100 XP of the relevant field to gain a 100% research speed boost, thus cutting research time in half. Doctrine research time has been adjusted up to compensate, giving countries that go to war early and fight hard an early advantage in doctrine research.
Raiding impact
To make raiding more impactful and hard to ignore no matter how strong your production capacity is we have added
a new strategic effect
that lowers the war support of nations subject to convoy raiding. This means that you need to protect your routes even if you have a stockpile of convoys.
On-map decisions
Creating the Blackshirt march decisions for the UK made us realize that huge lists of decisions often becomes cluttered and messy. In addition, often you care about where a decision has its effect, and so the map location could solve both issues.
On-map decisions
are now a thing, both reducing decision list clutter and also providing the player with immediate information of where the decision has its effect.
Cancelable Focuses
To cut down on missclick-frustration, we have added the ability to
manually cancel focuses
. Doing so will reimburse you up to 10 days of accumulated focus progress, but no more than this, so planning ahead still pays off!
Gameplay Rules
We have added a large amount of
options to further customize your gameplay experience
and make organizing multiplayer sessions easier. These options take the form of rules, which allow you to change or block how certain mechanics work. For example, you can restrict war goal generation to a certain minimum world tension, lock fort levels to a certain value or decide whether paradrops are allowed or not.
This system also allows you to set the AI paths a country should take individually, allowing you to create custom scenarios very easily.
Mapmodes
We are adding some new mapmodes, and allowing you to configure which one you have quick access to (a lot like in EU4)
Achievements
21 new achievements
were added, focusing on the new focus trees and the various new mechanics that were added to MtG. In addition, we adjusted some of the more 'grindy' Waking the Tiger achievements (Battlecry and Awake and Angry) to no longer require ownership of the various European enclaves (Guangzhouwan, Macau, and Hong Kong). This should hopefully make these more 'humane' to achieve
New country tags
70 new releasable tags
were added to the game to enable decolonization as required for the new British focus tree. We decided to not make do with only adding British colonies, but instead added a wide variety, the key component of which is a fully-releasable Africa.
To accommodate the new tags, a variety of map changes were made, with over 20 new states and nearly 10 new provinces added to the game, with a vastly greater amount of adjustments to other state and province borders. In addition, (minor) victory points were added to releasable tags to ensure every nation would have a capital, and a variety of other
VP adjustments
were made to the following regions: Greece, Turkey, Portugal, Mexico, Poland, Czechoslovakia, European Russia, Spain, France, USA, Germany, Italy, China, Siberia.
The full list of new tags is as follows:
Kazakhstan
Uzbekistan
Tajikistan
Kyrgyzstan
Turkmenistan
Bangladesh
Sri Lanka
Burma
Papua New Guinea
Maldives
Fiji/Melanesia
Kuwait
Qatar
United Arab Emirates
Cyprus
Belize
Jamaica
Bahamas
Puerto Rico
Guadeloupe
Trinidad & Tobago
Guyana
Suriname
Curacao
British Antilles
French Guyana
Morocco
Algeria
Tunisia
Sudan
Eritrea
Djibouti
Somalia
Uganda
Rwanda
Burundi
Tanzania
Malawi
Zambia
Republic of Congo
Gabon
Equatorial Guinea
Cameroon
Central African Republic
Chad
Nigeria
Niger
Dahomey
Togo
Upper Volta
Ghana
Côte d'Ivoire
Mali
Sierra Leone
Guinea
Guinea-Bissau
Senegal
The Gambia
Mauritania
Namibia
Western Sahara (Sahrawi Arab Democratic Republic)
Malta
Moldova
Scotland
Wales
Northern Ireland
Slovenia
Bosnia
Macedonia
Unit models & Art
We have many new ship models and units for the new nations included in MTG.
Of course there is a lot of of 2d content.
Music
Man the Guns comes with
4 new music tracks
.
General Democratic song appropriate for UK/USA that is quite upbeat
A Communist America song that takes a lot of inspiration from soviet propaganda and folk music even to set the vibe. I personally love this one
A Confederate America song that tries to walk the line between a sombre military mood, southern nostalgia and american tunes.
A General Democratic song that is a lot darker and more ominous. Fitting either for a nation under a lot of pressure (we were thinking submarines here) or something like where UK's monarchy has taken a turn towards… evil.
Pheeew! That was a lot to take in! To see all this in action (
how fast can we click?
), tune in to the stream today where we will be showing off as many of these features as we can.
Tomorrow, members of the HoI team will be available for a Q&A session on reddit, so ask your questions!
Finally, next week is the big week, where we finally launch this ship and ship this title. There will be a dev diary as usual on Wednesday, which will have the full patchlog with all the nitty gritty fixes and improvements, and then the release of Man the Guns on Thursday.
p.s I probably forgot like 50 things
Rejected titles:

* Life, the Universe and Everything (but probably like 75%)
* I had to stop playing my Netherlands in MP to have time to finish this and I bet Bratyn has ripped it to pieces now so you only get 2 so I can get back on that! Lets hope my sub fleet is still doing ok...