Join me as I recount some of the highlights from my recent prerelease testing playthrough of LaR in this After Action Report (AAR) where played I as the UK.
Phase 1: The buildup
When playing the UK in singleplayer I don't really like trying to hold France, as I feel doing so kinda ruins the pacing of a historical playthrough. So I spent all my time from game start only building civilian factories with about 85% of my mills making aircraft. I also began establishing my intel agency in late 1937. I focused on improving my intel generation and code-cracking ability first so I could give some force multiplication to my rather small army.
Phase 2: Naval Dominance and Focused Defense
At the start of hostilities, I began cracking Germany's encryption and used my airforce in the Mediterranean in conjunction with a large part of my navy. I figured it wasn't worth sacrificing too much air strength against Germany in France at this point. I had just switched to building military factories from only building civilian factories, so I could not afford to use my more limited airforce recklessly. I also set up the majority of my operatives to set up intel networks in Germany.
I attempted to recruit mostly "seducer" trait operatives as they have a lower chance of being caught. In the process, I got some interesting seduction experts.
Most of my rather small army was deployed in Egypt to hold the Suez. With air superiority and an intel advantage over the Italians, Holding Egypt was a great success. I was able to recruit the famous Nancy Wake and I decided to send her on a Roman holiday to help me get more intel on Italy since I would be fighting them in Africa for the foreseeable future.
Phase 3: Battle of Malta
After the Italian navy was largely defeated, I infiltrated the Italian airforce to help get a more clear idea of how close I was to breaking it. At this point, the Italian airforce started port striking my Mediterranean Fleet in Malta. After looking at their plane counts in the intel ledger, I built up some radar in Malta and deployed the airforce to intercept the Italians in the region. Baiting them to bomb my exposed, and no longer as useful, fleet worked as phase one of my plan to break the axis airforce.
Meanwhile, In Germany and occupied France, my intel networks had become rather strong and were providing good info on the state of the axis. I had at this point also infiltrated the German civilian govt' and army to open up further options for operations and to get a more clear picture of their strengths.
By late 1940 I had broken both the German and Italian ciphers and had weakened both the German and Italian airforces by fighting in favorable conditions where I had a large radar advantage combined with my passive cracked crypto advantage. Having enemy ciphers broken increases interception efficiency as well as adds to air detection.

Phase 4: Battle of Greece
At the end of 1940, Greece was invaded by Italy and Germany. By this point, I had a significant intel advantage, was close to matching axis airpower, and had a large and equipped Free French volunteer force. I decided I would turtle southern Greece as long as I could and brutalize the axis in the air in the process. I scrambled a large part of my North African forces to Greece and deployed the majority of my airpower. At one point my defensive line was nearly broken. I was able to save it by activating my broken ciphers on Germany, giving myself a temporary 30day combat. Before the buff expired I was able to get some extra forces in and save Greece.
By mid-1941 I had overtaken the axis in the air and southern Greece looked more and more secure. I decided it was time to start boosting resistance in France and laying the groundwork for eventual liberation. I also was well on my way to cracking the new Italian and German ciphers.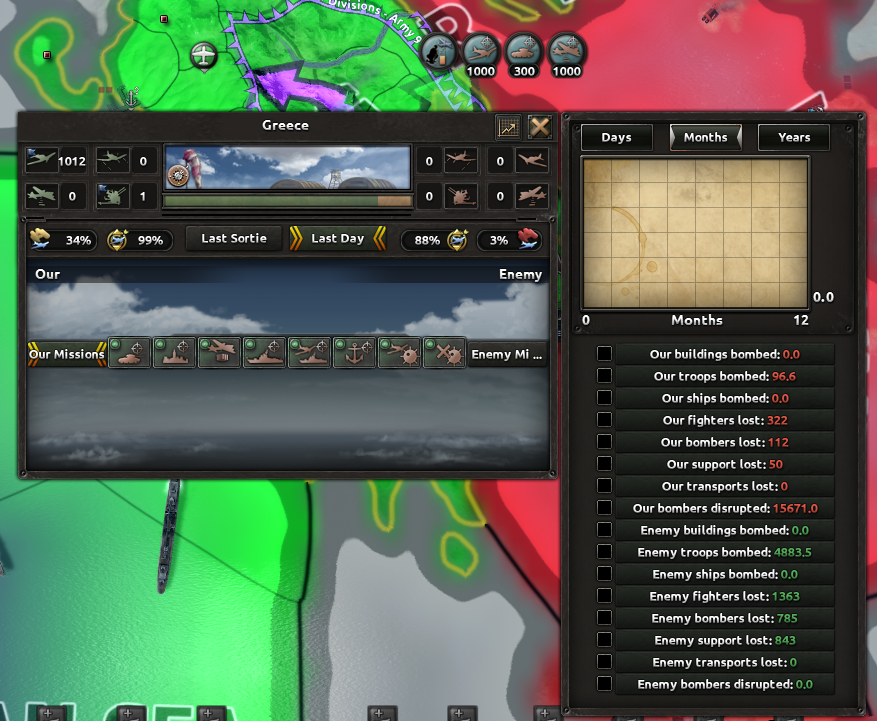 Once the ciphers were cracked again and my tac bombers were no longer needed in Greece, I decided to start harassing the Germans with a strategic bombing campaign in their homeland. With my Intel levels, I was able to track how my bombing campaign was impacting Germany. I had also begun targetting resource-rich areas in France with targeted sabotage operations to further put stress on the German war machine.
Phase 5: Yugoslavian Uprising
Over the course of the next year, America and Vichy joined the war and a fight for North Africa broke out again. With Intel and Air advantage pushing Vichy France back was pretty easy. During the North Africa campaign, I noticed that Croatia was barely keeping occupied Yugoslavia under control. So I sent some of my Operatives to support the resistance there, pushing it over the edge and causing a full-scale uprising. Many of the Axis forces in northern Greece were then cut off and annihilated.
After a great victory in Yugoslavia, I dedicated my operatives to building a massive spy network across all of Germany. This resulted in several captured Operatives, as they are more likely to be discovered in large and powerful networks, but I decided it was worth it to keep my intel on Germany maxed and the mainland set up for my Arrival.
Phase 6: La Resistance and D-Day
By mid-1942 the French Resistance, due in no small part to my support, had become disruptive. It was not fully rising up in rebellion but was strong enough to disable strategic redeploy in northern France and was providing constant attrition to local Axis forces. This combined with local spy network buffs, general intel advantage, air superiority, and ongoing fighting on the eastern front made securing my beachhead in France very smooth.
After setting up a plan to drive the Germans out of France, I once again fully utilized my code-cracking for a 30day buff and battle planned the Germans back into their homeland. By late 42 The Axis was all but broken and crumbling on all fronts. The combined Allied air, land, and intelligence efforts proved to be too much and everyone was Home for Christmas of '42.
I hope you all enjoyed my war story! See you next time.