Hello everyone, and welcome to yet another dev diary for the 1.6 "Ironclad" update and the Man the Guns DLC! As this diary goes live I'll be on vacation in Norway (where among other things I visited the Gneisenau's "Caesar" turret located at
Austrått Fort
in Ørland, close to Trondheim, Norway), so my replies in the thread below may be a bit slower than usual
. As a little bonus, some pictures and info on the gun emplacement are in the spoiler below.
The Gneisenau 283mm (11-inch) cannons in their turret. After being bombed in Kiel harbor (where she had just finished repairs for previous damage), the ship was so heavily damaged (including the destruction of the forward "A" turret), and Hitler was so disillusioned in the performance of his surface fleet, that it was decided to have the ship scrapped altogether. The turrets were to be used as coastal gun emplacements, and the "Caesar" or "C" turret was moved here to defend the harbor of Trondheim. Extra armor was added, especially to the top (an extra 200 metric tons of steel). Total weight of the turret was 1,000 metric tons (compared to the 800 metric tons it would've weighed when placed on Gneisenau). Located on an elevation of about 50-60 meters, the range was 42,6km, reaching all the way out to the Atlantic, and also to the Trondheim harbor. Considering it was placed on solid ground, accuracy was also markedly improved over ship-based artillery.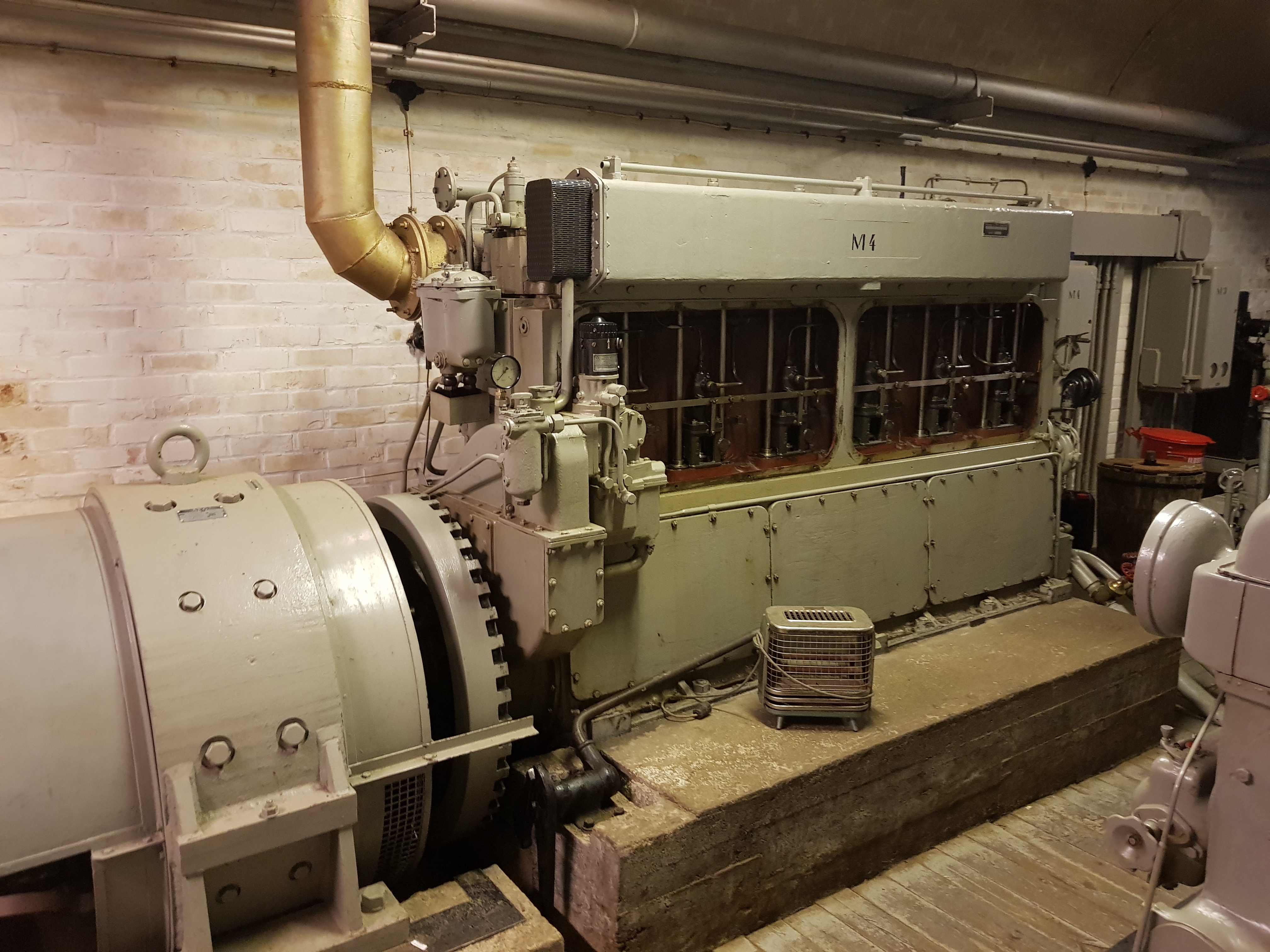 Some of the Gneisenau's engines were also relocated here, in the complex inside the mountain. These provided all the power to the turret and the facility. It could rotate 360 degrees (but no further, or the electrical cables would snap - on a ship, due to the superstructure, this was never a problem anyway) in 50 seconds. Alternatively, if power failed, the entire five-story turret (every level rotated as one along with the visible part of the turret) could be hand-cranked and rotated by 4 soldiers. The engines (one shown here) are the original ones, and still operate to this day.



The guns could fire 9 rounds each minute (so a full salvo of 3 each 20 seconds). The 315kg (for high explosive) and 330kg (for armor piercing) shells were launched at 890-900m/s (by means of a 76kg cartridge and additional 41kg powder bag), with a gun elevation of -8 to +40 degrees. They only fired a handful of test rounds in the 1940s and early 1950s, after which population density became high enough that they could no longer test-fire the guns because doing so blew out all windows in a 3km radius. It never once fired its guns in anger at an enemy. This was the "C" turret, located at the rear of the Gneisenau. The "B" or "Bruno" turret was used as a similar emplacement near Bergen, Norway, while the barrels of the destroyed "A" or "Anton" turret received new housings and were used in fortifications in Rozenburg, near Hoek van Holland in the Netherlands, to defend Rotterdam port.
The range finder. It was originally located at the command post at Lerberen, 2-2,5km away from the emplacement. The turret therefore had 2 periscope binoculars so they could double-check whether they were actually firing at enemy or friendly ships (in case the rangefinder had been overrun by enemy forces and they were feeding 'bad' info to the fort).

South-facing picture of the fjord the gun emplacement overlooks (the fjords leading to the Atlantic are to the right, Trondheim harbor is far off in the distance to the left). The facility was manned by 125 soldiers, including the original turret commander and some other personnel from the Gneisenau. In addition, it sported an anti-tank wall, bunker, and 20 smaller-caliber cannon emplacements around the periphery for duty as anti-tank guns or for firing flares (one stationary Skoda 4,7cm anti-tank cannon still remains, now). After the war's end, the whole fort was taken over by the Norwegians, until the late '60s when the threat of the USSR became less, and they decided to get rid of it. It was turned into a museum in the early '90s.
Glorious Real-Life ErrorDog approvingly observing shell fire raining down upon his enemies.
Last week
we had a look at the new, reworked focus tree for the United Kingdom, including a whole new path for decolonization. Naturally, this elicited a flurry of questions that (because of this week's dev diary) I could not answer at the time...
I notice one focus talks about a Three-Nation solution in India, does this mean we'll be seeing a tag for Burma or Sri Lanka? Will there be other new tags involved in the decolonisation tree beyond those which are already present?
Also, will Burma finally have its own tag? It was historically separated from the British Raj one year after the game begin.
@Bratyn

the focus the three nation solution does mean a tag for bangledesh/east Pakistan, Burma or something else altogether?
Since there is a decolonisation path does that mean that there are more releasable nations in the colonies, like for example Malta or Ghana? Also, is the third nation in the Raj going to be Burma?
Are y'all going to make the African releasables...well...more like real African releasables?
Does the three state solution release Pakistan, India and Burma? Or India, Pakistan Bangladesh. Or India, Pakistan and a Sikh state?
-WHY ISN'T KAZAKHSTAN RELEASABLE YET???
I can now answer all these questions with a single resounding
"YES!"
(and in the case of the last one; a "sorry it took a while but it's now finally in"
).
As the design for the UK focus tree rework began to take shape, it was clear we needed decolonization of some sort, and all the tags and map changes that come with it. Now, we could have simply done the British Empire with the current in-game borders and be done with it, but I wanted to do things thoroughly and so chipped in a sizeable amount of my "personal development time" to create new provinces, new states, adjust existing ones, add new tags, and to not only do so for the British Empire, but also for the French, Portuguese, Dutch, Belgian, Spanish, and Italian colonial empires, and even for the Soviet Union.
Due to the sheer number of modern-day countries (and especially microstates) this process is by no means complete, and I may well continue to use some of my personal time to develop things further. However, as most of this is, in the end, done in my own time, I will not be making any promises…
Before we delve into the meat of things, I do want to give ample credit where credit is due. This would not have been possible without the help of our Community for making the flags that I needed for these tags (as I could not bother artists with it). A big thank-you to everyone who chipped in! I would like to single out one of our Betas in particular (you know who you are!), as he alone did close to 95% of all 236 new flags. Another shout-out to the
Modern Day 4
mod team for allowing me to use their namelists and saving me a heckuva lot of research time!
Now, let's begin.
Asia (Central, India, and Papua New Guinea)
As some may have noticed, flags and even tag files for Kazakhstan have been present in the game folders for a while now. The reason this tag never made it in before was because of certain border changes that were required, but we never had time for before. These have now been made.
Extensive work has been done to properly represent the tangled mess that are the borders of Tajikistan, Uzbekistan, and Kyrgyzstan, and also the northern border the latter two of these countries have with Kazakhstan. Further minor changes were made to the "Orenburg"-"Magnitogorsk" borders with Kazakhstan in the northeast. This now allows us to have…
Central Asia before.
Central Asia after. Second picture with released nations to make the borders more visible.


Next up, we've had Pakistan for a while, but no possibility for further splitting up the Indian subcontinent. After ample adjustments to the "East Bengal" state, it's now possible to release Bangladesh as well.
East Bengal before.
East Bengal after.
Total list of new tags:
Kazakhstan
Uzbekistan
Tajikistan
Kyrgyzstan
Turkmenistan
Bangladesh
Sri Lanka
Burma
Papua New Guinea
All Central Asian tags released.

All new tags in India.
Middle East
Though some attention has been given to this region before (with Syria, Lebanon, Israel/Palestine, and Jordan being releasable), there was more work left to be done. Here, map changes were limited to splitting up the "Abu Dhabi" state by adding the "Qatar" state.
Total list of new tags:
Kuwait
Qatar
United Arab Emirates
Cyprus
All old and new Middle Eastern tags released.
Americas (Caribbean)
This region did not see any map changes. However, I added a total of 9 tags to the region:
Belize
Jamaica
Bahamas
Puerto Rico
Guadeloupe
Trinidad & Tobago (for convenience also including the British windward & leeward islands)
Guyana
Suriname
Curacao
All new American tags released.
Africa
Oh boy… Where to start. Clockwise? Let's do this!
First, to make Sudanese-Egyptian borders possible, I split the "Western Desert" state in two, with the Sudanese part called "North Darfur".
Next, the "Rhodesia" state in southern Africa was huge, encompassing three countries. It was split up into three parts, making it possible to separate Malawi and Zambia from Zimbabwe. In addition, cores were redistributed so that Kenya no longer controls all of Uganda and Tanganyika (which are now represented by their own tags).
In addition, Belgian Congo was not without its flaws either, and so new one-province states were split off from "Stanleyville" state to make Rwanda and Burundi possible.
South-east Africa before.
South-east Africa after. Both pictures with released tags so the changes are actually visible.
If "Rhodesia" was bad, basically all of French Africa was enough to give me a headache… In possibly the most sweeping map changes, the borders of the "Gabon", "Equatorial Africa", and even the impassible "Southern Sahara" states were heavily redrawn, provinces were moved between the states, and the states themselves were heavily balkanized. This resulted in the addition of 4 all-new states: "Middle Congo", "Cameroon", "Chad", and the "B.E.T." (Borkou-Ennedi-Tibesti region). In addition, "Cameroon" state's border was adjusted slightly at the expense of "Nigeria".
Central Africa before.
Central Africa after.
The next set deals with the extremely low-effort "French West Africa" state. 6 (!) new states were introduced: "Guinea", "Ivory Coast", "Upper Volta", "Niger", "Togo", and "Dahomey". The state itself was renamed to "Mali", and lost an additional province to the impassible "Mauretania" state. The border with "Mauretania" was then 'flattened', and "Tombouctou" state was split off from the "Mauretania" state (and their borders redrawn) to enable proper Malian borders.
West Africa before.
West Africa after.
Finally, the remaining minor changes include splitting the single "Gambia" state's province into two, as well as splitting off the Sidi Ifni enclave from "Rio de Oro", turning it into its own state.
In addition, (1 point) victory points have been added throughout the continent so that every releasable African nation now has at least one VP. (EDIT: Since the writing of this Dev Diary I have added 1-point VPs to all other releasable tags as well, so that each tag has
at least
one VP.)
Mauretania, as it is fully impassible in the game, unfortunately did not make it in as a tag.
Total list of new tags:
Morocco
Algeria
Tunisia
Sudan
Eritrea
Djibouti
Somalia
Uganda
Rwanda
Burundi
Tanzania
Malawi
Zambia
Republic of Congo
Gabon
Equatorial Guinea
Cameroon
Central African Republic
Chad
Nigeria
Niger
Dahomey
Togo
Upper Volta
Ghana
Côte d'Ivoire
Mali
Sierra Leone
Guinea
Guinea-Bissau
Senegal
The Gambia
"Family Portrait" of all African tags.
Europe
"Bessarabia"'s borders were the victim here, as to make modern-day borders possible it had to be split up into two. A new state "Southern Bessarabia" was added, with cores of both the Ukraine and Moldova.
Bessarabia before.
Bessarabia after.
Next, Poland. Yes, again. Some of you may remember that I
adjusted the states and provinces
in Eastern Germany to allow for the Oder-Neisse line for the 1.5.2 update. I now decided to do the same for Poland's northern and western borders. A new state, "Königsberg" was split off from "Ostpreussen", along a roughly east-west border. Virtually all Polish states in the East had provinces redrawn and moved between states, now enabling true modern-day borders for Poland in all directions.
Furthermore, I split up "Wilno" state, renaming it to "East Wilno" and adding a new state "West Wilno", the division between which follows modern-day Lithuanian borders. In addition, there's a little secret for those players who lead Lithuania to victory against whoever controls "West Wilno", and wrest control of the state from them…
Poland before.
Poland after.
And finally, after the dev diary showcasing the Oder-neisse line border changes there were some requests from the community to adjust the "Vojvodina" state borders so that there wouldn't be an ugly 'jab' of the "Serbia" state protruding into Austria-Hungary's borders. At the time, I quickly hacked this in by making the "Vojvodina" state gobble up the provinces in question from the "Serbia" state, but this then upset people because it made historical occupation zones impossible to recreate. I now put in some time to fix that, as well. A new state was split off from "Vojvodina" called "West Banat", representing the territory that previously was a part of the "Serbia" state. In addition, province 11580 was moved from "Vojvodina" to "Croatia". This now makes it possible to have both historical occupation zones and 'clean' Austria-Hungarian borders.
Vojvodina before.
Vojvodina after.
Total list of new tags:
Malta
Moldova
Scotland
Wales
Showcasing new releasable tags and new Polish borders.
The final tally of all additions world-wide is thus (so far):
8 new provinces
22 new states
59 new releasable tags
A lot of province and state border changes
Drool-worthy picture of a balkanized world (ironically not the balkans (yet)
).
All this will be included in the free 1.6 "Ironclad" update. In addition, because of the sheer number of new tags added, we are looking at possible ways to prevent people who go down the Empire path to manually release tags and get the 'best of both worlds', with an unstoppable zerg rush of small nations who use their generic trees to build up industry. To this end, decolonizing via the British decolonization tree currently only keeps 20% of all decolonized nations - the other 80% will leave the faction when they become independent. Naturally, this number is subject to change - we want decolonization to be attractive, but not the automatic go-to way to play the game as UK. In addition, I saw multiple people wondering if we'll be representing semi-autonomous regions as puppets rather than integrated colony territories. This is something that hasn't been decided yet.
That's it for now! There's always more map changes to be made, but I'm quite happy with where we've come so far. This also marks the last dev diary of July, as the rest of the team is following (or, like myself, has already followed) Dan's lead and heading off on vacations (a true leader leads from the front, after all!
). This results in a two-week Dev Diary hiatus. You can expect the regular Dev Diary schedule to resume on the first of August, when we'll talk about a little something we've stolen from a certain other PDS game, and which we think will have incredible potential for HoI4... Have a great summer vacation, everyone!
Rejected Titles:
Putting that Sausage Factory in
Tanzania
Tanganyika on the map
Colonialism... Not even once...
Implementation of these map changes was accompanied by regular exasperated cursing in despair
We now have the ability to put country_name_here on the map
We now have the ability to wipe country_name_here off the map
Rated R for bordergore
The Bratyn giveth and the Bratyn taketh away
Trinidad and Tobago World Conquest when?
"Screw this war, I'm off to do my own thing in the Bahamas!" is now an actual thing you can do
I don't envy whoever has to update the "Anti-Colonialist Crusade"... Oh wait, that's probably me
"Hello, and welcome to the 59th episode of 'Beta Presents: Fun with Flags'!"
A beautiful tapestry of Ruina Imperii
If I stop responding it's because the team finally got sick of me breaking their savegames
New resource to replace oil: potassium