Hello! So today we'll be covering a fair bit of various functions, most of it is free quality of life improvements coming with the next patch. I'll also be talking about some changes we've done since previous dev diaries in response to feedback from these threads and other platforms. So we'll start with the one feature that will be accompanying the expansion.
So ever been sitting just hoping that you are going to get an heir that will safely take over your Kingdom when you pass on? You be damned if you let the Habsburgs get their hands on your titles! We're adding a feature for monarchies where a highly esteemed King can appoint someone to be their successor who is not of their dynasty. You can Introduce an Heir to the court.
Requirements to use this is:
Not in a Regency
Not at War
Positive Prestige
At least 90 Legitimacy
Using it will cost you 20 Legitimacy and 20 Prestige but give you an heir with a local dynasty not of your current one with weak claim to the throne.
Next up are features who all are part of the 1.30 Patch. First one we'll talk about you might have spotted in the previous development diary.
Now when you hover over a country shield it will highlight that country on the map with a red outline that pulsates. This will work with all shields, except some like the large shield representing your country in the top left corner.
Next one I teased about yesterday, a small addition but I believe will be quite loved. We've added a Core All button in the Stability interface
If you compare with last dev diary you can see as the stability interface is being reworked to get space for the new Governing Capacity mechanics and to convey all the necessary information to the player.
Not much to say here, it does what it says on the tin. It will try and core as many provinces as you can afford. I can add that the programmers have worked on a bunch of issues that start to appear in the macro builder and various other lists when you start to have more than ~3 000 provinces.
Next is you can now view the mission screen of your subjects.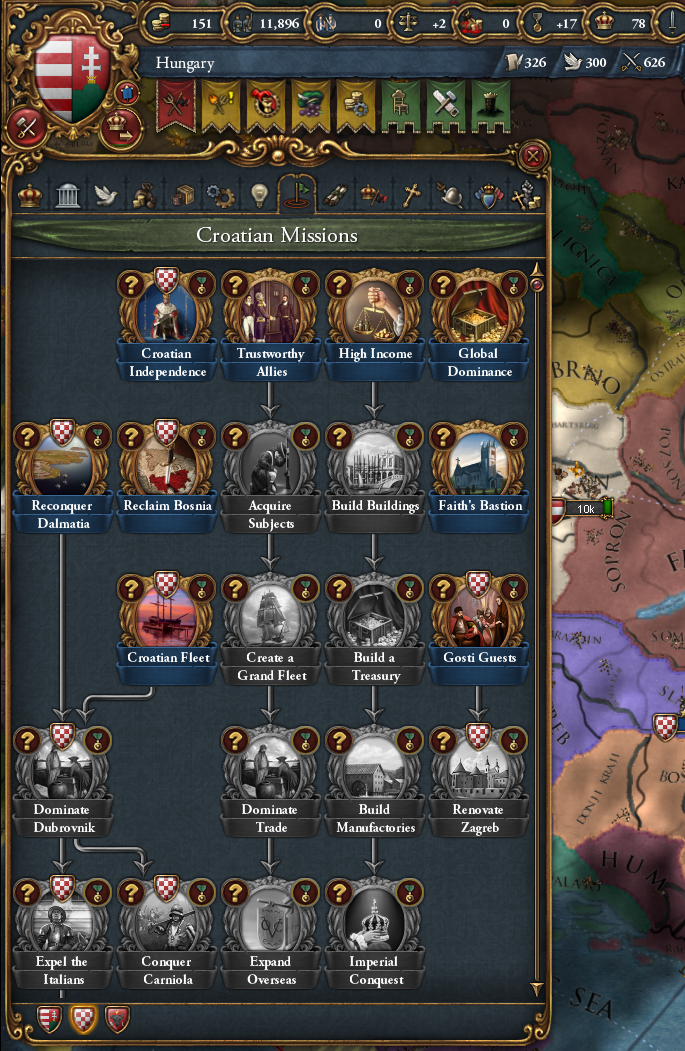 It should help anyone that wants to optimize what they get out of their vassals and even be able to get some out of their mission trees to benefit you in the long run.
Speaking of missions, our Content Designers have been going over them trying to make their requirements and tooltips way clearer.
Part of that has also been to add support where it will show your progress clearer to achieve one of the requirements. For modders some of the triggers that have been improved are:
Num_of_owned_provinces_with
Num_of_provinces_owned_or_owned_by_non_sovereign_subjects_with
Calc_true_if
Next are some changes to generals to help you manage them a bit easier.
In the military interface for your country you can now detach your leaders from whatever army or navy that they are in control over. Besides this function we've also changed a little bit fundamentally how they work, or specifically how they die.
They now have an age just as if they were a monarch. This has been done for two reasons, one to give you a straightforward way to try and guess if the leader has long for this world or if you should get a younger general on that front. Second, this made it possible for us to tweak how death chance is calculated for Monarchs who are also leaders. Monarchs leading an army no longer get the double check for death based on their age, however of course being on the field is still an elevated risk to his Highness health.
Last improvement is to prove what we all already know to be true, that there are no Swedish Bias in the team
. So I went ahead and updated the Danish ideas to be more competitive with other naval powers in Europe.
Traditions
5% Ship Durability
10% Tax Modifier
Bonus
10% Naval Engagement
Nordic Rulers Legacy
10% Shock Damage
Vornedskab
20% Global Manpower Modifier
20% Global Sailors Modifier
Old Naval Traditions
10% Naval Morale
5% Disengagement Chance
Rentekammer
-15% Build Cost
Klaedekammer
-15% Naval Maintenance Modifier
Expanded Dockyards
+50% Naval Force Limit Modifier
Den Danske Lov
-1 Global Unrest
Before ending the Development Diary for today, I want to cover some changes we've done since some previous development diaries and what was covered in them.
First is that we have raised the Base Disengagement Chance for ships to 10% from the previous 3% giving ships a bit more of a reasonable chance of getting out of the battle and letting your fresh ships get in and fight.
We've swapped out the Admin Efficiency penalty from going over Governing Capacity to +20% Core Creation and +100% Advisor Cost when at 100%. In the end we felt that Admin Efficiency had too many side effects as well besides what we wanted to achieve so we swapped it for Core Creation. We looked at potentially adding State Maintenance as the monetary burden of going over capacity but it had problems with it, you do not pay maintenance for territories and if we would add that you can very easily get into a death spiral where you have no option to get out of it, including calling for bankruptcy you could still sit at a net negative afterwards. So we felt Advisor cost was a good middle ground, representing the strain on your administration, it being a cost you have full control over and it as added bonus has an indirect effect on your mana generation.
Together with Governing Capacity we've also now hooked in some old government mechanics into it that previously were tied to provinces. Merchant republics and Prussian Militarization have had their width penalties redone. Merchant Republics no longer suffer the republican tradition penalty as previously from fully cored land but instead their stated land and territories have an additional 25% Governing Cost compared to other nations, while trade companies for them will be cheaper. Militarization penalty is now based on the governing capacity of your country, getting -1 Militarization for being 100% over. But Prussian Monarchy/Republic also have -50% Governing Capacity modifier in their government not letting them efficiently manage as large swaths of land as an Ottoman Empire.
Next week we will revisit a mechanic we talked about in a very old development diary, Mercenaries, but a lot of stuff has happened since we last mentioned them. The vision remains the same but we'll go more into details on how they work and talk about the content around them. I will see you next Tuesday!