Good afternoon! I am once again eschewing the traditional Swedish summer vacation, this time because I'd prefer to wait until I can safely travel rather than taking a dull staycation in my Stockholm apartment. What that means for you lovely people is that you get summer content dev diaries! Let's get right into it!
Those of you who know me even slightly will be aware that I love all things South-East Asia (SEA). After 2.5 years on the project, I finally have the opportunity to create the SEA map rework of my dreams. Shown above is Mainland SEA. Burma/Myanmar is excluded from the map rework as I feel that the treatment I gave it during the development of Dharma still holds up. There will certainly be new content for nations in that region however, including what another dev fondly described as the "Shan mission stick" when we played MP this weekend.
The country setup has not been radically altered. The only new additions to the 1444 setup are the tribes inhabiting what is today the Central Highlands of Vietnam. I have, however, added many new provinces and increased the total development of the region significantly. According to the logs, the indo_china_region now contains 64 provinces with 542 total development. Note that these numbers, like all numbers presented in dev diaries, are not final. I'm especially satisfied with how Lan Na fits into its 5-province state, bordered on its west by impassable terrain. Speaking of impassable terrain, the Annamite Range now separates Vietnam from much of Laos, making Dai Viet a drastically more defensible nation.
A design goal for Mainland SEA nations in the 1.31 update is to emphasize vassal play and the development of capital super-cities. We'll talk about various ways that this will be achieved another time, but one prerequisite for the goal is having nations to vassalize: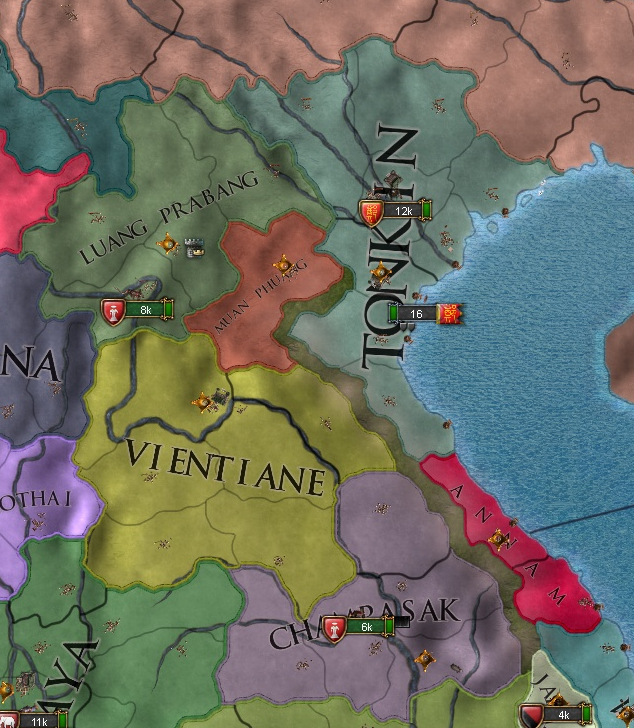 Several releasable nations now have cores on territory held in 1444 by Lan Xang and Dai Viet. These nations actually already exist in the game files, but are very rarely seen in 1.30 due to their lack of cores. Unfortunately there aren't really any sensible ways that I've found to divide Ayutthaya or Khmer, though in Ayutthaya's case Sukhothai can still serve as a vassal to which you can feed your Thai provinces.
I've also taken a look at culture groups in the region. Central Thai and Northern Thai are now simply "Thai", which belongs to the Siamese culture group that it shares with Lao and Shan. Countries in this culture group are able to form Siam, though Ayutthaya can only do so via its new mission tree. The "Indochinese" culture group is admittedly fairly arbitrary, but does serve to encompass regions of "natural" Vietnamese expansion on their "nam tiến" (southward advance). Cham has been moved to this group to reflect that we no longer equate culture and language.
Next week we'll take a similar look at Maritime SEA - modern Indonesia and Malaysia. In terms of scripted content you can expect plenty of historical events, mission trees, disasters, government reforms, estate privileges, and more from the 1.31 update. We'll get to these in later weeks, but for now that's all I have to say. Until next time, have a good week!