Good morning world! Tuesday rolls around and while I must spend many hours stirring up the dev multiplayer contestants to start a word war, it is also time for another Developer Diary. As mentioned in
last week's diary on Army Professionalism
, today we're giving attention to a part of the game which hasn't seen much development in EU4's life with
Trade Policies

For owners of the upcoming expansion accompanying Update 1.23, you will be able to set a trade policy in any node where your nation has a merchant present. There is no cost to setting your policy, and they can be changed with a 12 month cooldown. Policies available to all nations are:
Maximize Profits: +5% trade power
Hostile Trading: +25% Spy network speed in nations with present merchant or home node.


Establish Communities: +15% Improve relations with all other nations with their home node or a merchant present located here.
Improve Inland Routes: +1 combat terrain bonus in trade node provinces. Only possible with 33% of Trade Power in a node
The default policy selected for any merchant is Maximize Profits. For unknown reasons, the Inland Routes policy has proven very popular in the office.
I said these were the policies available for everyone, but as some may have gathered from screenshots and dev diaries, we are taking quite the shining to the Islamic world in 1.23. As such, there is a specific Trade Policy available to Muslims:
Propagate Religion.

When a Muslim nation controls more than 33% of the Trade Power in a Trade Company Region's node, they are able to activate the Propagate Religion Trade Policy, which will establish a Religious Centre in the node, spreading this religion within the node, as can be seen in my totally legit Omani screenshot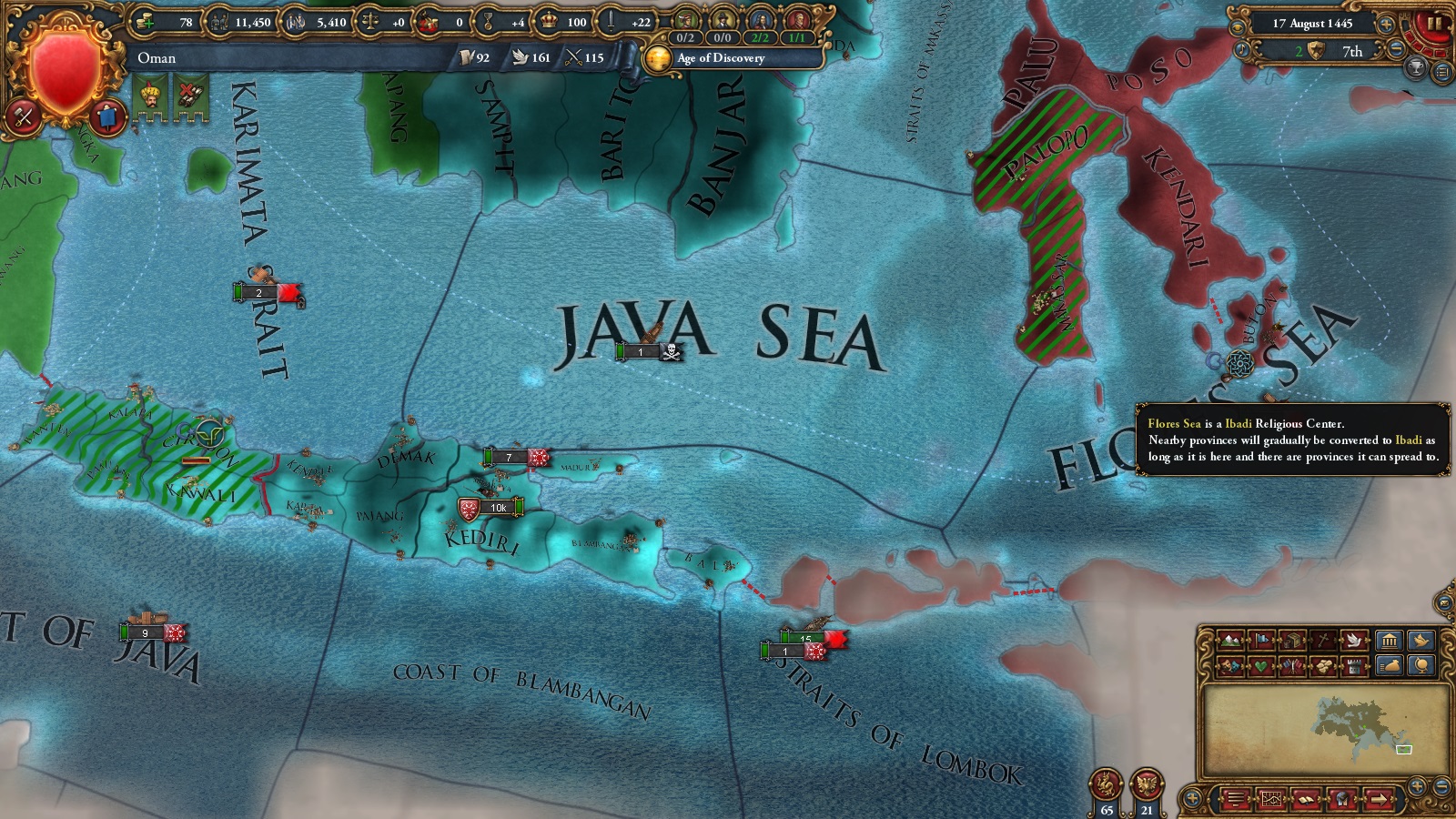 There are events associated with the Trade Policies, including specific flavour events should Religion be propagated through Indonesia.
While we're talking about the South East, let's take a look at the trade goods setup here.
A few changes to be seen here, particularly with gems and incense in the region, which should be noted are both added to the possible goods that colonies here can produce.
Cheers for checking out today's Dev diary, but I must now go around the office antagonizing our Dev Clash players. Next week we'll continue on the theme of Islam and look directly at the changes coming to the Muslim World.