Good day all! We have entered a historically dark month for many of you:
July.
The heretics of Sweden frequently take this entire month off as vacation to praise the tiny sliver of sun that deigns to bless the country with its presence. The end result means that Development Diaries often take a turn to the silent for the month.
Well fear not! I have decided to engage in the most taboo of actions and keep my butt firmly planted by my desk at work this month. We shall have dev diaries this month, and we're going to start by looking at
Climate, Weather
and
Elephants.

To those who are of patrician enough taste to
follow me on Twitter
you will have noticed my latest teaser where I showed off a winter in the far south of the Americas. Previously there has been a limitation in how our game can model winters, only managing them in the northern hemisphere. Long unsatisfied with this, we took the time to ensure that in the 1.26 Update this is rectified, so that the winters of Southern Africa, South America and the furthest down under reaches of Australia and New Zealand have their winters correctly modeled. As the icy grip on Russia recedes, expect to bundle up in Chile. This can be seen in our re-purposed mapmode,
Weather.

The Weather mapmode previously was called winters
As you can likely tell, there are more than just winters in this view. That's correct, because as part of enriching the Subcontinent in Dharma, we have added Monsoons. During the monsoon season (varies by location), the grounds will become visibly muddier and both movement speed and attrition will be impacted if you are on the military offensive. While we added these to spice up India, we decided to expand it to all Monsoon areas across the map, so across East Asia, Africa and South America.
"We want the Spintires audience"

In addition to the map effect and province modifiers, there are also a handful of events for nations experiencing particularly destructive or fruitful Monsoons.
Now it's time to address the elephant in the room, so to speak. People seeing screenshots and watching the devclash have clearly noticed that a new animal has found its way into the arsenal of Indian nations. Yes, in Dharma, we have added
Elephants.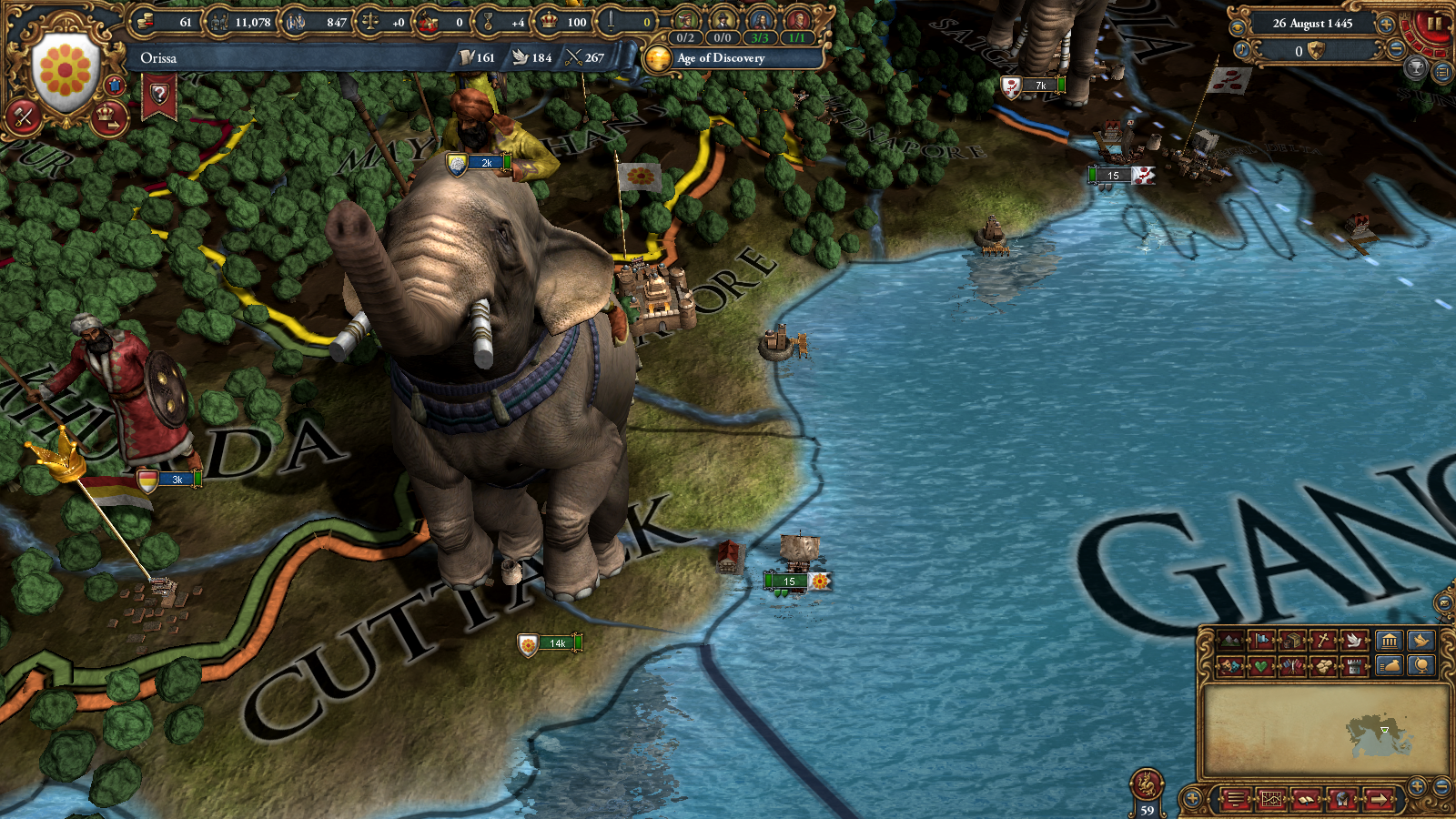 I'm getting Resident Evil Outbreak flashbacks already

This is something we've added purely for immersion in the Subcontinent, as well as for the South East Asians who also used these majestic creatures in warfare. The elephants are simply a new 3D model for cavalry units for these nations without gameplay impact, but we feel that the empowerment of trampling over puny infantry armies with your walking mountains is worthy as-is. Owners of Dharma will see these elephants in Indian and South East Asian nations.
To recap, all players who update to the 1.26 Mughals Update will enjoy Winters across the world, while Dharma owners will enjoy that along with Monsoons and Elephants.
Next week we'll take a gander at the less visual but highly impactful changes we have made by way of new
National Ideas
and
Formable Nations