Hello! So today's Dev Diary will be covering the ways to enter the Subcontinent of India. We've added two mechanics to help you gobbling up all those new juicy provinces in India if you are coming from distant lands.
First is the new unique government that the true heirs of Timur the Lame can claim, or as we good friends of him like to call him, our good Amir Timur. The Mughal Diwan will give the empire a bureaucracy capable of integrating the vast swaths of lands that lie before it. The reform mechanic replaces the promotion of cultures to one where the nation integrates a culture by assimilating it into its government. Assimilation of a culture happens when the nation have conquered every single province of that culture and that will make that culture a permanently accepted culture of the country.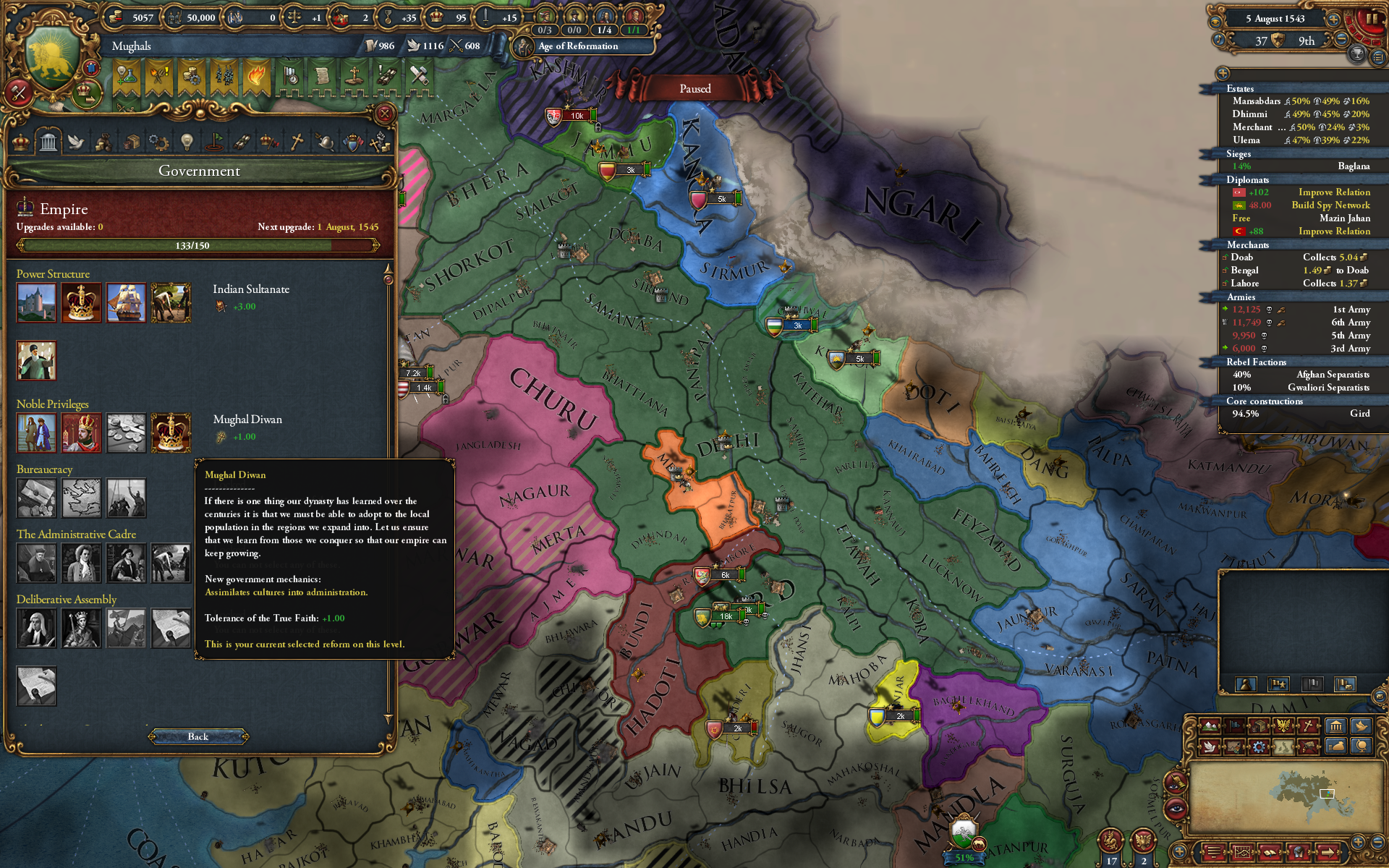 Though besides only becoming promoted, if the Mughals manages to integrate an entire culture group into their empire they'll get some small boni from the cultures contribution to the empire's administration. However this bonus is not permanent and is only kept as long as they can keep control of all the provinces.
Keep in mind all values are very work in progress and are very much subject to change and hit with nerf hammers!
The second feature we've added is for the Europeans and is called Charter Trade Company. This is a new diplomatic tool which will let you setup a trade company in foreign distant lands like Africa, South East Asia or India. The interaction has a base cost for establishing the expedition to the east. This cost is calculated on your colonial range meaning as you progress in technology it will get cheaper, or if you have modifiers that steers your nation to the more adventurous type. This action can only be used on Trade Company Charter regions and any provinces you gain from this will automatically be made into a Trade Company province.
It's a small feature, but we put a lot of focus on making sure the AI uses this as one would expect . We did this since we know this has been a major pet peeve of you lot, ranging from it not being worth it shipping your troops over half the world to just simply the AI never does.
So we put our elbow grease on to make it possible to "get started" in the far east and that the colonizers of Europe would understand how to do this. While playing this is how it turned out for me with Spain buying provinces in Madagascar, Gujarat, Coromandel and Portugal in Goa and the Malabar Coast. Also bonus with the Turkish West India Company next to the Spanish Gujarat.
Next thing on the agenda is PDXCON! You should look up the EU4 booth and I'll happily tease you about how cool the upcoming features are
See you there!