Let's talk about Germany. Before I begin, I'd like you all to spare a few minutes to examine the image below:
As you may be aware this is a screenshot of the glorious, beautiful, and ambitious EU4 mod 'Voltaire's Nightmare'. I'd like to assure you all that we are not going to implement this or anything like this in vanilla EU4.
So what are we going to do? Well for one thing we're going to continue to rely on abstractions such as the existence of a country called "Switzerland" in 1444 rather than a multitude of semi-independent cantons. "Accuracy", beyond a certain point, ceases to be relevant or else Voltaire's Nightmare becomes the standard. Good design, rather than "accuracy", is what should guide us here.
On that note, I've devised a few design guidelines that will advise the way we plan out the region, some of which I'll share with you now. Bear in mind that these are guidelines and not hard rules; there will likely be the occasional exception.
Provinces owned by free cities should be approximately Frankfurt-sized. This creates extra space, as well as a visual distinction between Free Cities and other OPM's.
All other provinces should be noticeably larger than Free City provinces. This sets a limit to how far we should split up the region.


A development increase in Germany in to be expected, but we should aim to keep it under control. Germany should not be dramatically more developed in the European update compared to 1.28


We should specifically avoid increasing the starting development of majors like Austria, Burgundy, and Bohemia.


It is more acceptable for "new" development to be added to weaker and/or new tags


It can be tempting to split tags up for the sake of "accuracy", but keep in mind that we still want a mix of large, small, and medium powers. Consider the impact on the balance of power.


Adding new tags designed to begin as vassals is sometimes desirable, but starting liberty desire should be kept under 50%. If this cannot be achieved without disproportionately buffing the development of the overlord, it is better not to have the vassal.


Avoid adding independent OPM's. There are literally hundreds of OPM's that we could but definitely should not add to the game. New OPM's should be restricted to Free Cities or else have a very good reason to exist.


Avoid non-contiguous country borders. This is messy for a variety of reasons, including military access.


Provinces adjacencies should be clearly visible, always more than a few pixels. Likewise avoid 'four corners' style adjacencies where possible.


It should look good. Think about aesthetics in terms of province borders, states, historical borders, etc.
I'll skip the nostalgic retrospective today and get right into the gritty details. Let's take a look at southern Germany: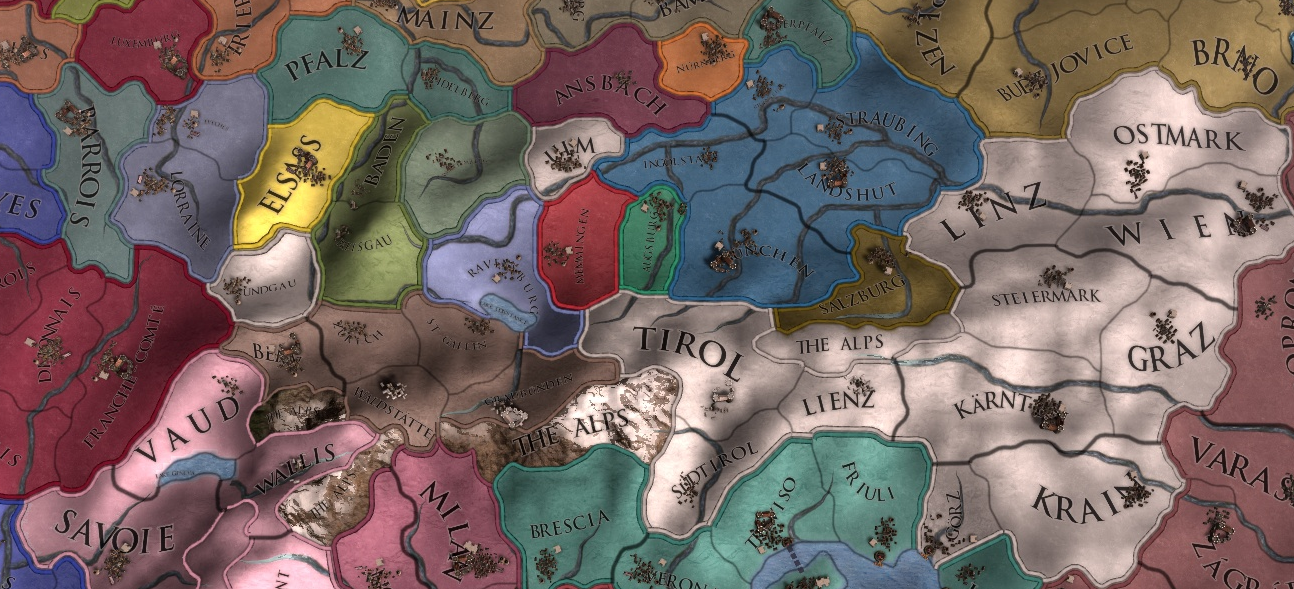 Bavaria is looking rather monolithic in 1.28, but it was not so historically. Divided between several Duchies most notably based in Munich, Landshut, and Ingolstadt, the Wittelsbach dynasty is at odds with itself in 1444. Bavaria wouldn't be united until 1503, when Albrecht IV instituted primogeniture. There were also other independent polities in Bavaria such as the Bishopric of Passau and the Free City of Regensburg. We're going to have to decide how many Bavarian states are going to exist in 1444, but we are determined for the answer to be "more". Overall the region's total development seems a little lackluster compared to the likes of Austria and Bohemia, so expect to see it boosted by comparison.
Looking to the west, there is the potential for more Free Cities in Swabia, as well as splitting the large province of Wurttemberg. Switzerland is trickier. We certainly don't want to represent each province as a nation, but the fact is that the Swiss Confederacy wasn't as large in 1444 as we currently present it. Graubünden for instance, later unified under the Three Leagues, had yet to be incorporated. We certainly want to add a province, and very possibly also a tag, for the city of Geneva. Geneva in 1444 was a somewhat unwilling subject of Savoy, and would eventually secure its liberation through entry into the Swiss Confederacy. We're also thinking about how we want to represent that rather unique "government" of the Confederacy, but more on that much later. The passes through the Alps could also use some work; we feel that there ought to be a connection between Savoia and Piedmont, while the pass between Piedmont and Wallis seems less necessary.
And here's northern Germany. As I noted in my design guidelines, there's a temptation to overboard splitting up e.g. Saxony and Brunswick into many small duchies. In this region I think we should resist this urge for the sake of maintaining a mix of countries of different power levels within the HRE. Saxony for instance shall likely remain united. There are however candidates for splitting and potential new tags that could be added to the region. Pomerania and Silesia are both good candidates for division. Luneburg, Verden, and Magdeburg could potentially be elevated from OPM status. New OPM's such as the Free City of Nordhausen are also possibilities. We'll be carefully considering which provinces and countries merit inclusion and how they each fit into our overall goals for the region.
Moving on to the Low Countries, this is a region that has seen a lot of iteration over the course of EU4's history. There is very little that can still be done without over-inflating its province density and risking an excessive reduction in the development of each province. That said, some changes we're considering include an additional province in Flanders, splitting up Brabant, and adding the province of Julich (though we're not quite sure how Julich is going to work). The Friesland/Utrecht border is something often complained about and will likely be revised in some way, though the solution probably will not be to add a new province. I've also seen suggestions for adding Frisian culture along parts of the coast, which is something we're considering.
I hope that I've been able to give you some insight into the way we think about map changes, and once again I look forward to hearing your thoughts on Germany and the HRE. This concludes our series of dev diaries on the upcoming map changes. Next week you'll be hearing from me again, but this time on the subject of mission trees.