Hey everyone! So when we introduced the new natives mechanics several of you were asking why we weren't changing Totemism as well while at it. So since then and while I was working on the Sikh Gurus and Zoroastrianism I figured I should give it a shot and try to give them something as many of you were pointing out, it is one of the major religions at the start of the game and it deserves some love. Be warned a lot of work in progress values & especially really bad coder art will be shown!
Now North America is a big place, and how we are using Totemism in the game is sort of a catch all for several very distinct mythoses and with that also comes the challenge of figuring out flavor that is general enough and fits all of these as well. What I could find as a best candidate for a fun mechanic that could fit for all of these very different cultures were that they all have legendary figures, and the oral tradition of great deeds. Like Gloosecap of the Abenaki, or Esa the Wolf of the Shoshone.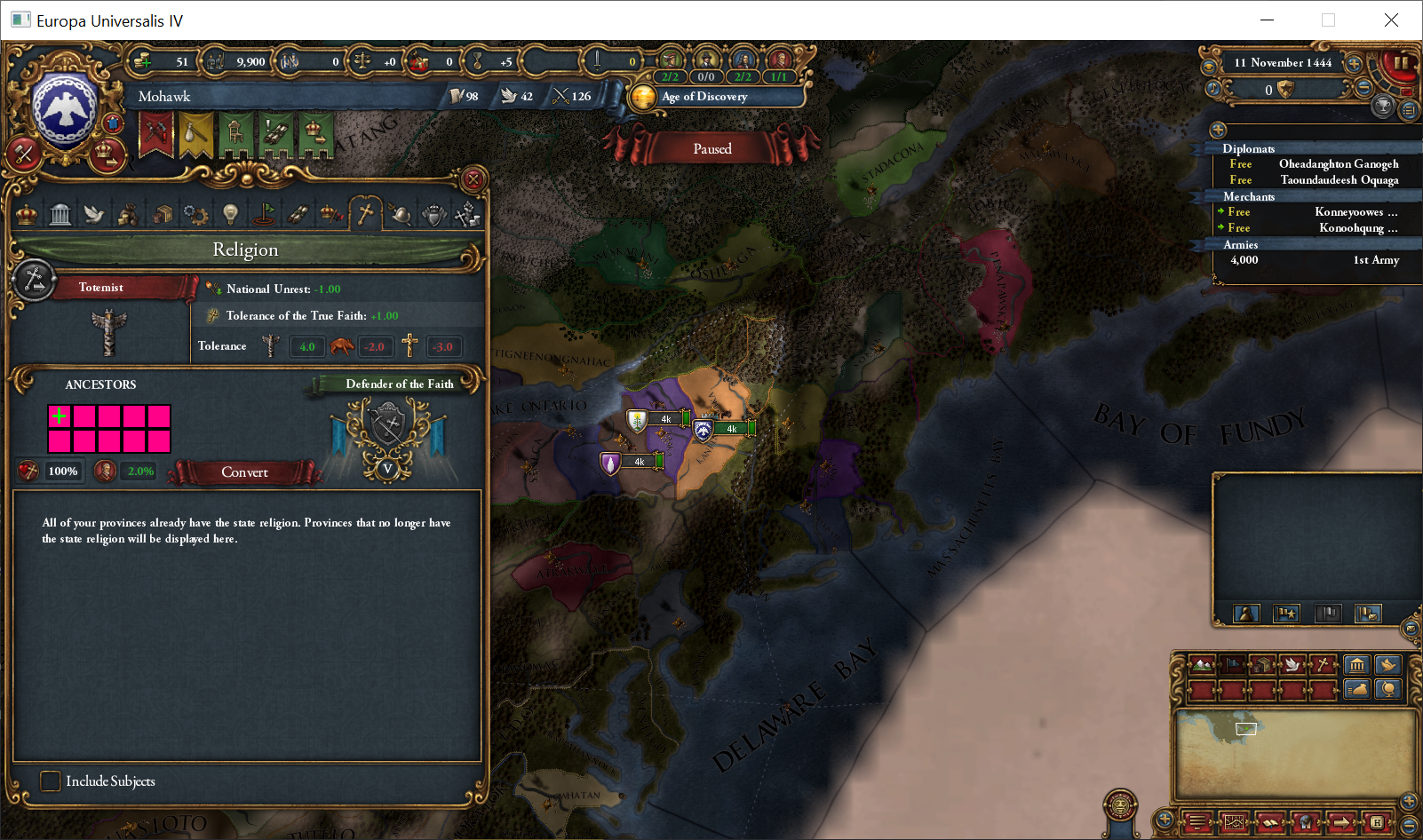 So now as you progress through the game, you can add one of your previous rulers to your mythos. You can have a maximum of 10 stories added at any point. This costs 100 Diplomatic power but they can also be removed later on for a severe stability hit. It's not intended to be something that you switch around often but I don't want to lock you in entirely either.
Adding an ancestor's story to your religion will have them provide the personality they had in real life be applied to your country for all future, with some modifications which we will get into in a bit. It will be a weaker version than they had in real life but still a nice bonus for you even as they have died.
So with this change in order to keep things balanced rulers who follow Totemism will only have one personality, since it will be combined together with the benefits they get from the religion as well. But these are special and they scale with the rulers skill. This does mean that you can get a ruler with 7.5% discipline bonus instead of 5%. This is also to feed into the ancestor stories where not all rulers will actually be useful to be made into a story. This does mean that totemism needs it's entire own setup of personalities scripted up but we are aiming to try and match the original ones.
The intent is since you have 10 ancestor stories you can collect, each will just provide a bit of the full picture. It's a religion you build up over time by reconnecting to previous rulers you've had.
Also here's a preliminary set of values for the Gurus and their teaching. The value next to the Guru's name is applied by the Guru while they are alive. The ones in the lists are their teachings and can be picked by you as the player. These values are still work in progress but I know people been asking for a complete list.
Guru Nanak: +1 Admin Power
Share and Consume: -1 Unrest
Work Honestly: 5% Production Eff
Recite His Name: -2.5% Regiment Cost
Guru Angad: +1 Military Power
Gurmukhi Script: -5% Tech Cost
Temple Langar: +10% Church Loyalty
Wrestling Akhara: +0.1 Yearly Army Professionalism
Guru Amar Das: +1 Diplomatic Power
Dasvnandh Collection: +5% Tax Modifier
Anand Karaj: +1 Diplomatic Reputation
Sanghat Equality: +10% Nobles Loyalty
Guru Ram Das: +1 Admin Power
Legitimize Inheritance: +0.25 Legitimacy (or +0.1 Rep Trad, etc. etc.)
Scripture Hymns: +0.5 Prestige
Masand System: +10% Manpower Modifier
Guru Arjan: +1 Diplomatic Power
Adi Granth: +10% Institution Spread
The Abode of God: +10% Rel Unity
Martyrdom: 5% Land Morale
Hargobind: +1 Military Power
Throne of the Timeless One: Same as Legitimize Inheritance
Protection of the Poor: -0.025 War Exhaustion
Miri and Piri: +2.5% Discipline
Guru Har Rai: +1 Diplomatic Power
Impartial Manjis: -0.05 Corruption
The Fragrance of a Flower: +10% Improve Relations
One Guru: +5% Nobles Loyalty
Guru Har Krishan: +1 Diplomatic Power
Treat the Sick: +1 Monarch Admin Skill
Illiterate Recites Saloks: +1 Monarch Diplomatic Skill
Young Humility: +1 Monarch Military Skill
Guru Tegh Bahadur: +1 Admin Power
The Word of Sikh: +1 Missionary
All Kings must Pass: +2 Tolerance of Heretics
Resist Persecution: +1 Hostile Attrition
Guru Gobind Singh: +1 Admin Power
Pluralism: -10% Advisor Cost
Dharam Yudh: 50% War Taxes Cost
The Khalsa Sikh: +0.1 Yearly Army Professionalism
Guru Granth Sahib: -50% State Maintenance Cost, -25% Regiment Drill Loss
Eternally Living Guru: -10% Development Cost
Divine Justice: 10% Trade Efficiency
The Unchanging Writing: 50% Drill Gain Modifier
And that is it for today! Thanks for reading and we'll see you next week!