Greetings all,
We're still well in the middle of Swedish vacation time, but our regular schedule is not entirely interrupted: today's diary covers a few of the smaller features being added in AAT.
Special Forces Doctrines​
For a while now we've wanted to give countries a way of specializing their special forces. Numerous militaries relied heavily on these elite troops, and some branches of what HOI4 terms 'special forces' really found their identity during and around the second world war.
I believe we've reached a good saturation point for equipment designers, and I wanted to tackle special forces in a manner that better befits strategic capability over detailed stat modification. The prolonged global conflict our game portrays led to significant doctrinal development when it comes to how militaries employed elite forces, and this seemed like a good place to start.
In AAT, a fourth doctrine page has been added:
While any country can continue to make use of the Mountaineers, Marines and Paratroopers they are familiar with simply by researching the tech, doing so will unlock the ability to choose the corresponding special forces branch specialism.
These doctrines will also cost experience, however unlike the other military doctrines each branch here will use the corresponding experience type: Army XP for mountaineers, Naval XP for Marines, and Air XP for paratroopers.
The number of branch specialisms you can pick is limited however: initially to 1. Some nations earn the early ability to unlock a second (and final) branch specialism in their focus trees, but all nations that reach major status (this condition may be relaxed) will eventually earn the right to pick their second branch during the progress of the war.
Why not all 3? The [Insert Country Here] military used all three of these!
Well, partly for balance reasons, and partly because these specialisms don't represent the ability to use paras, mountaineers or marines, but the adoption of their capabilities as part of a military's core doctrinal philosophy.
We also wanted these doctrine choices to do more than give you stat bonuses - although of course these will be present. We wanted the choices you make here to a) change how you consider designing your divisions, and b) potentially change how you actively use your special forces on a strategic level.
Mountaineers
Initially, elevating the mountaineers will grant you a mountaineer supply usage reduction (decimal bug noted!), and some general special forces combat bonuses. Importantly, you'll also unlock the Rangers support company: a more combat oriented alternative to mounted recon, with higher organization, bonuses in adverse terrain types, and which can be further specialized by the mountaineers branch specialism in the following two doctrines:
Here you are making the choice to train your elite ranger companies in rough+hot or rough+winter terrain. I've added a Snow adjuster here (usable by mods, of course - although for performance reasons this does not extend to one adjuster per weather type I'm afraid) which means you can guarantee improved combat performance in your preferred terrain/weather type, and the support company now also exerts a division-wide buff to cold/hot acclimatization.
While I won't go through each doctrine individually, we're making use of the new battalion modifiers to adjust how you are incentivized to build divisions: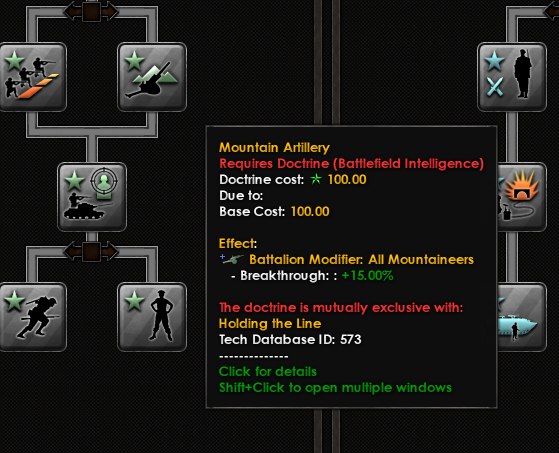 Mountain artillery gives you a good reason to use artillery support in your mountaineer divisions, at the cost of a mutually exclusive choice with the following option:
Balance subject to change, of course.
The final choice (and a choice which exists in each of the branch specialisms) is to decide between adopting your mountaineers as the core of your elite armed forces, or integrating them more widely:
The new modifier '[Type] Special Forces Cap Contribution' is a dynamic modifier that reduces the cap consumption of that special forces type, when counted against your cap. So, you'll be able to support significantly more mountaineers, but not more paratroopers or marines.
Here you'll get bonuses that are more applicable to a wider array of circumstances. If you plan on unlocking and utilizing a second branch of special forces, this option might be more your cup of tea.
Marines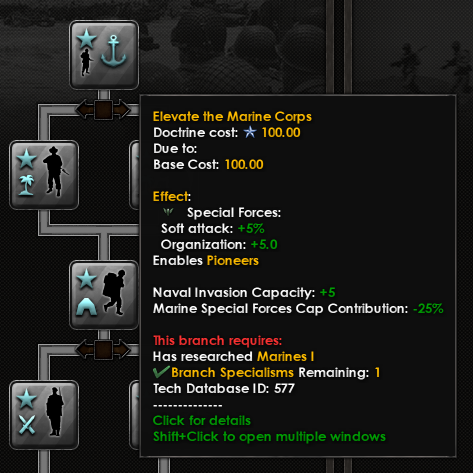 The initial investment for the Marines branch will net you some similar small bonuses to special forces efficacy, a slight increase in naval invasion capacity (which can be acquired quite early), and you'll unlock the Pioneers support company.
Pioneers are used here to represent marine-trained sappers and combat engineers, and will be an alternative to standard military engineers. They have increased offensive capability in notably hostile environments, and can be further specialized as shore parties or jungle climate specialists:
The second mutually exclusive choice in the Marines tree is as below. If you want to go all-in on highly elite, more self-sufficient marines, you can go down the Marine Commando route. Marine commandos are a new line battalion that have the ability to perform quick hit & run naval invasions with an equally quick getaway plan - they no longer need to be at a port in order to exfiltrate. All battalions in a division must have this ability in order for it to function.
Further down the tree you can capitalize on the hit & run playstyle:
The alternative path will take you down a combined arms path, integrating more closely with other branches of your military:
Paratroopers
Elevating the paras will grant you tougher air transports, generally improved special forces, and the ability to field a small amount more paras.
The first choice you will have to make is which paradrop effect you want to adopt. Aimed at disruption, the recon and sabotage doctrine will damage enemy constructions after a successful landing.
Combat insertion is intended to augment well-planned general advances. If utilized carefully, this approach can put a hole in even the best fortified enemy frontline - however, the risk is high.
It had to be done.
The mutually exclusive branches for paratroopers once again distinguish between a focus on paratrooper combat and support ability, or a wider combined-arms benefit:
Make use of signals companies to coordinate a hasty defense after a drop.
At the cost of increased training time, ensure that only the toughest recruits find their way to the paras.
Or choose to integrate the paras more traditionally into your armed forces:
​
That's all I have to show this time - as always, feedback on the details is encouraged; constructive criticism welcomed.
/Arheo