Hello there! Another week, another Dev Diary!
This week we are going to take a look at the Saints, their potential Pagan counterparts, and how they will work in Holy Fury.
After the death of a pious Christian character, there is a chance for the Pope/Patriarch/local bishop to decide to beatify them. This is how they're shown to be truly pious Christians. There will be an announcement sent out to the dynasty as well as the ones in the realm of the character. A beatified character gets a special trait, and a chance to later on be canonized.
If they do indeed go on to become Saints, another announcement message will be sent out to all Christians of the same faith, as well as their dynasty members. The character in question will be given a special nickname, a miracle will be associated with him/her (this is mostly for flavour) and they will be given a special bloodline. Note, any Christian with a religious head can become canonized, not only Catholics.
The Saint will have their burial site made public, usually in their capital or another nearby province in the form of a Province Modifier. This gives a permanent benefit for whoever holds the Burial Site, as well as some new flavor events that might happen. Any church holdings in the province will be able to create a small shrine to the local Saint. As well, if any raiders were to drop by the province, they might loot and ruin the burial site for some extra gold and prestige.
A new icon and menu have been added to the religion screen for Christians, where they can check all the Saints that have been created for their faith throughout the game. We figured it would be a handy way of keeping track of everything.
For those enjoying pilgrimages and traveling, we have added a new option and event chain to travel to a Saint's burial site. It will find 4 relevant burial sites of Saints created throughout the game. If there isn't 4 existing in the game yet, there will be up to 3 placeholders filling those spots. Hopefully it will be an interesting change of pace from the regular pilgrimages.
If the Catholics are led by a particularly terrible Pope, you might even see the cases of "Impious Saints" as we call them. In the worst case scenarios, this can end up with all of Catholicism embroiled in a massive war, fighting for the piety of the Holy See. The impious Saint in question will get a Bloodline as well, but it doesn't quite bring as many benefits as most other bloodlines do.
For those of you who don't care particularly much about Catholics, or Christians in general, we have added a new Reformation doctrine where one can take on the benefits of Saints into your pagan faith. Instead of caring about such silly things as "Piety", "Humbleness" or other supposed positive traits, the Venerated Ancestors will be based on things your religion cares about. So if you reform your religion to be a warlike one, one is more likely to become a Venerated Ancestor if you do things that are warlike.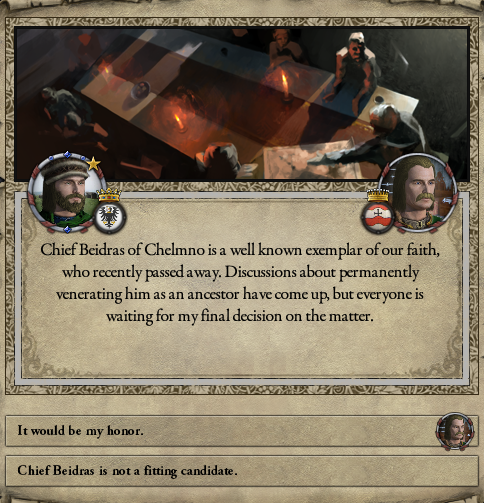 For those of you preferring to lead religions yourself, you will occasionally be given the choice of people the religion will venerate as a worthy ancestor. The dynasty of the character in question will, of course, be very appreciative of their family member being venerated as an Ancestor.
For the characters receiving that honor, there is a whole slew of new special bloodlines attached to them, as well some special nicknames.
Hopefully you enjoyed this little peek into the upcoming feature for CK2, and we are excited to hear your thoughts on it. Until next time!