Greetings!
Note that this is the last DevDiary before vacations start. Until they are over we will not post any diaries, or post them very sporadically. We will resume the normal schedule on the 10th of August.
Today we'd like to talk about Mass Conversion, the flip side of what we talked about in the last DD (Dynamic Pagan Reformation). While Reforming a Pagan faith is a very epic feat, it's also a fairly hard one to pull off in many cases. Historically, pagan rulers often turned to their neighbours religions in order to solidify their rule - and now so can you!
It used to be quite a suicidal affair to convert to a non-Pagan religion as a Pagan ruler, your provinces would stay pagan and your vassals would often be upset with you and immediately start a faction to install a pagan claimant. With Holy Fury it's much more reliable, and carries great benefits to both you and your people. Depending on your strength as a leader, and the respect you have from your subjects, you can now convince your realm to join you in a Mass Conversion. A Mass Conversion will see you, your subjects and your lands adopt a new religion - except for particularly rebellious subjects, of course. Note that only Tribal Pagans will have access to this mechanic.
To Mass Convert your realm you first need to find a so called 'Sponsor'. You can either look for a sponsor manually, by looking at the interactions menu with landed independent characters, or you can access a list of anyone who would be willing to go through the trouble by clicking a new button in the religious interface:
As said before, this list contains a list of everyone who will accept to convert your realm, and in the bottom right corner you can see that the AI reasoning is now exposed! The acceptance will not just be a bunch of pluses and minuses, instead you'll be able to see exactly how they reason. If you, for example, want Byzantium to be your sponsor, you can enter the character sheet of the Basileus and check the interaction tooltip to see his reasoning if he says no, which will give you actual hints on what you could do to improve the chances of him accepting.
After you've found a sponsor that accepted your offer, the Mass Conversion events will begin!
Note that the event image is a placeholder.
If you're a tribe with low organization, you will actually gain a level of organization upon performing a Mass Conversion, in addition to you and your land switching to the new religion. The downside to doing one when you have low organization is, as mentioned earlier, that fewer subjects are likely to go along with it.
It doesn't end here though, you and your sponsor will continue to keep in touch - and your sponsor will keep on helping your realm by providing you with money, building churches in your realm and many other things. Examples:
In addition, the priest that your sponsor will send you will also help you out. He will attempt to modernize your realm and ensure that you act in accordance to your new faith. For example: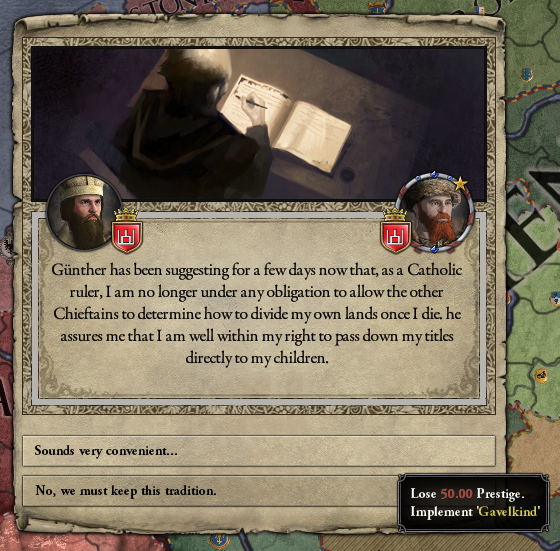 So, as you can clearly see, this system stands in stark contrast to the Dynamic Reformation we talked about in a previous Dev Diary - by reforming you gain absolute control of your future, but it's a difficult path to walk that also require you to conquer vast territories. A Mass Conversion, on the other hand, is a fairly easy thing to accomplish that also comes with temporal benefits - but you'll have to submit to a faith that might not represent you or the people you rule...