Greetings.
Well, then... Holy Fury will make Hellenism playable.
Now, now, let us be clear: there are not going to be any significant changes in the game's history. Holy Fury will simply offer a couple of ways for a ruler to revive the religion when meeting some strict requirements.
This is no easy choice to make, of course, as doing so will likely make your character reviled by both vassals and neighbors alike and cause your realm to fall into a crippling civil war, but then again, if the cause is just...
The first opportunity to restore Hellenism will come immediately after restoring the Roman Empire as a Greek or Italian ruler. Your character will receive an event shortly after becoming Emperor where he ponders about reintroducing the old state religion.
Naturally, if you decide to do so, your Abrahamic vassals will assume that you have gone insane (which, I suppose, may very well be the case...) and likely band together in a large revolt to depose you. Be aware that defeat during this civil war could easily result in a game over: if your heir is also a pagan like you, the leader of the rebellious vassals will take over the entire Empire for himself and away from your heathen dynasty.
On the other hand, if you are successful, you will be able to remain in power and some of your less reluctant vassals might decide that embracing Hellenism is not such a ludicrous proposition after all.
While not entirely connected to the Hellenic Restoration, I would also like to talk about a few other additions that have been slipped in the old Roman Empire revival event chain.
First of all, remember how the silly Pope tends to fill Rome with Church holdings, making the city not exactly palatable as a feudal capital? Well, worry no more! For now, after restoring the Empire (and provided that Rome has two or more temple holdings), your ruler will be given the chance to emulate Nero and clean up the place a bit. It might seriously hurt Catholic Moral Authority and the local peasants might get really upset about it, but, at the end of the day, aren't those empty slots worth it?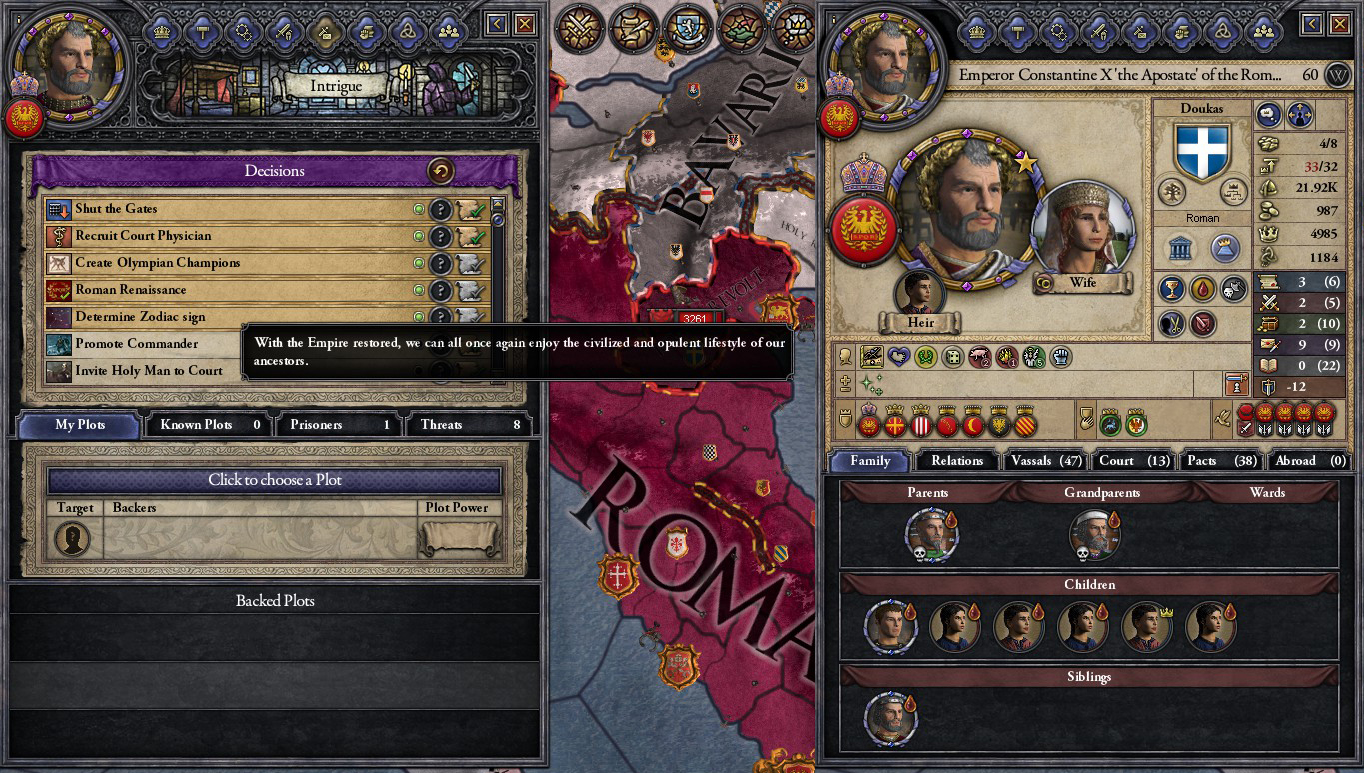 A second new little feature you might enjoy is the Roman Renaissance decision, which will become available after ruling the restored Empire for a few years, provided that you have moved the capital to Rome, belong to either Greek or Italian culture and are either Christian or Hellenic. This decision will allow your ruler to reintroduce Roman culture to the Empire. On a practical level, this will allow your realm to become more homogenous, as provinces and rulers belonging to any Latin culture will be very susceptible to switch to the new one and, if you are Hellenic, they will also have a chance to switch both culturally and religiously when embracing the new renaissance. On a roleplaying level, your characters will get swanky new togas to dress in.
Now, let us go back to Hellenism proper. As I was saying before, there is a second way for a ruler to restore the dead religion, if conquering all of western Europe is too much of a hassle for you.
If you are a Christian, of either Greek or Italian culture, your capital is located in Southern Europe, you completely control one of the Hellenic Holy Sites (Thessalonika, Athens, Rome, Alexandria or Abydos), and you are interested in scholarly matters, or are insane, you will have access to a new decision: Delve into Classics.
If taken, this decision will allow a character to go through a short event chain during which you might become enamored enough with Hellenic mythology to decide to secretly convert to it and start your own Society of Hellenes. Whatever you wish to do after that in order to spread the religion will be up to you.
This is it for what concerns the means to resurrect Hellenism, but what about the religion itself?
You will be pleased to know that it is no longer an empty husk and has now actual flavor and mechanics to it.
First of all, the religion is no longer pre-reformed: it can make use of the new Pagan Reformation feature just like any other form of paganism (and, as a small aside, you might be happy to know that reforming it as a Greek character will give all the gods their Greek names).
As for how the religion starts, Hellenism is now strictly monogamous (no concubinage), and does not have access to Pagan Subjugation. On the other hand, all Roman and Byzantine events previously restricted to Christians are now also available to Hellenic rulers (chariot races, Imperial Reconquests, etc.). Additionally, Hellenism starts having by default the effects of the Haruspicy and Astrology Doctrines, as well as having access to a new unique mechanic: temple dedication.
As a Hellenic ruler, you will be able to dedicate any temple holding within your realm to one of the twelve main deities of your pantheon. Doing so will give your ruler a temporary boost as well as activate a special building granting a permanent bonus to the holding's province. These dedicated shrines are permanent, merely becoming inactive when under a ruler of a different religion. The kind of boost that they grant is naturally tied to the god they are being dedicated to.
Finally, Hellenism has been given access to a few societies, though most of them, like the religion, will need to be recreated by a powerful ruler before becoming active.
Aside from having immediate access to Hermetics, Hellenics can now form the Stoics (a Monastic Order), the Bacchants (a Satanist society), and the Olympian Champions (a Warrior Lodge). Aside from their outlook, the Stoics and Bacchants work exactly as their Christian counterparts, with the one exception being that the Rank 4 County Conversion power of the Stoics will convert a province culturally rather than religiously.
Well then, this should cover most of it.
Note
: As we are aware that the inclusion of the Hellenic religion might break immersion for some of our players, we have included a
Game Rule
to go with it. If the rule is turned off, it will disable the Delve into Classics decision and the Hellenic Revival event chain following the Roman Empire's restoration, removing any chance of the religion reappearing in a regular game (though note that the religion might still spawn in Random World, depending on what settings you use when generating its history).