Greetings and welcome back to Cities: Skylines
Industries
expansion Dev Diaries! Our topic of the day is one of my absolute favorites:
New Maps and Policies.
Industries DLC includes five all new maps designed to fit the theme of the expansion. This means these maps are rich in natural resources and offer good opportunities for transportation and building industry areas. However, each map also brings their own challenges, varying from mountainous terrain to conflicting resources, underwater resource deposits and huge rivers to cross. Can you conquer them all?
Remember to check out the newest tutorial video made by TwoDollarsTwenty:
All the tutorial videos will be available on this
playlist
at Paradox Interactive YouTube channel!
Note: Tutorials were made with a beta version of the Industries so you might notice some differences compared to the Dev Diary screenshots.
X marks the spot
So let's start by taking a quick tour of our new maps and their plentiful resources that can be viewed from Natural Resources Info View! First we have
Twin Fjords
which is boreal themed map with mountainous terrain where careful city-planning is required to be able to access all those sweet oil deposits, some that are even found under water! Flat terrain suited for farming is scarce - so better make it count. Temperate themed
Marble Canyon
on the other hand almost shimmers in the evening sun with ore but to access those huge ore deposits on the other side you must find the means (and funds) to cross the large river.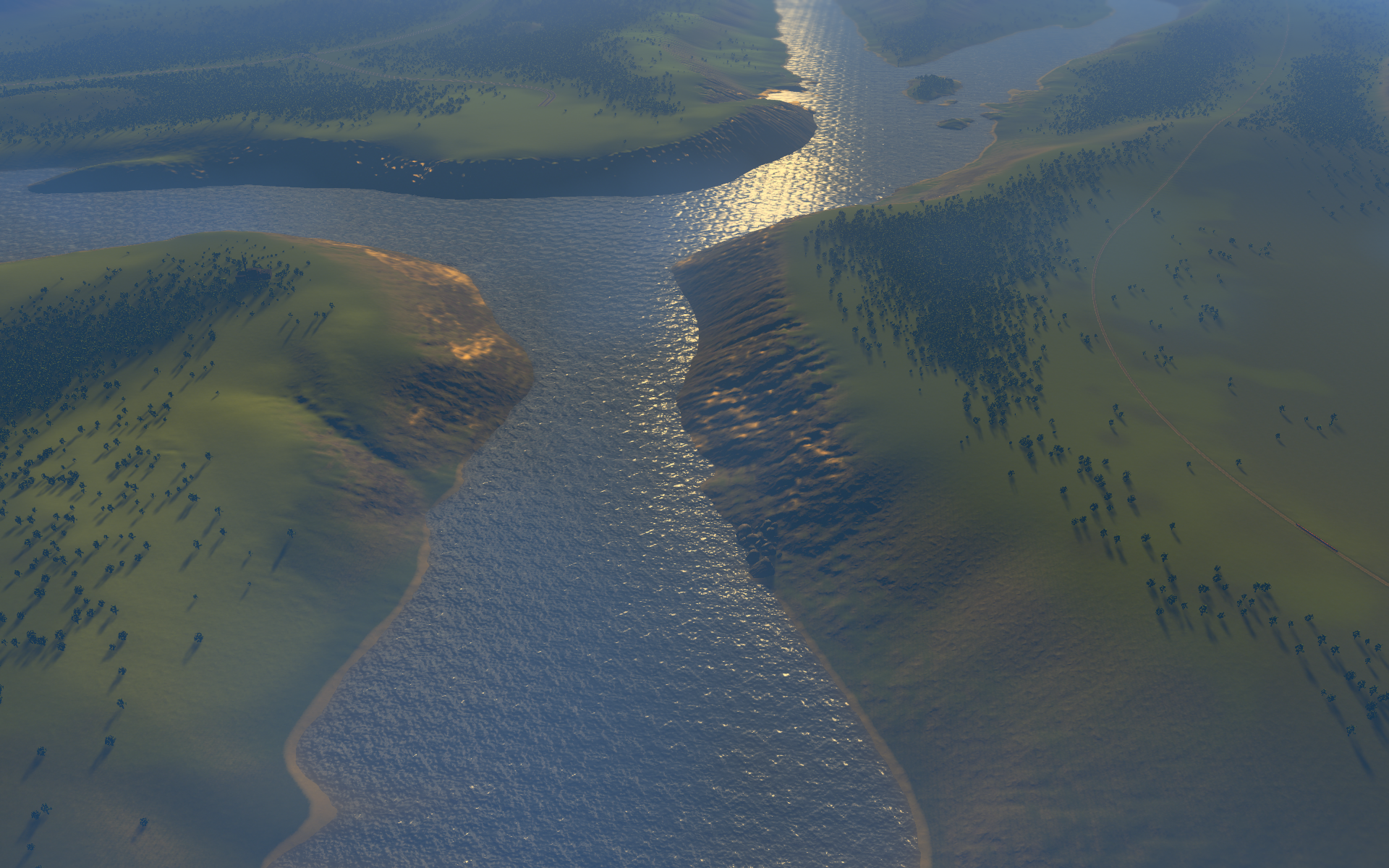 Large river is splitting Marble Canyon. Which resources to go for - and how?
Boreal themed
Woodgarden
has no oil deposits on its own but what it lacks in oil it has in other resources. Investing in outside connections guarantees you can still import and export enough for your industry areas' needs and profit. Who knows how much ore is actually hidden under the swampy terrain?
Pearl Bay
is the tropical themed paradise that has beautiful, long shorelines and great outside connections but keep this in mind – underneath all that sand lies resources just waiting to get harvested. Can you sacrifice beauty for profit?
Pearl Bay is your tropical paradise packed with resources.
Green Peaks
is European themed map with large plains perfect for farming and many little details to discover and build your city around. For those who just like to spend hours and hours tweaking a city into perfection Green Peaks offers multiple terrain features to discover in every direction. Take advantage of the large plains and good outside connections to expand your industry in every direction.
Green Peaks has it all - forest, fertile land, ore and even oil!
Policies
Industries
DLC also includes
3 new City-wide Policies and
3 new Industry Policies.
City-wide Policies can be accessed from the familiar policy panel and offer boosts to the new city service and even improve your workers' well-being.
Worker's Union
policy allows the Worker's Union to have a strong presence in your City. It provides the workers with better benefits which show as an increase in happiness of adult citizens at the small cost of residential tax income.
Automated Sorting
introduces automated sorting to Post Offices and Post Sorting Facilities around your City. This will increase not only the mail capacity of Post Service buildings by 10% but their also sorting rate. Cost is 300 per Post Service building. Snail mail? How about no mail?
Free Wi-Fi
policy opens Free wireless access points for the citizens and tourists for easier use of email and other internet services instead of traditional mail services at the cost of 2 per affected building. This policy reduces the amount of Mail accumulation by 15% in the policy area.
Industry Policies on the other hand are managed from the Industry Area Info Panel and function only in the assigned Industry Area and boost the health of your workers and production and storage capabilities of your Industry Area.
Good logistics can sometimes be the thing to make the difference.
Improved Logistics
policy makes packing and scheduling of the deliveries more efficient due to advanced inventory and vehicle tracking systems. Extractor and Processing buildings have 20% increase in their storage capacity but at the same time the upkeep cost is increased by 10%.
Improved Work Safety Supervision
policy on the other hand introduces strict standards and regulations inside your Industry Area, increasing worker health. Cost 1 per affected worker. When running an Industry Area efficiency is often the key.
Advanced Automation
brings robots and other automated systems into your factories to make the production process faster and more accurately. This shows as 10% increase in your production output but at the same time the maintenance cost of the building is increased 10% as well.
I think with this budget surplus Birdsong Drilling Area is also going for Advanced Automation for maximum production.
New models and props
Last but not least I am pleased to tell you that Industries expansion also comes with a wide selection of new models and industry props available in Asset Editor only as a part of paid content. These props include a variety of barrels, pallets and tanks for your industry purposes. New animals and workers are also spawnable through new animal and worker markers! And do not forget to check out the new industry type specific vehicle models fitting for each different industry area type. Or maybe your post van just needs a new coat of paint. But that's all for this time - stay tuned for tomorrow's Dev Diary related to Cargo Services!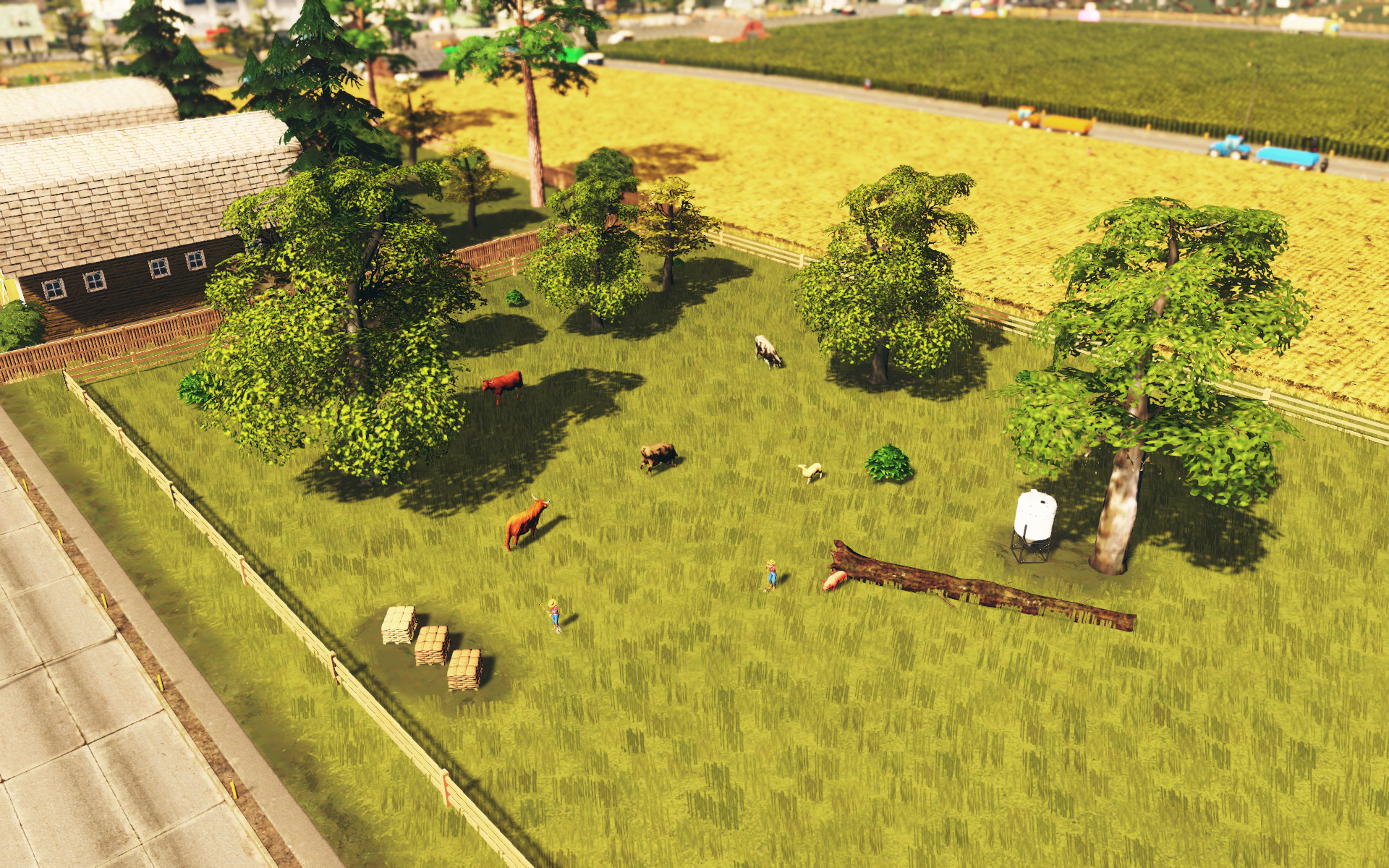 Testing new animal and worker markers. Looking good.