Hello there, city-builders! Cities: Skylines - Campus, the latest expansion to the game, was announced on the 9th of May and now it's time to take a closer look into what features it includes. The previous Dev Diary worked as a quick introduction to the expansion.
Check it out
, if you haven't already, and you'll get a nice overview of what it's all about!
So, Campus Areas. What's it all about? Well, it's about education! A great city needs an equally great and awesome-looking campus to match. The Campus Areas use the same area creating mechanics as Parklife and Industries. You can paint Campus Areas using the Campus Area tool and assign a campus type of your choosing by placing campus buildings inside the area, from campus Administration Buildings to dormitories, study halls, club houses and unique faculties. There are three types of campuses: Trade School, Liberal Arts College and University, each with their own, distinct visual style and unique faculties which provide the city with various bonuses.
Creating a Campus Area
The new Campus buildings can be found in expanded Education menu where each campus type (as well as varsity sports and museums) has its own sub-menu. Each campus type has a collection of buildings that can be divided into 4 categories: the Administration Building which defines the campus type, Education buildings, Supplementary buildings and Unique Faculties. Education buildings mainly increase the campus area's student capacity. Some Supplementary buildings also increase student capacity but also affect land value and add to the campus attractiveness, tourism attractiveness and Academic Works created on campus. Finally, the Unique Faculties give specific city-wide bonuses while also increasing the campus' student capacity.
Campus building do not spawn but are placed next to a road or campus path inside the campus area. The ability to place campus buildings alongside paths gives you that extra freedom to create nice-looking campuses where green areas and the various buildings connect seamlessly. The campus Administration Building works as a hub for all city services and therefore is the only building that has to be placed next to a road in order for the city services to be able to reach it.
It all starts with the Campus Area tool when you are creating a campus area. In the same tried and true way of painting districts, parks and industry areas, you paint a campus area in the shape of your choosing. The Campus Area tool can be found in the Districts and Areas menu. The newly created campus area doesn't have a type, it is just a generic "Campus Area". To change this and make the area functional, you need to place an Administration Building. Each campus type has its own Administration Building which defines the campus area type. Once the Administration Building is placed, the campus area has a type and it starts to function as a university level education institution.
Painting a campus area.
From here on, you can start placing the campus type-specific buildings to increase the campus' student capacity and attractiveness as well as using the campus policies to further customize how your campus functions and creating Academic Works. As your campus meets the requirements to level up in reputation, you unlock more different campus buildings.
Campus Types
There are three campus types: Trade School, Liberal Arts College and University. The basic functionality for all three is the same; they all educated young adults into highly educated citizens. However, each campus type comes with its own Unique Faculties that provide the city with various city-wide bonuses. Each campus type also creates its own Academic Works and unlocks its own unique museum where the Academic Works created on the campus can be put on display.
Trade School
is all about the practical studies such as information technology, engineering, hospitality and artisanry. When you need something actual done, these are the folks to do the job. If clothing, fashion, video games and digital entertainment in general as well as new and exciting services and technologies are your thing, Trade School is the way to go. The students are focused on improving the quality of life, bringing into existence exciting new projects such as new ways to build buildings (it's all about 3D printing!) and providing tasty take-away food.
Trade School campus. The glass-domed administration building calls back to the ancient Pantheon-esque design while most of the other buildings represent modernist architecture from the mid-20th century.
Liberal Arts College
is where the artist flourishes. The campus focuses on creative endeavors such as film making, literature and music with pedagogy, economics and environmental studies mixed in with good measure. Will the next great writer or film maker come from your college? Is the next platinum record awarded to an album composed within these walls? But Liberal Arts College is not only about creativity and culture. With its faculties you can affect many aspects of your city, from taxation to recycling.
Liberal Arts College campus. It takes inspiration from the Classical Revival style mixed with hints of modern minimalist as well as the American Renaissance and even Romanesque Revival.
University
is the home of scientific research and discovery. University students create and apply knowledge by thinking and doing, preparing for leadership through rigorous class work with the spirit of exploration, in a rapidly changing world. The staff is led by professors who are leaders in their fields crafting courses that suit the students' unique needs. Perhaps your university will discover the next scientific theory to rival the Theory of General Relativity. Or, perhaps the students come up with a new artificial intelligence able to calculate the right path more efficiently.
University campus. Its architectural style has been influenced by the French neoclassicism with Gothic and Renaissance elements for good measure.
Campus Area Info View
A new Campus Area infoview is included in the Education infoview panel. From there you can easily check the current status of eligible university students in your city as well as the capacity of your campus areas.
Campus area infoview.
Campus Budget
Campus budget can be accessed from the Campus Info panel by clicking the campus name. Here you can inspect the expenses from various campus features as well as see if your campus is making any profit. Campus budget is comprised of the upkeep of the campus buildings, campus policies, academic staff wages and varsity sports expenses. Included in the budget is also the possible reward money from varsity sports trophies and the collected tuition fee from students unless you have switched on the policy "Universal Education" which makes the campus education free for all students and doesn't yield any tuition fees. As your campus levels up in reputation, you'll gain more tuition fee per student and if you plan your campus carefully, you can even turn your campus into a for-profit institution.
Every campus comes with a base amount of academic staff members. The academic staff works as the backbone for teaching the students and creating Academic Works. You can hire more academic staff to increase the chances of creating Academic Works at the end of the academic year. Hiring staff is quite expensive and the bonus from the hired staff is not instantaneous but increases over time until it reaches its maximum effect. So, keep that in mind when hiring and/or firing staff!
Campus budget can be inspected in the Campus Info panel. Hovering over the "i" icon will reveal a more detailed breakdown of the expenses. Varsity Sports has its own, more detailed breakdown in its own tab.
Campus Areas and Your City
Campus areas and universities share the same basic mechanic and stats regarding eligible students and student capacity because they both educate young adults into highly educated citizens. But the major difference is that the campus areas are fully expandable and customizable to your liking and give various bonuses to your city when they reach their full potential.
Campuses are a direct continuation of the base game education system and can work in conjunction with the existing school types and levels. Campuses are designed to be on the same education level as the base game university and therefore they can be used to completely replace the university if you so choose. Instead of placing multiple single university buildings in your city, you can now expand one campus with enough student capacity to cover all your high education needs.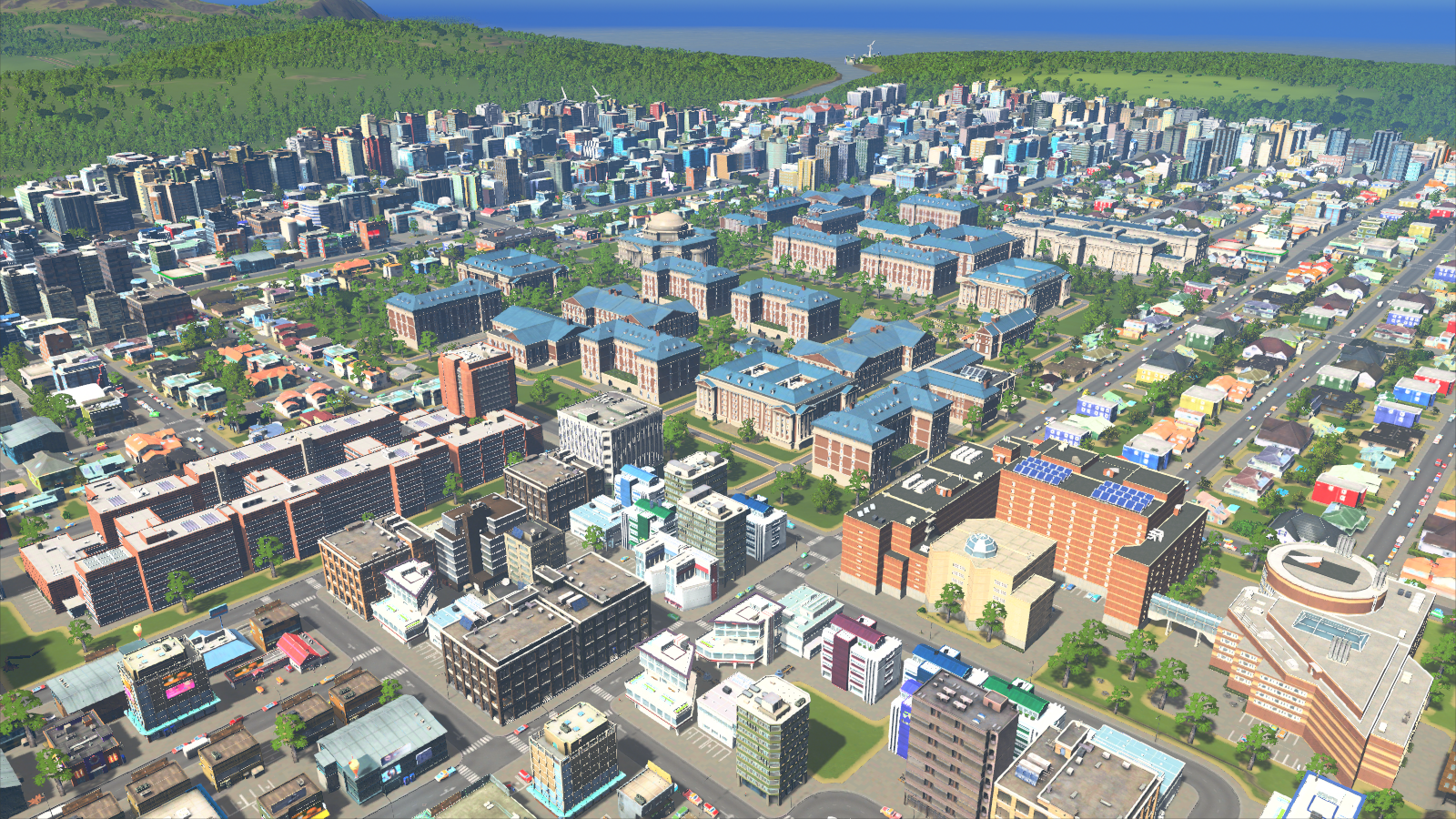 Campus areas can become quite large so it's important to make sure you don't run out of space when you start expanding the campus!
That's all for now! Do you already have plans for a new campus in one of your cities? Which campus type is your current favorite? Are you planning on making one continuous campus area where everything is found close to each other? Maybe you are going for a more sprawling type where the different campus buildings, dormitories and faculties are nestled within the residential and commercial areas? Tell us about your plans in the comments below!
Until next time, city-builders!
Cities: Skylines developer team