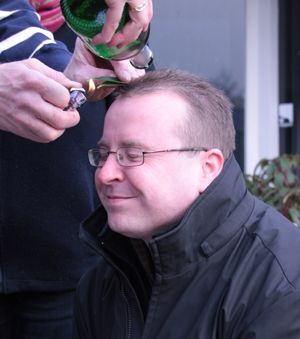 My name is:
Maarten van Tintelen
My forum nick is:
Hagar
On East vs. West I work as: soft coder (part-time), mostly 2D graphics, as well as hunting for suitable source imagery and overall research
I have worked on: CORE, one of the major mods for the HoI2 series, including AoD
What I like about a game in the cold war era: the intricate dance of the two superpower blocks
Whats the biggest challenge in creating a cold war game: getting it right.
For those unfamiliar with the Paradox modding scene, I've been one of the members of the CORE modding team for years. CORE is renowned for being one of the major mods available for the HoI2 (and even HoI1) series. Within CORE one of my key areas is graphics, and that introduced me to BL-Logic, though the first introduction was somewhat uncomfortable. A considerable part of our CORE graphics wound up in Arsenal of Democracy without our knowledge or approval. We did manage to settle the issue quickly and satisfactory though, and found out that we weren't all that different in terms of commitment, drive of excellence etc. So it isn't too surprising that several of the members of the East vs. West team turn out to have ties to CORE...
One of my key tasks within East vs. West is to hunt for graphics which can be used in the game. One of my pet peeves is to find the right image for each occasion, matching in every detail. That might be a photo of the actual occasion, or an image that brings the meaning across of what it is representing in just one glance. That's probably one of the reasons my CORE graphics work wound up into AoD proper in the first place. It's easy to find a good photo of a Spitfire. It's quite a challenge however to find one showing proper Turkish markings... For some people those are just details, but for me that makes a world of difference. And I hope to bring that same level of detail to East vs. West... Right now I'm scouring the web for suitable imagery we can use for game events. Which brings me to the first of our little contests...
I've picked twelve historic photos from my event graphics archive, all of the 1945-1960 time frame. Each first letter of the depicted event or item will spell out a sentence, which in itself is a clue regarding the game. The first to post that sentence will be granted a free copy of Arsenal of Democracy or Hearts of Iron 3 Collection, courtesy of Paradox. Now we do realize this to be quite a challenge, so feel free to guess which photo represents which, and I'll be more than happy to help you along. Having said that, there can only be one winner of the actual prize, and that's the first person to post the sentence we're looking for. If you have questions to me personally which aren't directly related to the riddle, those are perfectly fine too, obviously. Good luck, and don't forget to keep a lookout for more team presentations and more contests here on the forum!